What Is A Commercial Driver's License? CDL Prep And Requirements
A commercial driver's license (CDL) allows a tested and approved driver to operate certain types of motor vehicles including 18-wheeler trucks, tour buses, school buses, tanker vehicles and vehicles transporting hazardous materials. The federal government regulates the laws for these licenses in the United States.
The type of vehicle, the cargo, the number of passengers riding and the gross vehicle weight rating (GVWR) normally determine the type of CDL required.
Types of Commercial Driver's Licenses
When is a CDL required? Many people are unsure which license they need to drive a certain vehicle. Below are the main commercial driver's licenses and the types of vehicle they cover.
What is a Class A CDL?
A class A Commercial Driver's License is a type of CDL required to operate any combination of vehicles that together have a GVWR at least 26,001 pounds. This also incorporates a vehicle being towed that weighs more than 10,000 pounds, including:
Tractor-trailers
Truck and trailer combined
Tanker vehicles
Livestock carriers
Tractor-trailer buses
Flatbeds
What is a Class B CDL?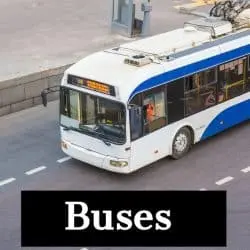 A Class B Commercial Driver's License allows drivers to operate any single vehicle at least 26,001 or heavier or any type of vehicle that is towing another vehicle of 10,000 pounds or less, including:
Larger buses e.g. city, tourist and school buses
Box trucks, usually used for delivery
Straight trucks
Segmented buses
Dump trucks (including small trailers attached)
What is a Class C CDL?
If the vehicle being operated does not meet the criteria for either a Class A or B license and is meant to transport a minimum of 16 passengers including the driver, or a hazardous material, it will fall into Class C. Other certifications may be needed by CDL drivers to operate specific vehicles e.g. tanks.
More information on CDL endorsements.
CDL Requirements
Commercial driver's license requirements vary by state, however many requirements are universal with some even federally mandated.
To successfully obtain a CDL driving license students must usually:
Already have a valid non-commercial driver's license
Be at least 18 years old (21 to drive interstate or with hazardous materials)
Have obtained at least 1-2 years of experience driving (varies by state)
Have good medical/physical health (DOT medical certification)
Have lawful permanent residency (e.g. US Citizen/Green card)
Have no active driver's license suspensions or revocations in any state
Be able to read and speak English
The compliance requirements of the FMCSA (Federal Motor Carrier Safety Administration) are regularly reviewed. View the most recent
CDL requirement updates.
What Is Involved in CDL Training?
Commercial driver's license training (typically Class A CDL training) is geared towards both the written and road aspects of the CDL driving test.
Topics covered in the CDL license training include:
Map reading
Trip planning
DOT law compliance
Backing and turning
Hooking a trailer
Road driving
How Long Does It Take to Get a CDL?
The amount of time it can take to get a CDL and pass your CDL driving test can vary depending on program or study option chosen, ranging from a few weeks to 6 months.
What is a CDL permit?
Students must also receive a CDL permit before practicing on the roads. To get this, they must complete a written CDL permit test.
Where to Find CDL Jobs
There are many job sites that list commercial driving opportunities. Some good sources for Class A and Class B CDL jobs include:
Other useful places to discover CDL jobs include truck stops and through other truck drivers.
CDL Practice Test Resources
You can find free CDL practice test general knowledge questions or take commercial driver's license practice tests including the CDL hazmat test and CDL air brakes test on the following sites:
CDL Practice Test Apps
The video below features 100 CDL Test Questions for your review:
Finding CDL Classes
CDL Classes can be found in community colleges, private truck driving schools and schools operated by trucking companies. Find a school near you:
More Helpful Commercial Driver License Resources
Where is the CDL number on a license?
The CDL number on a license is located on the front of the CDL license. Its exact location may vary from state to state.
---
More Trucker Terms: