A horrific Columbus Ohio bus crash kills six and leaves eighteen injured
Last updated Friday, November 17th, 2023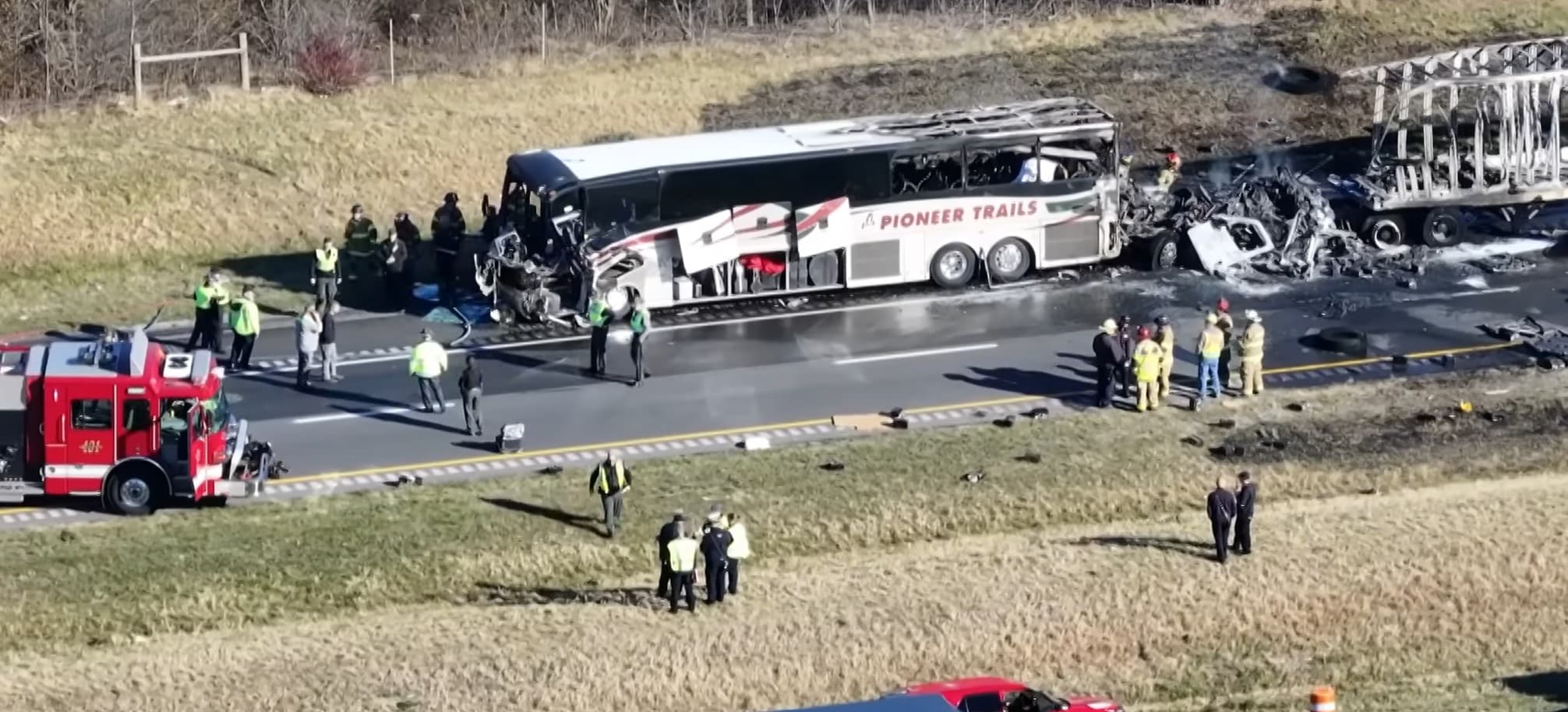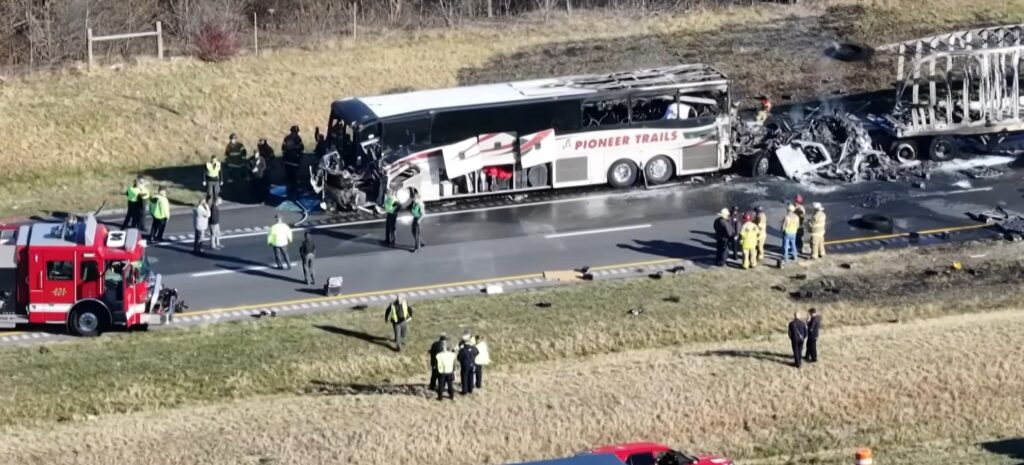 Ohio State Highway Patrol is investigating a horrific Ohio bus crash that killed six and injured 18 at around 8:45 AM on Tuesday, November 14. The fiery crash happened on Interstate 70 in Licking County.
Reports indicate the crash occurred about 26 miles east of Columbus near the State Route 310 interchange in Licking County when a semi-truck rear-ended a charter bus carrying school students.
According to OSHP, five vehicles were involved in the devastating wreck, including the ill-fated Pioneer Trails charter bus carrying kids and chaperones from the Tuscarawas Valley Local School District, said Sean Grady, director of the Licking County Emergency Management Agency. The bus, with 57 people on board, was headed to an Ohio School Boards Association conference in Columbus, Superintendent Derek Varansky said. Organizers canceled the event after learning about the crash.
Ohio Department of Transportation cameras at the scene captured a plume of smoke rising from the crash scene.
The victims were identified as Katelyn Owens, 15, of Mineral City, John Mosely, 18, of Mineral City, Jeffery Worrell, 18, of Bolivar, Dave Kennat, 56, Kristy Gaynor, 39, and Shannon Wigfield, 45. While the three teens were on the bus, the three older individuals were in a passenger vehicle. 


The crash also left 15 students and their bus driver injured. Also injured were two drivers of commercial vehicles and a driver of a second passenger vehicle.  The injured are receiving medical care at seven hospitals.
Varansky said district officials were in the process of contacting the family members of those who died and offering support services. In addition, he said that the National Transportation Safety Board (NTSB) has agreed to conduct a safety investigation alongside the Ohio State Highway Patrol to figure out what went wrong.
"This is our worst nightmare when we have a bus full of children involved in a crash," Ohio Gov. Mike DeWine said during a news conference at the scene. "Prayers go out to the families, everyone aboard the bus."
Our deepest condolences go to the families and loved ones of the six unsuspecting victims. We wish the injured a speedy and complete recovery.
One person's negligence led to the deadly Ohio bus crash
Driving may be a daily routine for most of us, but for the individuals featured in such news stories and captured in the state statistical report, at least one drive turned out to be anything but ordinary. 
The state of Ohio continues to have some of the highest traffic deaths in the country. As far as traffic fatalities go, Ohio still ranks among the top 10 states in the country. About 963 people died on Ohio roads in the first nine months of 2022.
There is nothing more tragic than losing a loved one. Even in the face of irreplaceable loss, we can provide some sense of closure by holding those responsible accountable in a trial. 
Families of those who have died in traffic crashes have the right to seek justice through the courts. It is important to hold negligent drivers accountable for their actions. Doing so may help prevent similar tragedies in the future.
Our mission has always been to do whatever it takes to protect the rights of accident victims. We do this by standing up to insurance companies and large trucking companies, even when the only option means going to court. 
Our experienced lawyers will fight for your rights and ensure you receive the maximum compensation. Our team has a proven track record of success in truck accident cases. We are here to help you. We provide a free consultation and are available 24/7 to answer your questions or concerns. 
Our truck accident attorneys in Ohio are ready to review your case at no cost. We are here to answer your questions to help get you back on your feet. The WeWin team is determined to win you the compensation you deserve. Let our team fight for your rights.
Call Darryl Isaacs, The Hammer, at 866-588-2120 so we can take care of all your concerns.