FDA Calls for Removal of Ranitidine Drugs (Zantac)
Last updated Wednesday, June 28th, 2023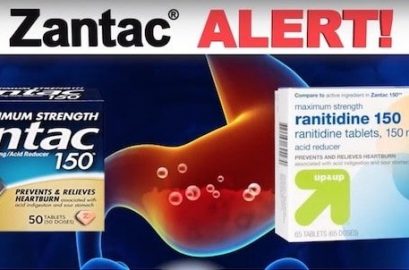 On April 1, 2020, the U.S. Food and Drug Administration (FDA) delivered a major announcement requesting all manufacturers of the drug ranitidine, widely known by the brand name Zantac, to "withdraw all prescription and over-the-counter (OTC) ranitidine drugs from the market immediately."
Zantac is used to treat common stomach acid-related issues, but ongoing investigations have determined that when ranitidine is stored at just room temperature or higher, it contains levels of a contaminant called N-Nitrosodimethylamine (NDMA) — known to be a cancer-causing substance — that increase to potentially unhealthy levels over time.
From the FDA Press Release:
"This is the latest step in an ongoing
investigation
of a contaminant known as N-Nitrosodimethylamine (NDMA) in ranitidine medications (commonly known by the brand name Zantac). The agency has determined that the impurity in some ranitidine products increases over time and when stored at higher than room temperatures may result in consumer exposure to unacceptable levels of this impurity. As a result of this immediate market withdrawal request, ranitidine products will not be available for new or existing prescriptions or OTC use in the U.S."
What The Zantac Announcement Means for Consumers
The FDA has relayed a handful of important actions that go along with the requested removal of ranitidine drugs from the market:
Consumers should stop taking any over-the-counter (OTC) ranitidine they may currently have in their possession.
Patients taking prescription ranitidine should speak with their healthcare professional about alternative treatment options before ceasing to take the medicine.
Consumers should take specific actions to dispose of any ranitidine products properly.
Consumers should not purchase any ranitidine products, including compounded ranitidine.
Additional Zantac questions and answers from the FDA can be found here.
Not All Stomach Acid Drugs Are Affected
The FDA also notes that not all stomach acid drugs are affected. Their testing of products did not find NDMA in these similar products:
famotidine (Pepcid)
cimetidine (Tagamet)
esomeprazole (Nexium)
lansoprazole (Prevacid)
omeprazole (Prilosec)
A Growing Number of Zantac Lawsuits Now Pursued
Across the country an increasing number of product liability lawsuits for Zantac have been mounting on behalf of patients using the drug. Most lawsuits are targeting parties involved in the "design, development, manufacturing, packaging, marketing, advertising, promoting, labeling, distribution and/or sale of the drug Zantac."1
Ohio Class Action Lawsuit – Suing for Medical Monitoring Damages
In January of this year, the U.S. District Court for the Southern District of Ohio saw a class-action lawsuit filed on behalf of consumers from 10 different states, demanding "$5 million for damages and equitable remedies such as medical monitoring to manage the consequences of exposure to NDMA."2
Florida Colon Cancer Lawsuit for Zantac Use
Also in January of this year, a Florida woman who had begun using Zantac in the 1990s through 2012 was recently diagnosed with colon cancer, which she believes was caused by the use of Zantac. She claims she did not know of the connection until updated announcements about the drug began to materialize in 2019.3
Eight Plaintiffs Develop Cancer in NJ Lawsuit Against Zantac
An October 2019 lawsuit was jointly filed in The U.S. District Court for the District of New Jersey in which 8 of the 9 plaintiffs have developed cancer, claiming a link to the use of Zantac for many years.4
Why Now Is the Time to Begin a Zantac-Related Lawsuit
NDMAs exist at tolerable levels in our food, our drinking water and other products we consume. But when safe levels are exceeded and the public is harmed, a defective product lawsuit will often move forward on grounds of negligence.
If you have regularly taken Zantac or other drugs containing ranitidine and have developed cancer, there may be a link between the two. Even if you do not show any signs of illness, as with the Ohio class-action lawsuit mentioned above, you may still have a cause to take action for your own future protection. Paying for medical bills past, present and future is one of the most important reasons why parties file a lawsuit.
Free Review of Your Case by Our Zantac Lawyers
At Isaacs and Isaacs, we will assemble a team of experienced Zantac attorneys to provide a free review of your important case involving Zantac or other ranitidine-based drugs. Zantac lawyers will listen to your story, evaluate the merits of your claim, and provide you with the strongest road forward toward achieving justice and collecting damages for fair and needed compensation.
Get started today on your free Zantac case evaluation by calling Isaacs and Isaacs at 800-333-9999.
---
Isaacs and Isaacs
1601 Business Center Ct
Louisville, KY 40299
---
1. [Plaintiffs File Zantac Class-Action Lawsuit Seeking Medical Monitoring for All Members]↩
3. [After Years on Zantac, Florida Woman Blames Manufacturer for Colon Cancer]↩
4. [Nine Plaintiffs File New Zantac Cancer Lawsuit in New Jersey] ↩