Five Things You Should Know About Filing a Truck Accident Case
Last updated Monday, July 3rd, 2023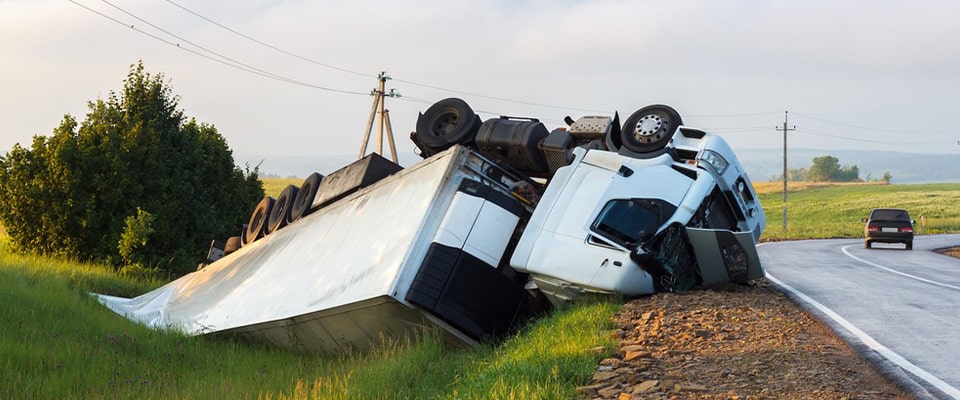 If you got injured in a tractor-trailer collision, and you want to hold the at-fault party accountable for the harm you suffered, here are five things you should know about filing a truck accident case: 
You Can Pursue Each of Your Injury Related Losses
The types of damages you can recover depend on your situation, including the cost of your financial losses and your injuries' severity. If you can prove that another party's actions caused your losses, you can pursue: 
Lost income for the time you missed from work without pay

Decreased earning capacity, if your injuries will affect your long-term earning power

The medical expenses necessary to treat your wounds, including trauma center visits, hospitalization, physicians, diagnostic tests, x-rays, operations, physical therapy, and prescription drugs 

Rehabilitative care, such as staying in a long-term care facility or hiring in-home assistance 

Pain and suffering, which accounts for your physical pain and emotional anguish 

Mental trauma, if you developed anxiety, depression, or post-traumatic stress disorder (PTSD) as a result of the accident  

Various out-of-pocket losses, including transportation arrangements and childcare expenses

Property damage costs, such as the cost of replacing your vehicle 
If your close relative passed away from a truck accident, you can pursue damages via a wrongful death lawsuit. In that case, compensable losses may comprise funeral expenses, end-of-life healthcare costs, and more. 
What You Have to Prove To Win a Truck Accident Case
You will have to show all four of these elements to establish the at-fault party's liability, according to the American Bar Association (ABA):
The defendant had a legal duty toward the plaintiff (the person who got injured in the crash).

Everyone who drives a car or truck on public roadways must follow traffic laws.

The defendant breached their legal duty.

Failing to drive with reasonable caution constitutes negligence. Suppose a truck driver got ticketed for speeding. Driving over the speed limit would constitute negligence.  

The careless act caused the accident.

You must establish that the other driver caused most of your collision. 

The plaintiff sustained quantifiable losses.

Finally, to pursue damages, you must show that you incurred damages in the first place. 
Sometimes, more than one party is at fault. This can make pursuing compensation difficult, but not impossible.  
The Vast Majority of Truck Accident Cases Settle Without Going to Court
The ABA notes that many accident cases settle without going to trial. Yet, filing a lawsuit does not take away the possibility of negotiating a settlement. You can continue negotiating with the liable insurer even as your case unfolds in court. If the insurer decides to offer fair compensation, you can drop your lawsuit and resolve the case by accepting a settlement. 
However, as mentioned, most injury claims settle without requiring legal action. 
The Insurer Has a Team Representing It––and So Should You
Some people think that the insurance company will treat them fairly and offer a reasonable amount after suffering harm. However, this is not the case for many people. The claims adjuster's job is not to make fair settlement offers; it's to keep the insurer in business by paying as little money as possible to injured people.  
The insurance company has full-time investigators, claims adjusters, and defense lawyers all working hard to devalue your injury claim. You should not have to battle all of these parties by yourself, particularly when trying to recuperate from your injuries. Having a truck accident lawyer working on your side can protect your case.  
Every State Has a Deadline for Truck Accident Lawsuits
Your state limits the amount of time you have to file a personal injury lawsuit, and the deadlines vary from one state to another. If you miss the deadline to file your lawsuit, the ABA says that the law could forever bar you from seeking compensation. 
Some injured people try to manage injury claims by themselves, hoping that the claims adjuster will negotiate in good faith. Here, claimants may find themselves dealing with uncooperative representatives, complex legal jargon, and bad faith insurance practices. 
The insurance company knows that you have a limited time to file your civil lawsuit. It may try everything possible to delay your case, so the statute of limitations expires. When the deadline expires, not only will the court system refuse to hear your case, but the insurer will have no reason to offer a fair settlement. 
Our Personal Injury Firm Is Ready To Review Your Case
Isaacs & Isaacs Personal Injury Lawyers advocates for injured claimants. Since 1993, we've recovered more than $1 billion in damages. In one case we managed, we recovered $10 million for the family of a man fatally injured in a truck accident. 
We help injured people with their truck accident cases in Kentucky, Ohio, and Indiana.
During your free case review, we can explain everything you need to know about filing a truck accident case with our injury lawyers.