The Safest Way to Make it to Dinner on Thanksgiving
Last updated Wednesday, June 28th, 2023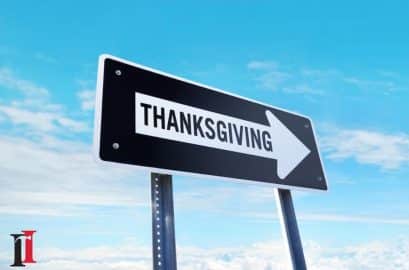 Thanksgiving conversation typically veers towards one of two themes: Food and/or Family. Whether you're discussing the best way to cook a turkey or debating the best flavor of pie (Pumpkin. No… Pecan!), there's no shortage of nostalgic musings on Turkey Day. But the holiday has another, less appetizing, history with motorists: Car Accidents. A study conducted by the American Safety Council cited Thanksgiving as one of the most dangerous holidays to be on the road1, due to the influx of exhausted, distracted and inebriated drivers.
What can you do to reduce risk on the roads, this holiday season? The answer's simple. Protect yourself and your family by following a few, easy safety tips.
Celebrate "Thanksgiving Eve" the Right Way
"Thanksgiving Eve" is the night before the Thanksgiving holiday and has evolved into a larger-than-life event that symbolizes excessive drinking and alcohol intoxication, due to the fact that many people do not work the following day. You may have heard its other titles: Big Wednesday, Drinksgiving, Black Wednesday, etc. It is such an infamous event, "Thanksgiving Eve" even goes by the pejorative nickname "Blackout Wednesday," in reference to the consequent memory loss after the ingestion of too much alcohol.
Here are a few extra steps you can take to stay safe this Thanksgiving Holiday:
Get a Designated Driver: Go out and be merry. You are on vacation, after all. Just make sure to have a plan in place before you go bar hopping. Never get behind the wheel of a car if you've been drinking. It's just not worth the risk.
But who's going to drive? Pick a name out of a hat! Or draw straws! Whatever your method, just make sure there are enough seats in the car for everybody to wear a seatbelt.
Use a Rideshare App (such as Uber or Lyft), a Taxi or Public Transportation: You know what's less expensive than a DUI? A $12 Uber!
Wear Your Seatbelt: Please, please, please wear your seatbelt. Forty seven percent of the 37,133 people killed in motor vehicle accidents, in 2017, were not wearing seatbelts. It's the most effective defensive strategy towards protecting yourself in the event of an accident.2
Check the Road Conditions Before Going Over the River and Through the Woods
To Grandmother's house we go! Unfortunately, it appears everyone else in the country is also traveling. When everyone's trying to cram as much holiday as they possibly can into the long weekend, the roads can get a little hectic. There are a few things that you can do to make sure your family arrives intact and in good spirits for Thanksgiving dinner.
Get Your Car Inspected: Make sure your car is in tip-top shape before hitting the road, especially if you have a long commute. Check your tires, fluids and battery and address any suspicious warning lights before traveling.
Keep an Eye on the Weather: If it calls for rain, plan your trip accordingly. There will be lots of equally impatient drivers on the road, and a storm will add another element of risk to your commute. Checking the forecast will enable you to take the best route or make the choice to delay your travels.
Make Sure You're Well-Rested: Are you sleep deprived? Don't just reach for your third coffee and call it a day. Take a nap. Get your partner to drive. Drowsy Driving slows your reaction time, diminishes your ability to make good decisions and was responsible for 72,000 car accidents in 2013. Instead of going straight from work and into travel mode, make sure you're taking the right steps to take care of yourself and protect your family while driving.
Thanksgiving Traffic Patterns: When is the Best Time to Travel?
In 2018, the American Automobile Association (AAA) predicted that 54.3 million Thanksgiving travelers would trek 50 miles or more to get to their destinations.3 That's a lot of people sharing the road. Thankfully, there are a few techniques that can help you avoid Thanksgiving traffic "gobbling" up your vacation.
Check Google Trends: The mighty search engine, Google, tracked the Maps data compiled from 2017's holiday season and discovered a few nifty trends! This data details the best times in which to travel and the busiest cities. Did you know that the top Maryland search for that Friday is "Pub?"
Host the Party: Sure, it's a trade. But if you'd rather do dishes than wait for hours in a stagnant line of traffic, this might be your best bet!
Traffic Reporting Apps: When all else fails, you can get a traffic reporting app to do the work for you. While traffic is an ever-shifting beast, and can't always be 100% prophesied, having a network of people reporting possible slow-downs is a big step towards resolving the Thanksgiving gamble.
Fun Fact: According to the 2017 recent Google analysis, Black Friday traffic is about the same as a regular Friday morning commute.4
Have Fun and Remember to Drive Safe!
From all of us at Isaacs & Isaacs, we hope you have a wonderful, safe holiday full of your favorite foods and family. Happy Thanksgiving!
Isaacs and Isaacs, Primary Office
1601 Business Center Ct
Louisville, KY 40299
---
1. [The Six Most Dangerous Holidays to be on the Road]↩
2. [NHTSA – Seat Belts]↩
3. [AAA: More Than 54 Million Americans to Travel this Thanksgiving, the Most Since 2005]↩
4. [ Mapping Thanksgiving]↩