Big Truck Accident Leads to Taco Truck Appearance
Last updated Thursday, June 29th, 2023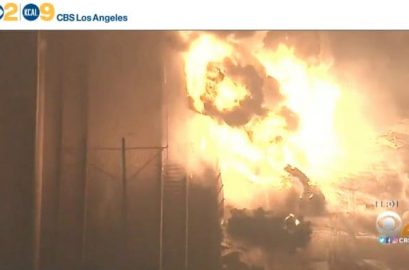 Recently, Los Angeles' infamous traffic was back in the national spotlight, for both amusing and tragic reasons. CBS Los Angeles television news crews spotted the amusing part on the shoulder of the westbound Interstate 105 near Los Angeles International Airport. The freeway was so clogged, with traffic at a complete standstill, that an entrepreneuring taco truck owner set up shop on the side of the road.
Several customers stood in line, taking advantage of the unexpected culinary experience.
The reason for the taco truck's presence alongside I-105 was quite tragic, however. According to witnesses, a Range Rover sport utility vehicle (SUV) had been driving erratically on the freeway shortly after 5 A.M. on a Friday when it lost control, crashing into the center divider.
A big rig tanker truck carrying over 4500 gallons of fuel swerved to avoid the SUV, but it jackknifed and also crashed into the divider, exploding. The drivers of both the SUV and the semi-truck died in the crash.
Such horrific incidents are, of course, not confined to Los Angeles. In the Kentucky, Ohio, and Indiana regions, big truck accidents are major sources of serious injuries and even fatalities. If you or someone you care about has been hurt in such an incident, there may be grounds to recover financial compensation, if the wreck resulted from someone else's negligence.
The law firm of Isaacs and Isaacs features an outstanding team of truck accident attorneys to help you determine whether you or your loved one has adequate grounds for seeking a monetary settlement. In the case of a severe injury, such compensation helps to cover hospital bills, physical therapy payments, lost wages from an inability to work, and even mental health counselor fees. If your loved one passed away in a big truck wreck, the wrongful death compensation could help with sudden funeral and burial expenses, transportation for relatives and friends from out of town, and the finances needed to take care of the deceased's surviving family.
Isaacs and Isaacs has been the law firm of choice in the tri-state area for 25 years. Our 18-wheeler accident lawyer team is experienced in dealing with all sorts of big truck crashes, including those involving semi-trucks, buses, delivery vans, and large commercial vehicles. Call now for a free consultation 24/7 at 1-800-333-9999.