PTSD After a Car Accident
Last updated Wednesday, June 28th, 2023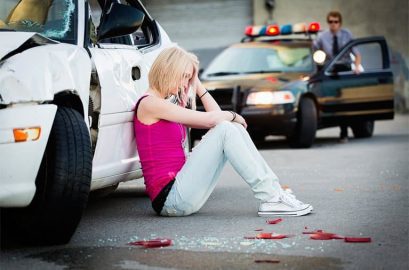 PTSD after a car accident requires attention because:
Car accidents are now the leading cause of PTSD
Negligence lawsuits for PTSD cases are rising
Legitimate legal claims require action from injured parties
Treatments present unique challenges that call for professional help
Resources exist for the suffering to get the help they need
---
Post Traumatic Stress Disorder (PTSD) results all too often from injuries associated with car accidents. It's a very real problem that has physical and legal implications for those affected and suffering. Identifying the symptoms, treatments, causes and available help remains an essential goal for PTSD Awareness Month and throughout the year.
Can a Car Accident Cause PTSD?
Studies on road traffic accidents (RTAs) from the National Institutes of Health (NIH) confirm that auto collisions "may put individuals at increased risk for a wide range of psychiatric disorders, including posttraumatic stress disorder (PTSD)… In particular, PTSD presents a public health issue in RTA-related population."1 How does that present itself in the lives of those affected? NIH's National Library of Medicine weighed in noting that "Survivors of car crashes often suffer from a post-traumatic fear of driving, generalized anxiety and depression."2
What Is PTSD? – Meaning & Our Evolving Understanding
According to the renowned Mayo Clinic, Post-Traumatic Stress Disorder, abbreviated PTSD, is a mental health condition that's triggered by a terrifying event — either experiencing it or witnessing it." While PTSD, originally known as "shell shock" during World War I, is often associated with combat injuries and trauma, it can and does occur after car accidents. Keep in mind that symptoms of PTSD may not be immediately evident after a car crash or other cause and may come and go with time.3
PTSD Statistics
American Academy of Family Physicians notes that auto accidents "have become the leading cause of post-traumatic stress disorder (PTSD) since the Vietnam war." As one of the largest national medical organizations, they conclude4 that:
[red_box]"9 percent of survivors of serious accidents develop significant post-traumatic stress symptoms and that many other survivors have PTSD-like reactions." – American Academy of Family Physicians
[/red_box]
Post Traumatic Stress Disorder Lawsuits: What You Should Know
Car accident lawsuits for injuries and mental health conditions like PTSD are often pursued when negligence is involved on the part of the driver who caused the collision. When a victim of car accident PTSD works with a personal injury law firm, the job of the attorney is to investigate the accident, prove that the other driver is at fault (liability) and then will demand damages to make the injured victim whole again in the eyes of the law. These damages typically include financial compensation for:
Medical Bills for Hospitalization, Treatment, Ongoing Therapy
Lost Wages from Missed Work
Pain and Suffering Endured by the Victim
Lost Opportunities for Future Work
Punitive Damages meant to Punish Responsible Parties
Protecting Your PTSD Claim: Get Medical Treatment
It is essential to receive professional treatment for PTSD. Treatment of course needs to be in place for personal health and healing after a car accident. Therapy to treat PTSD can be a slow process. Ongoing medical evaluation of each person's needs is not only recommended for health, but it becomes an essential element in winning these types of injury cases and seeing justice and compensation come to those who have been harmed.
When someone suffering from PTSD skips treatments like medical or therapy appointments or discontinues treatment before health issues are fully resolved, the insurance company and lawyers defending the driver who caused the accident may have grounds to say injuries can not really be that serious and may reject the demand for payment of damages in a fair settlement.
Bottom line: Attend all medical appointments and keep a record of your visits.
PTSD Causes
When Senate Resolution 215 designated the month of June as National Post-Traumatic Stress Disorder Awareness Month, they made sure to identify the most common causes of PTSD. The resolution5 states that:
"…PTSD can result from any number of stressors other than combat, including rape, sexual assault, battery, torture, confinement, child abuse, car accidents, train wrecks, plane crashes, bombings, or natural disaster, and affects approximately 8,000,000 adults in the United States annually…"
Common Car Accident PTSD Symptoms
Car accidents can be terrifying and cause serious physical and mental trauma. The Mayo Clinic identifies symptoms of PTSD that may include "flashbacks, nightmares and severe anxiety, as well as uncontrollable thoughts about the event."6
PTSD symptoms are grouped by the medical community into four main categories:
Intrusive Memories – May include flashbacks, nightmares and severe emotional and physical distress about the crash
Avoidance – May include a refusal to discuss the crash or avoiding locations and other reminders of the collision
Negative Changes in Thinking and Mood – May include increase in negative thoughts and feelings about yourself, forgetting aspects of the crash, emotional numbness, difficulty in keeping up meaningful relationships and more
Arousal Symptoms – These are changes in reactions both physically and emotionally and may include increase in being scared, guilt and shame, outbursts of anger and choosing behavior deemed self-destructive.
PTSD Treatment: Call Your Doctor
The most important step to take for PTSD is to speak with a doctor or mental health professional. If you or someone you know is experiencing severe troubling feelings and thoughts about a car accident that are persisting for more than one month, it's time to get treatment so that things don't get even worse.
For some, suicidal thoughts may develop. If this is the case, it's so crucial to contact friends, family, clergy or other spiritual leaders, therapists, doctors and mental health professionals. And many have been helped by calling the National Suicide Prevention Lifeline at 1-800-273-TALK (1-800-273-8255).
If getting immediate help to prevent harm becomes an emergency, call 911 right away.
Types of Treatments for PTSD
The path of healing from PTSD is best evaluated by medical and mental health professionals. The US Department of Veterans Affairs has identified trauma-focused psychotherapies as the most commonly recommended treatment for PTSD:
"These treatments use different techniques to help you process your traumatic experience. Some involve visualizing, talking, or thinking about the traumatic memory. Others focus on changing unhelpful beliefs about the trauma. They usually last about 8-16 sessions."7
In some circumstances, medications, family therapy and Eye Movement Desensitization and Reprocessing (EMDR) may play a role in recovery.
Get The Help You Need for PTSD after a Car Crash
The entire team at Isaacs and Isaacs wishes a strong road of recovery to all those suffering from PTSD as a result of a car accident. Our team is committed to bringing justice and needed compensation to every car accident victim we represent. To discuss your case and get a free review of your important PTSD injury case, definitely call on us 24/7 at 1-800-333-9999.
PTSD Resources
---
Isaacs and Isaacs, Primary Location
1601 Business Center Ct
Louisville, KY 40299
---
1. [Prevalence of posttraumatic stress disorder among road traffic accident survivors]↩
2. [Post-traumatic stress disorder after car accidents]↩
3. [PTSD: National Center for PTSD]↩
4. [About the American Academy of Family Physicians]↩