Begin Your Case With a Proven Personal Injury Law Firm
Did you or a loved one suffer an accident caused by another person? If so, you could be compensated for your medical expenses, lost income, and other losses. By filing a claim or lawsuit, a personal injury lawyer from our firm can pursue your due damages.
Our firm represents victims of incidents like yours. For many years now, we've helped accident victims recover compensation so they can afford proper care and financially take care of their families. During a free case evaluation with a member of our team, we'll tell you more about what we can do for you.
We charge no upfront fees for our legal services and only take payment if we secure monetary compensation on your behalf. Call us at 800-333-9999 at any time to speak to one of our dedicated Youngstown personal injury lawyers and set up a free consultation.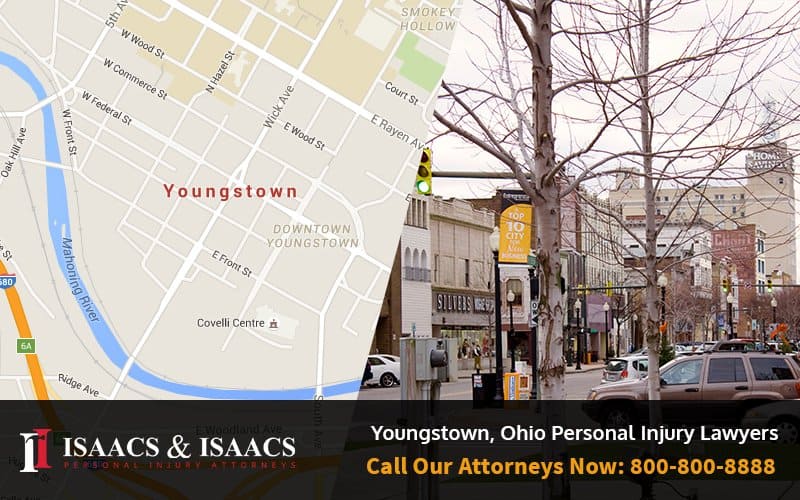 We Represent Injured Accident Victims Across Many Categories. Some Personal Injury Cases We Handle Include:
Accidents With Trucks or Commercial Vehicles
Injuries & Wrongful Death Involving Driver Negligence (cell phone use, DUI)
Accidents With Uninsured Motorists
Whiplash Injury Accidents
Airbag Deployment Accidents
Takata Air Bag Recalls
Motorcycle Accident Injuries
Ridesharing: Lyft & Uber Accidents
Bicycle Accident Injuries
Hit and Run Accidents
Pedestrians Hit By a Vehicle
Head-On Collisions
Rear-End Collisions
Spinal Cord Injuries
"It was a pleasure to have the Isaacs & Isaacs team to help me after being hit by a truck as I was walking to the market. They went above and beyond to help with all I went through!"
---
Hiring an Ohio Personal Injury Attorney with Our Firm
In his podcast, "Ask the Hammer," Attorney Darryl Isaacs – the Hammer – answers questions about how he and his team serve clients to help get them the compensation they need. Play the episode below:
---
Our Accident Law Firm Will Get Started on Your Case Immediately By:
Listening to your story
Answering your questions
Advising you what to do next
Investigating the accident scene and all other evidence related to your claim
Reviewing medical records, police reports, and all documents
Determining which parties are liable for your injury
Meeting with insurance adjusters
Helping you file your claim
Demanding a just settlement for all of your medical treatment and damages
---
How Much Compensation Could I Recover in My Personal Injury Case?
The amount of compensation you could recover depends on the nature and severity of your injuries and other losses. During a free initial consultation, a member of our team will help you determine which damages you can claim and how much your case may be worth.
Build Your Case With A Top Rated Accident Lawyer
If you need immediate assistance with a vehicle accident or personal injury, call our team now at 
800-333-9999
 to begin your free case review and schedule an initial consultation to get legal advice. Our law firm represents injured victims across many categories. Some popular cases our accident attorneys handle include:
---
What Damages Can Personal Injury Victims Recover?
In many personal injury cases, victims are able to recover compensation for their injuries, including their physical, financial, and mental/emotional injuries. Depending on the nature of your case, you may be able to recover:
Economic Damages
Economic damages are monetary damages with a verifiable dollar amount, like your medical expenses. Your economic expenses can be verified with receipts, statements, invoices, and similar documents. Some examples of economic damages are:
Medical expenses you currently have and may have in the future
Future care costs, such as the cost of in-home living assistance
The costs of any of your property that was damaged or destroyed due to the incident
Wages and benefits you've lost and may lose in the future due to your injuries
Other tangible losses
Non-Economic Damages
These damages don't have a dollar amount, but an attorney from our firm can attribute a monetary value to them so you can be compensated for them. Your non-economic damages may include:
Pain and suffering
Mental/emotional pain
Permanent injury
Disability or disfigurement
Other intangible losses supported by your case evidence
Wrongful Death Damages
You may have lost a family member due to an accident. If this happened to you and your family, you may be able to file a wrongful death claim or lawsuit against the other party. If you or another family member is given compensation, it may cover economic and non-economic damages like:
Any medical expenses the decedent had
Funeral and cremation/burial costs
The loss of the decedent's income for the household
Loss of consortium
Mental/emotional suffering you've endured
---
Your Personal Injury Lawyer Will Manage Your Case for You
After you hire one of our attorneys, you can count on them to manage everything about your case so you can focus on your recovery and any family matters. You'll be able to leave legal and financial matters in the hands of your attorney. Your attorney will:
Manage the little details: This includes communicating with the other party on your behalf, handling the legal paperwork, and updating you on progress throughout your case.
Investigate your case: To build your case, your attorney will seek out and examine the evidence, including the initial incident report, any witness statements, your medical reports, and any photos or videos of the incident or scene.
Consult with experts: To bolster your case, your lawyer can get statements from experts, such as an accident reconstructionist, a workplace safety officer, and/or a medical professional.
Negotiate with the other party: Your lawyer's goal will be to settle your case with the other party, but if they aren't willing to compromise, your lawyer will argue your case with a court instead.
File your claim or lawsuit: Your lawyer will also take care of the filing process for your claim or lawsuit.
Proving the Other Party's Liability
To prove the other party involved in your accident is responsible for the incident and your injuries, your lawyer will have to establish the party's negligence. Establishing negligence entails showing that:
The party owed you a duty of care (a responsibility to act in a way that prevents harm to others).
The party breached (failed in) their duty of care.
You suffered injuries as a result.
You suffered damages as a result of your injuries.
Establishing negligence can be difficult for a plaintiff, but a personal injury lawyer is adept at it. For this reason, you may decide you need a lawyer.
Meeting the Deadline for Your Case
According to Ohio law, personal injury plaintiffs have a limited time to file any kind of lawsuit after their incident. Per Ohio Revised Code Section 2305.10, plaintiffs have two years from the date of their accident to file a personal injury lawsuit. To file a wrongful death lawsuit, plaintiffs also have two years from the date of an incident, per Ohio Revised Code Section 2125.02.
If you don't file your lawsuit within the respective timeline, your case may be dismissed and you may not be able to recover any compensation at all. A lawyer from our firm will help you meet your filing deadline.
---
About Our Firm
Our law firm takes on personal injury cases, including those resulting in wrongful death. We can help you or your loved one if you have any personal injury case involving the following:
Auto accidents (such as car, motorcycle, or bicycle accidents)
Traumatic brain injury or another catastrophic injury
Death
Dog bite
Ridesharing incident
Autonomous vehicle
Slip and fall
We've helped many people like you recover compensation so they can get the care they need and take care of their families. Our clients appreciate that we:
Have over 400 years of combined experience among our attorneys
Have an in-house litigation team
Have attorneys licensed in IN, OH, NV, TX, IL, and KY
Have team members who speak Spanish
Don't charge any fees or costs until we recover compensation for them
---
Contact Us Today for a Youngstown Personal Injury Lawyer
If you believe you'd benefit from having a personal injury lawyer on your team, then call us at Isaacs & Isaacs Personal Injury Lawyers. We'll tell you more about how our attorneys can help, and then we'll invite you for a free consultation and case review with a member of our team. During your case review, we'll help you determine what your or your loved one's case may be worth.
To learn more about working with our Youngstown lawyers, call 1-800-333-9999 for your no-cost personal injury case review.