Begin Your Case With a Proven Personal Injury Law Firm
Are you struggling to cope after suffering catastrophic injuries at the hands of another? Are you scared and worried about what your future might bring? If so, you may have the right to financial compensation for your suffering. With help from a Lebanon personal injury lawyer at Isaacs & Isaacs Personal Injury Lawyers, you could recover compensation for your damages when you hold the liable party accountable for their negligence. Find out how to get started on your case by contacting our office for a free consultation.
We charge no upfront fees for our legal services and only take payment if we secure monetary compensation on your behalf. Call us at 800-333-9999 at any time to speak to one of our dedicated Lebanon personal injury lawyers and set up a free consultation.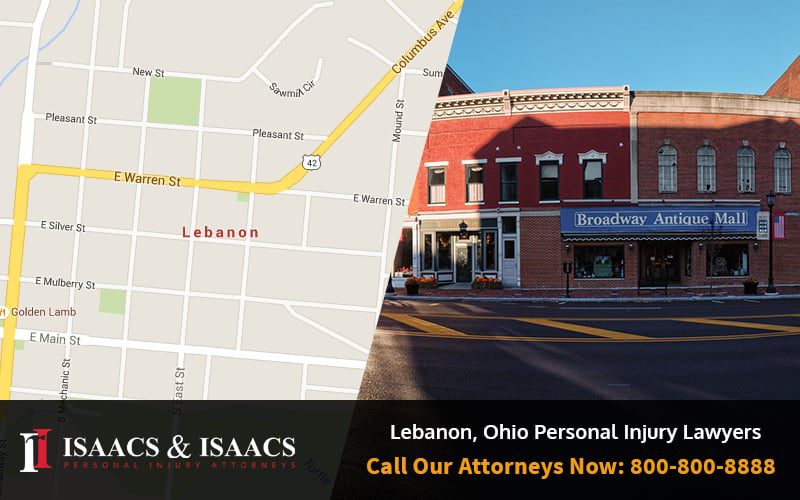 We Represent Injured Accident Victims Across Many Categories. Some Personal Injury Cases We Handle Include:
Accidents With Trucks or Commercial Vehicles
Injuries & Wrongful Death Involving Driver Negligence (cell phone use, DUI)
Accidents With Uninsured Motorists
Whiplash Injury Accidents
Airbag Deployment Accidents
Takata Air Bag Recalls
Motorcycle Accident Injuries
Ridesharing: Lyft & Uber Accidents
Bicycle Accident Injuries
Hit and Run Accidents
Pedestrians Hit By a Vehicle
Head-On Collisions
Rear-End Collisions
Spinal Cord Injuries
"John came to our house and went over the legal part of it thoroughly and quickly, but he always made it more about us. I would recommend them to anybody because they're going to make sure that you're protected. It just always felt like we were dealing with family instead of a legal process."
---
Hiring an Ohio Personal Injury Attorney with Our Firm
In his podcast, "Ask the Hammer," Attorney Darryl Isaacs – the Hammer – answers questions about how he and his team serve clients to help get them the compensation they need. Play the episode below:
---
Our Personal Injury Law Firm Can Help You Build Your Case
Isaacs & Isaacs Personal Injury Lawyers is a law firm proudly serving Lebanon and the surrounding area, providing legal representation in the areas of automotive, bad drugs, wrongful death, abuse, and other accidents and injuries.
As seen on television and local billboards, Darryl Isaacs has been called "The Hammer," winning settlements for Lebanon residents in Ohio who have been in an accident and who are seeking compensation for their injuries.
Our Accident Law Firm Will Get Started on Your Case Immediately By:
Listening to your story
Answering your questions
Advising you what to do next
Investigating the accident scene and all other evidence related to your claim
Reviewing medical records, police reports, and all documents
Determining which parties are liable for your injury
Meeting with insurance adjusters
Helping you file your claim
Demanding a just settlement for all of your medical treatment and damages
---
Build Your Case With A Top Rated Accident Lawyer
If you need immediate assistance with a vehicle accident or personal injury, call our team now at 
800-333-9999
 to begin your free case review and schedule an initial consultation to get legal advice. Our law firm represents injured victims across many categories. Some popular cases our accident attorneys handle include:
---
Personal Injuries Accident Victims Experience
Issacs & Isaacs Personal Injury Lawyers is a proud member of the Multi-Million-Dollar Advocates Forum. That means we've recovered multi-million-dollar settlements and verdicts for our clients. Some of our successful outcomes include:
Our client's daughter was injured in a serious school bus accident. We recovered a $6.475 million settlement.
We recovered $1.429 million for our client after a negligent driver T-boned her vehicle.
Our client was rear-ended by a large commercial truck. We recovered a $2.252 million settlement.
These are just some of the settlements we've secured for our clients. We encourage you to check out our previous case results online.
---
What to Expect from the Personal Injury Claims Process
One of the top reasons people do not pursue their personal injury claims more frequently is that they feel intimidated by the claims process.
Fortunately, when you have a strong legal advocate, you will have a thorough understanding of what to expect from your claim. With that in mind, you can generally expect the personal injury claims process to go as follows:
Once you retain an attorney, we begin investigating the cause of your accident
Throughout our investigation, we will gather the evidence needed to support your case
The evidence we obtain to support your claim will help prove liability
From there, we can file a claim with the liable party's insurance company
Your attorney can step in and handle the negotiations process on your behalf
If the insurance settlement is not enough to adequately meet your needs, filing a lawsuit in court may be necessary.
Your attorney will fight for the maximum fair and just compensation you deserve
It is important to know that every person's personal injury case may evolve differently. Therefore, what may occur next in one person's journey may not in another. To find out what to expect from your claim, contact our office to discuss the specific details of your case.
---
Proving Negligence in a Personal Injury Claim
Liability must be proven based on a preponderance of the evidence in personal injury claims. This means the evidence presented must show that the defendant is more likely than not responsible for your injuries.
With that being said, there are some types of evidence used to support personal injury claims more frequently than others. These include:
Cell phone records
Chemical blood alcohol concentration (BAC) test results
Photos of the accident scene
Photos of your Injuries
Photos of property damage
Video of the accident
Eyewitness statements
Expert testimony
Police reports
Safety inspection reports
Crash reports
---
Compensation for Personal Injury Victims
When you have been a victim of a personal injury, you have the right to be made whole. Every single law should be quantified and accounted for when calculating the value of your claim. Some of the various types of economic and non-economic damages you could be entitled to recover include:
Pain and suffering
Emotional distress
Diminished quality of life
Loss of consortium
Property damages
Medical expenses
Get a better idea of how much your personal injury claim could be worth when you contact a lawyer to discuss your damages further.
---
Contact a Personal Injury Attorney Serving Lebanon for Help Today
Isaacs & Isaacs Personal Injury Lawyers serves the community of Lebanon, Ohio, and the greater surrounding area with personal injury claims related to automotive, drugs, slip and fall, catastrophic injuries, and other injuries from accidents caused by others. Contact a personal injury attorney from our firm if you have been in an accident for a no-obligation case review today.
To learn more about working with our Lebanon lawyers, call 1-800-333-9999 for your no-cost personal injury case review.