Begin Your Case With a Proven Personal Injury Law Firm
If you suffered injuries in an accident, our Dayton personal injury lawyers can determine the liable party and fight for fair compensation. Our Dayton personal injury lawyer in Ohio can handle your case and deal with the insurance company for you while you recuperate from your injuries.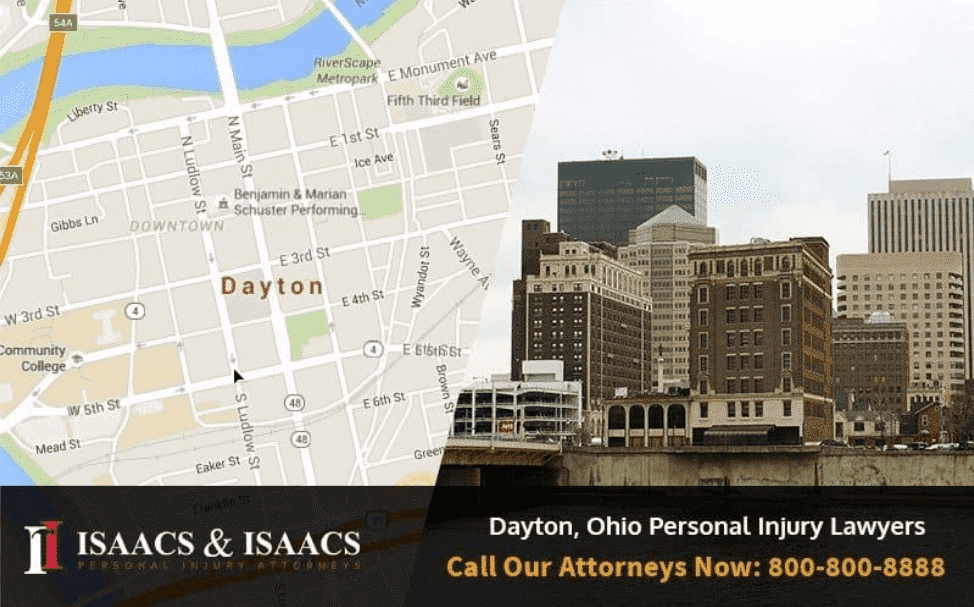 We charge no upfront fees for our legal services and only take payment if we secure monetary compensation on your behalf. Call us at 800-333-9999 at any time to speak to one of our dedicated Dayton personal injury lawyers and set up a free consultation.
We Represent Injured Accident Victims Across Many Categories. Some Personal Injury Cases We Handle Include:
Accidents With Trucks or Commercial Vehicles
Injuries & Wrongful Death Involving Driver Negligence (cell phone use, DUI)
Accidents With Uninsured Motorists
Whiplash Injury Accidents
Airbag Deployment Accidents
Takata Air Bag Recalls
Motorcycle Accident Injuries
Ridesharing: Lyft & Uber Accidents
Bicycle Accident Injuries
Hit and Run Accidents
Pedestrians Hit By a Vehicle
Head-On Collisions
Rear-End Collisions
Spinal Cord Injuries
"It was a pleasure to have the Isaacs & Isaacs team to help me after being hit by a truck as I was walking to the market. They went above and beyond to help with all I went through!"
---
Hiring an Ohio Personal Injury Attorney with Our Firm
In his podcast, "Ask the Hammer," Attorney Darryl Isaacs – the Hammer – answers questions about how he and his team serve clients to help get them the compensation they need. Play the episode below:
---
A Dayton Personal Injury Lawyer Will Build Your Case
Dayton, Ohio, is truly a gem of a city. We owe a lot to Dayton, including airplanes, the aerospace industry, and the great poetry of Paul Laurence Dunbar. Isaacs & Isaacs Personal Injury Lawyers is proud to serve the folks in Dayton, Ohio, and the surrounding area who have been hurt due to someone else's negligence.
Our Accident Law Firm Will Get Started on Your Case Immediately By:
Listening to your story
Answering your questions
Advising you what to do next
Investigating the accident scene and all other evidence related to your claim
Reviewing medical records, police reports, and all documents
Determining which parties are liable for your injury
Meeting with insurance adjusters
Helping you file your claim
Demanding a just settlement for all of your medical treatment and damages
---
A Message from Our Founder
Hello, my name is Darryl Isaacs, and I founded Isaacs & Isaacs Personal Injury Lawyers with my father, Sheldon Isaacs, over two decades ago. We shared a passion for helping injured people to get the fair and just compensation they deserve and need to heal from their injuries and go on with their lives.
Since we founded Isaacs & Isaacs Personal Injury Lawyers, we have attracted many like-minded attorneys and legal professionals to our firm who share our dedication to justice for everyday people who have been injured through no fault of their own. We want to help level the playing field when you are up against big insurance companies and large corporations that don't always want to be fair. At Isaacs & Isaacs Personal Injury Lawyers, we fight to get you the maximum compensation you are entitled to collect by law for your personal injury case or claim.
I was recently in an accident of my own, and I know how it feels when life is changed in an instant and without any warning. All of a sudden, you're hurt, scared, and unsure about what the future holds. Because of my own accident, I know what it feels like to be helpless and in pain.
---
How You Can Support Your Personal Injury Claim for Compensation
When you work with one of our attorneys, your personal injury lawyer will handle your entire case from start to finish. You can focus on getting back to health and spending time with your family. You will not need to deal with the insurance adjuster or be hounded to settle for a smaller amount by the insurance company after you hire us to handle your personal injury case.
There are a few things you can do to support your case, as well. Consider the following suggestions to help protect your rights to compensation.
See a Doctor Immediately After An Accident for Treatment of Your Injuries
Regardless of the type of accident you experienced, see a doctor immediately. Even if you did not have to go to the emergency room after the accident, make an appointment with your primary care physician. You may be suffering from severe injuries that are not immediately apparent. Symptoms may not manifest right away, either. If you delay medical treatment, your injury may worsen.
Additionally, seeing a doctor can support your claim for financial compensation. They can provide a prognosis that gives us an idea of how your injuries will continue to affect you. We can use this to estimate future medical expenses. Medical documentation can also help link your injuries to your accident, which is essential to holding a negligent party liable.
Follow Through with Your Medical Treatment Plan
Your doctor will prescribe a treatment plan, which may include physical therapy, medication, and follow-up visits. Make sure you follow through with any medical treatment your doctor prescribes. Keep your medical appointments and let them know about any symptoms that occur while you are recovering from your injuries.
If you don't get medical treatment, an insurer may argue that you contributed to the severity of your injuries. They can then work to undervalue or outright deny your personal injury claim. Do not give them the opportunity to do this. Protect your rights and your health.
Build Your Case With A Top Rated Accident Lawyer
If you need immediate assistance with a vehicle accident or personal injury, call our team now at 
800-333-9999
 to begin your free case review and schedule an initial consultation to get legal advice. Our law firm represents injured victims across many categories. Some popular cases our accident attorneys handle include:
---
Insurance Is a Business, and Insurance Companies Want to Make Money
In all my years as an attorney helping injured people get fair compensation, I have never once heard of an insurance company offering an injured party the maximum compensation they are eligible for without a fight. Insurance adjusters like to take their time estimating how small of an amount you will settle for, and if you're injured and unable to work, they may think you will take whatever settlement they offer you without seeking legal help. They hope that you will not call a Dayton personal injury lawyer and discover how much your case is really worth.
Isaacs & Isaacs Personal Injury Lawyers employs attorneys who used to work for insurance companies, and we are well aware of the tactics and strategies insurance companies use to keep from paying you the maximum compensation you are entitled to collect for your injuries. We cannot urge you strongly enough to speak to an experienced and knowledgeable personal injury lawyer before you talk to the insurance people or sign any papers.
If they offer you a settlement right away, they may be nervous about how serious your injuries will prove to be down the road, and they are doing damage control. They want to settle your personal injury claim fast to avoid paying millions of dollars if, for example, your injury leads to disability or death. In exchange for a financial settlement, they will ask you to sign a release of liability form. Once you sign that paper for them, you will not be eligible for any more compensation from the liable party's insurance company or your own. This is because your insurance company is counting on recovering any money they pay you for your accident injuries from the liable party's insurance carrier. If you sign the release of liability, you are signing away your right to future compensation for your:
Medical bills
Lost wages
Pain and suffering
Emotional trauma
Wrongful death
With some serious injuries, such as a traumatic brain injury, you won't know the extent of your injury for weeks or even months after your accident.
---
Isaacs & Isaacs Personal Injury Lawyers Will Fight for You
Whether you need a Dayton truck accident attorney, were prescribed a bad drug, have been injured on the job, or have been involved in a major car crash, a third-party, such as a manufacturer, can also be held liable. Your experienced and aggressive attorney from Isaacs & Isaacs Personal Injury Lawyers will file a lawsuit, if necessary, to obtain evidence that the company or party has no obligation to disclose otherwise. Filing a lawsuit in civil court will allow us to do several things, including:
Demanding access to files and records, including electronic
The right to inspect all tangible evidence, including the injury site
The right to inspect cell phones, and review transcripts of calls and text messages
Subpoena witnesses to testify under oath at a deposition and at trial
Propound interrogatories (questions to be answered under oath and in writing)
Request admission of facts related to your personal injury case, under penalty of perjury
Lawsuits sometimes uncover evidence of criminal activity that caused harm, and criminal charges are filed in addition to the lawsuit. Our aggressive and relentless personal injury attorneys will find out exactly what caused your injury and who is responsible. We will fight to get you every penny of compensation you are entitled to under the law.
Ohio allows punitive damages for intentional fraud or malicious actions that cause grave damage and injury. Punitive damages are meant to punish a wrongdoer and discourage others from engaging in similar behavior. Because punitive damages are meant to punish, amounts awarded by juries can be high, especially if the defendant is a large corporation or a manufacturer of bad pharmaceutical drugs or medical devices.
---
It Won't Cost You Anything to Retain a Dayton Personal Injury Lawyer
Isaacs & Isaacs Personal Injury Lawyers will represent you on a contingency fee basis; if we don't get you your money, we don't get paid! Statistics show that people who enlist legal help receive more compensation for a personal injury claim than those who try to negotiate a fair deal with the liable party's insurance company on their own.
We Can Work on Your Personal Injury Case in a Timely Manner
Your Isaacs & Isaacs Personal Injury Lawyer will work around the clock to assist you before:
Evidence disappears or is altered.
Witnesses forget what they saw or move away.
The legal deadline for filing your case or claim expires, leaving you no recourse to recover compensation for your financial loss, medical bills, and pain and suffering.
Ohio's Statute of Limitations May Apply to Your Personal Injury Case
As mentioned, we can file a personal injury lawsuit on your behalf. Sometimes, we suggest beginning with this strategy. You should be aware that you have a limited time to file a lawsuit, though.
According to Ohio Revised Code Section 2305.10, you generally have two years to take legal action. The deadline starts counting down from the date of your accident. You have the same amount of time to file a wrongful death lawsuit if you lost a loved one to an accident, per Ohio Revised Code Section 2125.02.
Two years may seem like ample time, but building a case requires work. A lawyer from our firm has to investigate your accident, calculate your damages, and gather evidence. None of these processes stall the deadline, though. The sooner you get started, the better off you will be.
---
A Proven Dayton Personal Injury Law Firm
If you aren't sure that you have a valid case or claim, we will be happy to advise you free of charge. It won't cost you anything to talk with one of our skilled and helpful personal injury attorneys. Call us or fill out our online form for a free consultation and case evaluation. You have nothing to lose and everything to gain by consulting one of our attorneys about your situation, and we are here to help you now.
To learn more about working with our Dayton lawyers, call 1-800-333-9999 for your no-cost personal injury case review.