Fiery Truck Accident in Colorado Causes Injuries & Multiple Fatalities
Last updated Thursday, June 29th, 2023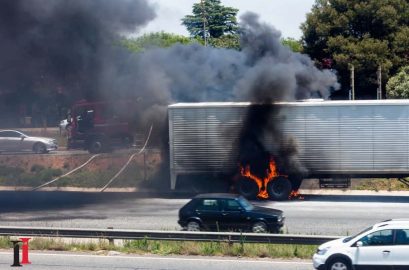 Truck Accident in Colorado: Just after Thursday's 5pm rush hour commute began on Lakewood, Colorado's busy Interstate 70, a small school bus collision had brought traffic to a standstill. Moments later, with cars waiting to move past the incident, the traffic jam turned deadly.
A semi-truck moving at high speeds slammed into sitting traffic, causing a cataclysmic chain-reaction crash involving at least 28 cars, with several big rigs and tractor-trailers among the vehicles involved. The semi-trailer collision triggered dozens of injuries and hospitalizations with reports of multiple fatalities.
Cause of Deadly Lakewood, CO Tractor Trailer Crash Under Investigation
At a press conference with Lakewood Police Department's Ty Countryman, it was reported that the "investigation began once the fire was put out by West Metro Fire Rescue. At about 10 pm investigators were able to get in and start looking at the devastation." Countryman also noted that the driver, identified as 23-year-old Rogel Lazaro Aguilera from Texas, had been taken into custody at Jefferson County Jail and will be charged with multiple counts of vehicular homicide.
What We Currently Know About the Lakewood, CO Semi Truck Crash
A truck Accident in Colorado occurred Thurs, Apr 25 around 4:30 pm in Lakewood, CO outside of Denver
24 cars and 4 semi-trucks were involved
Several injuries and multiple fatalities have been reported
6 people were taken to the hospital for additional treatment
The semi that caused the crash was carrying lumber that also toppled and ignited
No evidence of alcohol or drugs has been discussed as a possible cause
No evidence mentioned that the collision was an intentional act
Investigators will take a closer look at several possible causes including brake failure, mechanical issues and beyond
Truck Accident Attorney On the Colorado Big Rig Crash
Semi-truck accident lawyer Darryl Isaacs responded to news of the crash saying, "It's always so unfortunate when these crashes occur as they have deadly consequences."
Isaacs noted that even with criminal charges against the driver, there will be civil causes of action brought against the vehicle operator and other responsible parties involved, for the important purpose of bringing justice and fair compensation to those who now may be dealing with challenging injuries and the heartbreaking loss of loved ones.
At Isaacs & Isaacs, our hearts go out to the victims and families of this devastating tragedy.
---
Isaacs and Isaacs, Primary Office
1601 Business Center Ct
Louisville, KY 40299