Begin Your Case With a Proven Traumatic Brain Injury Law Firm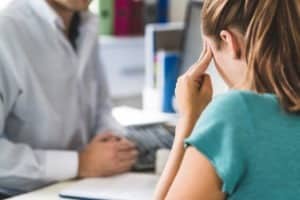 A traumatic brain injury (TBI) can create lifelong challenges for victims and their loved ones. Whether you have been injured in a car accident or a fall, a Paducah traumatic brain injury lawyer from Isaacs & Isaacs Personal Injury Lawyers can help you seek the financial compensation you need to recover from your losses.
We charge no upfront fees for our legal services and only take payment if we secure monetary compensation on your behalf. Call us at 800-333-9999 at any time to speak to one of our dedicated Paducah traumatic brain injury lawyers and set up a free consultation.
We Represent Injured Accident Victims Across Many Categories. Some Personal Injury Cases We Handle Include:
Accidents With Trucks or Commercial Vehicles
Injuries & Wrongful Death Involving Driver Negligence (cell phone use, DUI)
Accidents With Uninsured Motorists
Whiplash Injury Accidents
Airbag Deployment Accidents
Takata Air Bag Recalls
Motorcycle Accident Injuries
Ridesharing: Lyft & Uber Accidents
Bicycle Accident Injuries
Hit and Run Accidents
Pedestrians Hit By a Vehicle
Head-On Collisions
Rear-End Collisions
Spinal Cord Injuries
Sometimes an injury is not evident until much later. Even if you haven't suffered a catastrophic injury you still may need medical treatment. You should seek medical care immediately, even if you don't think you are badly hurt. Some severe injuries may not be immediately apparent. This is the best way to physically and legally protect yourself and your loved ones.
"Our daughters were involved in a serious car crash when a man ran a red light! Isaacs & Isaacs knew exactly what to say and exactly what to do for us! They are not only highly professional but also very sincere in wanting to help get our girls every dollar deserved! We will always be grateful to the team of The Hammer for being so wonderful during our time of need! Thank you from our family to your law firm."
---
Getting the Legal Perspective on Traumatic Brain Injuries – Audio Interview
Lawyer Darryl Isaacs — The Hammer — sat down to address legal and safety considerations of a traumatic brain injury in a recent radio episode of "Ask The Hammer," the podcast exploring the legal matters that matter most. There are many elements at play when knowing what to do after a traumatic brain injury. Listen to the episode directly below.
---
What Is a Traumatic Brain Injury?
A traumatic brain injury is an injury to the brain caused by an exterior force. TBI can be mild, moderate, or severe. Mild TBI can often be treated at home, whereas more severe trauma can require lifelong medical treatment.
Causes of TBI
According to the Centers for Disease Control and Prevention (CDC), a traumatic brain injury is typically the result of a blow to the head, a sudden movement or jolt, or a piercing injury such as a gunshot or other physical intrusion. Common TBI causes include:
Falls: Nearly half of all TBI-related hospitalizations are due to falls.
Firearms: Many TBI injuries occur due to gunshots to the head.
Motor vehicle crashes: Motor vehicle crashes present a risk of TBI due to high speeds, sudden stops, flying debris, and blows to the head.
Assaults: TBI can occur during physical altercations when the victim's head is struck or pierced.
TBI Can Have Long-Term Consequences
While many people can recover safely from a mild TBI or concussion with minimal medical intervention, moderate or severe TBI can be much more debilitating. Long-term effects of more severe TBI include:
Blood clots
Brain bleeds
Loss of brain function
Reduced mobility
Disrupted development in children
Limited activity and reduced quality of life
Our Accident Law Firm Will Get Started on Your Case Immediately By:
Listening to your story
Answering your questions
Advising you what to do next
Investigating the accident scene and all other evidence related to your claim
Reviewing medical records, police reports, and all documents
Determining which parties are liable for your injury
Meeting with insurance adjusters
Helping you file your claim
Demanding a just settlement for all of your medical treatment and damages
---
Symptoms of a Traumatic Brain Injury
Traumatic brain injury is notoriously difficult to diagnose. Adrenaline can mask your symptoms, and other signs of TBI may not appear until days later. If you aren't sure whether you have a TBI, you can watch for the following symptoms:
Blackouts or memory loss
Headaches
Confusion, dizziness, or vertigo
Wild mood swings, depression, or anxiety
Nausea or vomiting
Unexplained bad odor or a bad taste in the mouth
Excessive sleepiness or insomnia
Light and sound sensitivity
Fainting, losing consciousness, or seizures
Reduced mental or physical capacity
Coma or persistent vegetative state
These are just a few of the ways that traumatic brain injury can present over time. Infections, swelling, and fluid or blood buildup in the skull can further complicate brain injuries. Such complications may not be immediately apparent. It is therefore critical that you seek medical advice as soon as possible after a head injury, even if you feel fine afterward. A medical professional will perform imaging and diagnostic tests, so you receive the treatment you need.
---
What to Do If You Experience a Traumatic Brain Injury in Paducah, KY
If you have a head injury due to a fall, car accident, or other incident, follow these steps to ensure your safety and protect your right to compensation:
Move out of harm's way. If you are conscious at the accident site, be sure that you are out of the way of machinery, traffic, and other hazards.
Seek medical attention. Call 911 to obtain medical assistance. Even if you feel fine at the time, symptoms from brain injuries may not present immediately. If you are not taken to the hospital, go to the emergency room as soon as possible.
Compile evidence. If you can, take photos of the accident scene and obtain the names and contact information of individuals who witnessed the incident. Your attorney will use witness statements, medical records, pictures, and other evidence to build your claim for compensation.
Contact a TBI attorney. If you experienced TBI because of someone else's actions, an injury attorney with experience handling Kentucky TBI claims can help. Reach out to Isaacs & Isaacs Personal Injury Lawyers to discuss your claim.
How Much Is a Traumatic Brain Injury Claim Worth in Kentucky?
TBI effects differ widely, depending on the injury location and severity. In some cases, a full recovery is not possible. In such cases, there are additional costs associated with lifelong treatment. The variability of TBI makes it impossible to pinpoint a specific value for TBI claims.
Damages you may be able to claim for your TBI include:
Medical costs
Physical, psychological, and occupational therapy
Loss of current and future income
Pain and suffering
Emotional and mental distress
Loss of consortium
Reduced quality of life
Loss of companionship
If you or a loved one have sustained a TBI because of someone else's actions, you should not have to pay for the losses you incurred as a result. A Paducah traumatic brain injury lawyer from Isaacs & Isaacs Personal Injury Lawyers can examine your case and help you determine which damages you can claim.
Build Your Case With A Top Rated Accident Lawyer
If you need immediate assistance with a vehicle accident or personal injury, call our team now at 
800-333-9999
 to begin your free case review and schedule an initial consultation to get legal advice. Our law firm represents injured victims across many categories. Some popular cases our accident attorneys handle include:
---
Benefits of Having a Paducah TBI Attorney on Your Side
When you or someone you love have suffered a traumatic brain injury, the last thing you want to worry about is negotiations. Insurance companies are motivated to provide as little compensation as possible, which can make it difficult for you to obtain a fair settlement without an attorney.
With a TBI lawyer from Isaacs & Isaacs Personal Injury Lawyers on your side, you can focus on your recovery and leave the legal problems to us. Our team will:
Compile evidence to support your claim
Place a financial value on your claim
Determine all the at-fault parties
Pursue the maximum compensation for your losses
Aggressively negotiate with insurance companies
Present your case before a judge or jury
Our attorneys are well-versed in the medical and legal complexities of Kentucky TBI cases. We will vigorously defend your right to fair compensation for the losses you sustained.
Time Is of the Essence
If you have a TBI from an accident in Kentucky, you have a limited amount of time to file a claim for damages. The amount of time you have may differ depending on the circumstances of your injury. For example, the statute of limitations for vehicle accident claims is different than for general personal injury claims. You should therefore contact an attorney as soon as possible after your accident. A TBI lawyer with experience handling Kentucky accident claims will know how long you have to file your claim and help you meet the necessary legal deadlines.
---
Partner with Isaacs & Isaacs Personal Injury Lawyers for Your Paducah TBI Claim
The injury attorneys at Isaacs & Isaacs Personal Injury Lawyers are committed to providing clients with the support and representation they need to obtain justice and fair compensation. Our lawyers have spent the last 20 years defending thousands of injury victims and have recovered over $1 billion in damages for our clients across Kentucky, Indiana, and Ohio.
We understand the physical, mental, and emotional toll that a TBI can take on the victim and their family. Our TBI attorneys will handle the legal aspects of your claim, so you can take the time to focus on your recovery.
To learn more about working with our Paducah lawyers, call 1-800-333-9999 for your no-cost traumatic brain injury case review.