Begin Your Case With a Proven Personal Injury Law Firm
If another person acts negligently—carelessly or recklessly—and causes you to suffer injuries and financial losses, Kentucky's personal injury laws allow you to pursue compensation to make up for these damages. You may be able to file an insurance claim against them or sue them in civil court.
If you have questions about your rights, options, or next steps after a negligence injury, the team of attorneys from Isaacs & Isaacs Personal Injury Lawyers can assess the circumstances and answer your questions. We provide free consultations for injury victims and their families.
We charge no upfront fees for our legal services and only take payment if we secure monetary compensation on your behalf. Call us at 800-333-9999 at any time to speak to one of our dedicated Lyndon personal injury lawyers and set up a free consultation.
We Represent Injured Accident Victims Across Many Categories. Some Personal Injury Cases We Handle Include:
Accidents With Trucks or Commercial Vehicles
Injuries & Wrongful Death Involving Driver Negligence (cell phone use, DUI)
Accidents With Uninsured Motorists
Whiplash Injury Accidents
Airbag Deployment Accidents
Takata Air Bag Recalls
Motorcycle Accident Injuries
Ridesharing: Lyft & Uber Accidents
Bicycle Accident Injuries
Hit and Run Accidents
Pedestrians Hit By a Vehicle
Head-On Collisions
Rear-End Collisions
Spinal Cord Injuries
Sometimes an auto accident injury is not evident until much later. Even if you haven't suffered a catastrophic injury you still may need medical treatment. You should seek medical care immediately, even if you don't think you are badly hurt. Some severe injuries may not be immediately apparent. This is the best way to physically and legally protect yourself and your loved ones.
"John came to our house and went over the legal part of it thoroughly and quickly, but he always made it more about us. I would recommend them to anybody because they're going to make sure that you're protected. It just always felt like we were dealing with family instead of a legal process."
---
How Hiring a Lyndon, KY Personal Injury Attorney Works
Attorney Darryl Isaacs — The Hammer — sat down to address questions about the experience of working with injured clients in Lyndon and beyond to help them fight for justice and win compensation. Join us in this radio episode of "Ask The Hammer," the podcast exploring the legal matters that matter most. Play the episode directly below.
---
Build Your Case With a Lyndon, KY Personal Injury Lawyer
For more than 25 years, Isaacs & Isaacs Personal Injury Lawyers has served as one of the best personal injury lawyers in Louisville, KY and we are proud to represent clients in nearby Lyndon.
We provide 24/7 access to our law firm for injured clients in Lyndon and surrounding areas, providing legal representation in the areas of collisions with trucks and large commercial vehicles, car wrecks, wrongful death, abuse, and other accidents and injuries.
As seen on television and local billboards, Darryl Isaacs has been called "The Hammer," winning settlements for Lyndon residents who have been in an accident and are seeking compensation for their injuries.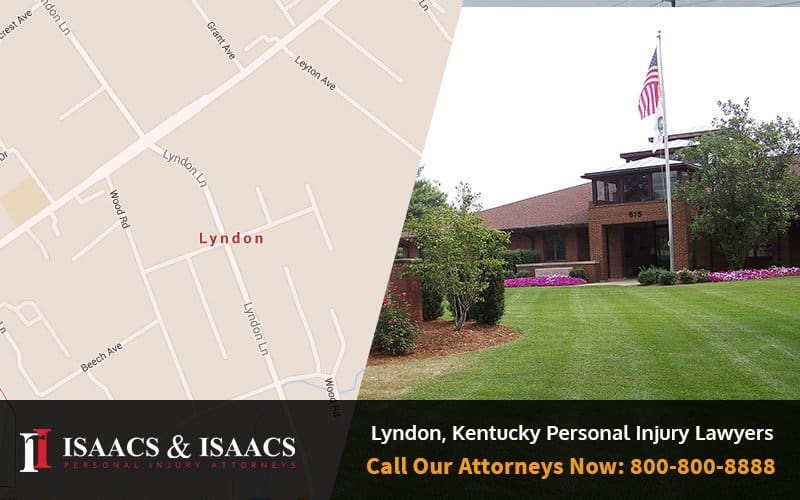 Our Accident Law Firm Will Get Started on Your Case Immediately By:
Listening to your story
Answering your questions
Advising you what to do next
Investigating the accident scene and all other evidence related to your claim
Reviewing medical records, police reports, and all documents
Determining which parties are liable for your injury
Meeting with insurance adjusters
Helping you file your claim
Demanding a just settlement for all of your medical treatment and damages
---
Types of Personal Injury Cases
Our team manages a wide variety of personal injury accident cases in Lyndon and nearby communities. If you believe another person, business, or other entity was at fault in your injury accident, we are here for you. We may be able to help you recover compensation in accidents, including:
Lyndon Motor Vehicle Accident Attorneys
Traffic accidents are one of the most common ways people suffer injuries nationwide, including in Kentucky. When two vehicles collide, the occupants of the cars can suffer a wide range of injuries, varying from minor to catastrophic. Our team can help hold the at-fault driver legally responsible.
Our attorneys help with many types of traffic accidents including:
Car accidents
Truck accidents
Rideshare, Lyft, and Uber accidents
Bicycle accidents
Pedestrian accidents
Motorcycle accidents
Autonomous vehicle accidents
Lyndon Premises Liability Lawyers
Our lawyers also represent clients in premises liability cases. These could include:
Slip and fall
Trip and fall
Dog bite incidents
Swimming pool accidents
Lyndon Dangerous Drug & Defective Medical Device Lawyers
If your doctor in Lyndon, Kentucky, or the surrounding area has prescribed you any dangerous drugs, or if you've been affected by medical devices such as transvaginal mesh, you may be entitled to compensation. Let our lawyers fight for you.
In addition, our team may be able to help you with cases that involve medical malpractice, nursing home abuse, and more. You can learn about your legal options and how our services can help you during your free case review.
---
Build Your Case With A Top Rated Accident Lawyer
If you need immediate assistance with a vehicle accident or personal injury, call our team now at 
800-333-9999
 to begin your free case review and schedule an initial consultation to get legal advice. Our law firm represents injured victims across many categories. Some popular cases our accident attorneys handle include:
Recovering Compensation in a Lyndon Personal Injury Case
When we have solid evidence to prove fault and liability, we can often hold the negligent party legally accountable, making them or their insurer pay for our client's injuries, expenses, and other financial effects. This may be possible through an insurance claim and settlement or a personal injury lawsuit.
No matter the method of recovering the compensation, the damages available cover the incurred costs of the accident and injuries. Examples of recoverable damages include:
Medical bills and treatment-related expenses
Future costs related to injury treatment and care
Lost wages and future lost income
Property damages
Other related expenses
Pain and suffering damages
Our personal injury lawyers also represent families whose loved ones passed away because of their accident injuries. We may be able to recover wrongful death damages for surviving family members.
---
Negligence and Personal Injuries in Kentucky
Like most other states, personal injury cases in Kentucky generally require us to prove negligence occurred. There are exceptions to this, including strict liability for defective product cases, but they are not common in most types of injury accidents.
To show that another party was responsible for your incident and injuries, we need to prove they acted carelessly or recklessly, known legally as negligence. There are four elements to prove negligence:
The other party owed you a duty of care, such as following safety rules and all applicable laws.
They breached their duty, often violating protocol or statutes.
Their breach of duty was the direct cause of the incident or accident.
You suffered injuries due to this accident.
The evidence we use to establish negligence is what we use to build an argument to support the insurance claim or present at trial to convince the jury to rule on behalf of our client. With this evidence, we can often demand and negotiate a fair settlement and avoid court. If we go to court, we are confident we have the necessary proof to show the jury our client deserves compensation.
---
A Proven Lyndon, Kentucky Personal Injury Law Firm
We can only imagine what you are going through after a catastrophic injury, but we can fight for you if the accident was caused by someone else's negligence. Our clients have had injuries resulting in amputation, paralysis, quadriplegia, paraplegia, or other permanent conditions. We understand that these injuries do more than impact your ability to work or perform normal human functions–they result in emotional and mental conditions not limited to depression, anxiety, and the ability to enjoy life in general.
Darryl and the team at Isaacs & Isaacs Personal Injury Lawyers win 99 percent of their cases and have collected over $2 billion for injured clients in Kentucky, Indiana, and Ohio. Your next step involves letting us hear your important story so we can begin to build your case strategy.
To learn more about working with our Lyndon lawyers, call 1-800-333-9999 for your no-cost personal injury case review.