Kentucky Uber Accident Lawyer
Last updated Monday, June 26th, 2023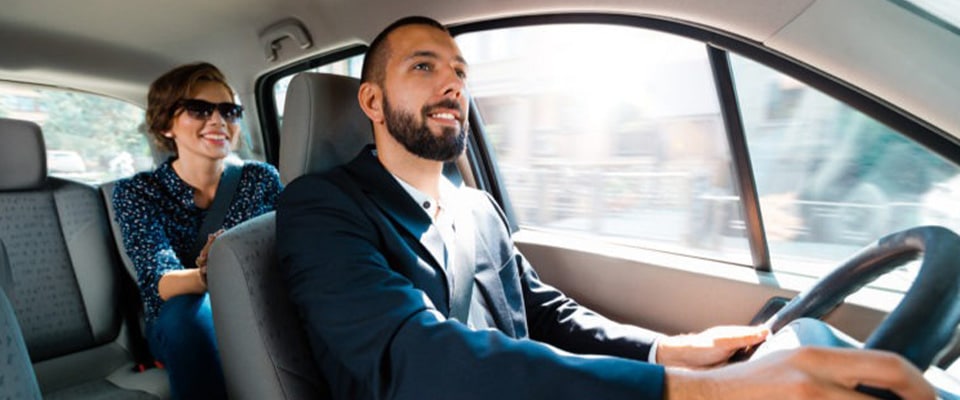 Rideshare companies, like Uber, are businesses that provide transportation services in Kentucky. Unfortunately, some of these drivers are responsible for accidents on the road. If you or someone you know has been injured in a rideshare accident, an Uber accident lawyer from our lawyers can help with your case. We can build your case and fight for fair compensation while you focus on recovery.
How a Kentucky Uber Accident Lawyer Can Help With Your Case
Rideshare accidents can involve more factors than your typical car accident. That's because more parties may be involved, including multiple insurance companies. An Uber accident lawyer in Kentucky can help communicate on your behalf so you can spend your time healing from your accident.
Our team has over 400 years of combined legal experience. We can help you by:
Conducting an investigation into your crash, obtaining evidence such as video, police reports, witness statements, and Uber app data.
Researching drivers' histories, as this may not be the first accident they've caused.
Communicating with insurance companies and negotiating a fair settlement for your injuries and expenditures.
Establishing liability if it is unclear at the scene of the accident.
Representing you in court, if necessary.
Moreover, Darryl "The Hammer" Isaacs and our team have recovered over $1 billion in compensation for our previous clients. We can gather evidence, establish liability, and negotiate compensation for you.
The Cost of a Kentucky Uber Accident Lawyer
Isaacs & Isaacs Personal Injury Lawyers doesn't charge any upfront fees or costs. Instead, we take cases on a contingency-fee-basis.
As part of our contingency-fee arrangement, payment is only required when your case is won or settled.
Recoverable Damages After a Kentucky Uber Accident
If you were injured in a Kentucky Uber accident, you may be able to seek compensation for your various losses. Each case is different and has unique circumstances. However, you may be able to recuperate compensation for:
Medical costs, such as ambulance or emergency services, surgeries, tests, doctor visits, prescriptions, and more
Future medical costs or long-term health care costs
Lost wages or benefits from missed work due to the accident
Future lost wages (if serious injuries leave victims unable to return to work)
Pain and suffering
Loss of quality of life
Property damage
Furthermore, if the Uber accident resulted in the death of a loved one, you may be able to receive compensation through a wrongful death claim. Compensation for wrongful death can include:
Burial and funeral costs
Loss of companionship
Loss of the deceased's earnings
The deceased's medical bills
Our Uber accident lawyers in Kentucky can help you understand what damages you may be able to recover.
The Deadline to File Your Kentucky Uber Accident Case
The timeline to file a legal claim is referred to as the statute of limitations. The statute of limitations for Kentucky is generally two years from the date of the accident, per Ky. Rev. Stat. §304.39-230. Nonetheless, your timeline can vary, depending on the details of your accident.
Our Kentucky Uber accident attorneys can represent you and file your paperwork according to the proper timeline.
Who is Liable for a Kentucky Uber Accident
Uber accidents can be caused by multiple factors. Depending on your specific situation, the liable party may be:
The Uber driver
Another driver or pedestrian
The city/state (for unsafe roads or infrastructure)
A Kentucky Uber accident attorney from Isaacs & Isaacs Personal Injury Lawyers can investigate your incident, determine the cause, and establish what party is liable. For example, the accident may be caused by a driver's negligent or unsafe driving. Negligent driving can put everyone on the road at risk and includes:
Distracted driving, such as texting and driving
Driving under the influence of drugs or alcohol
Speeding or driving quickly to receive a better rating or higher tip
Fatigued driving
Poor vehicle maintenance
Failure to adhere to stop signs and lights
Failure to yield the right of way to other drivers and pedestrians
Insurance Coverage for Uber Drivers
Uber's auto insurance coverage can safeguard drivers and passengers during rides. However, it does not always apply, depending on the circumstances of the accident. Uber's rideshare cover will typically apply when the app is online and an accident occurs:
When a driver is fulfilling a ride or delivery or traveling to pick up passengers
When a driver is waiting for a ride or delivery request
If an accident occurs when the Uber app is off, rideshare coverage does not apply. Personal auto insurance will apply in this instance.
What You Should Do After a Kentucky Uber Accident
You should seek medical attention if you sustained minor or serious injuries in an accident. Additionally, you should follow up with your doctor if your condition worsens.
Be sure to maintain all records of the accident, your injuries, and any receipts associated with the costs. You can use this information to help you recover compensation. You can also contact our Kentucky Uber accident lawyers to help you fight for fair compensation.
Contact an Uber Accident Attorney in Kentucky For Help With Your Case
Our firm is here to help you in your time of need. Call Isaacs & Isaacs Personal Injury Lawyers today to get a free consultation. We know car accidents cause significant damages, so allow us to help with your claim while you focus on your recovery.