Begin Your Case With a Proven Personal Injury Law Firm
After getting hurt, you might experience a whirlwind of emotions: anger, sadness, and even fear. You might wonder, "How did this happen? How am I going to pay for my healthcare expenses and other bills?"
Your days of frustration are over. Meet Isaacs & Isaacs Personal Injury Lawyers. Since 1993, we've recovered more than $2 billion in damages for our clients. Our Westfield personal injury lawyers are ready to fight for compensation today. The road to recovery begins with a free, no-obligation case review.
We charge no upfront fees for our legal services and only take payment if we secure monetary compensation on your behalf. Call us at 800-333-9999 at any time to speak to one of our dedicated Westfield personal injury lawyers and set up a free consultation.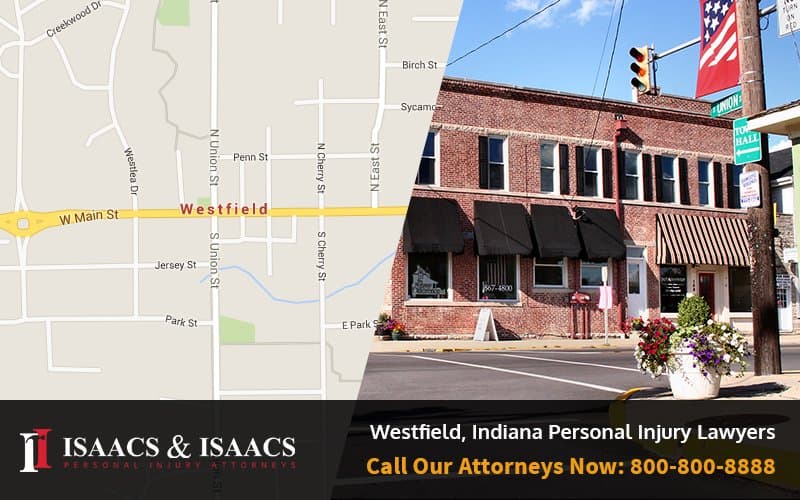 We Represent Injured Accident Victims Across Many Categories. Some Personal Injury Cases We Handle Include:
Accidents With Trucks or Commercial Vehicles
Injuries & Wrongful Death Involving Driver Negligence (cell phone use, DUI)
Accidents With Uninsured Motorists
Whiplash Injury Accidents
Airbag Deployment Accidents
Takata Air Bag Recalls
Motorcycle Accident Injuries
Ridesharing: Lyft & Uber Accidents
Bicycle Accident Injuries
Hit and Run Accidents
Pedestrians Hit By a Vehicle
Head-On Collisions
Rear-End Collisions
Spinal Cord Injuries
"It was a pleasure to have the Isaacs & Isaacs team to help me after being hit by a truck as I was walking to the market. They went above and beyond to help with all I went through!"
---
Hiring an Indiana Personal Injury Attorney with Our Firm
In his podcast, "Ask the Hammer," Attorney Darryl Isaacs – the Hammer – answers questions about how he and his team serve clients to help get them the compensation they need. Play the episode below:
---
What Can You Expect During Your Free Case Review?
During your free case review, you can discuss your accident and injuries with a member of our team. We may ask you some simple questions, including when you got hurt, the injuries you suffered, and other key details.
Again, there is no obligation. Your consultation is simply a chance to explore your legal options in a safe, comfortable setting.
Our Accident Law Firm Will Get Started on Your Case Immediately By:
Listening to your story
Answering your questions
Advising you what to do next
Investigating the accident scene and all other evidence related to your claim
Reviewing medical records, police reports, and all documents
Determining which parties are liable for your injury
Meeting with insurance adjusters
Helping you file your claim
Demanding a just settlement for all of your medical treatment and damages
---
Considerations After Suffering Harm Due to Negligence
Right now, you might not know how to proceed. Yet, these measures could bolster your case and help you recover damages:
Get medical care. Documenting your condition helps prove that you were harmed and deserve compensation. Also, seeing a doctor helps you reach maximum medical improvement, improving your quality of life.
Take a break from social media. Anything you put in writing, including a simple post on social media, could hurt your case. For instance, suppose that while your case is unfolding, you share that you're going on a day trip to Indianapolis with some friends. If the claims adjuster sees that post, they could argue that you're not as injured as you assert.
Write down everything you remember about getting hurt. Our team will interview eyewitnesses and other consultants to learn about how your accident happened. Yet, no one knows what happened better than you do. Be sure to write down everything you remember before, during, and after suffering harm.
When you consult with our team, we can share other measures to help you build a solid injury case.
Build Your Case With A Top Rated Accident Lawyer
If you need immediate assistance with a vehicle accident or personal injury, call our team now at 
800-333-9999
 to begin your free case review and schedule an initial consultation to get legal advice. Our law firm represents injured victims across many categories. Some popular cases our accident attorneys handle include:
---
These Laws May Apply to Your Injury Case in Westfield, Indiana
You don't need to know Indiana law inside and out to hire an attorney. Understanding state and federal mandates is our job. However, here's an outline of some basic laws that may apply to your case:
Indiana's statute of limitations – Per IC § 34-11-2-4, you generally have two years to file your lawsuit. Very few exceptions apply. Missing this deadline means missing your chance to seek damages through litigation.
Indiana's fault laws – Per IC § 34-51-2-6, Indiana operates on a fault-based system. If you were the primary at-fault party in your accident, you can't seek damages. This makes proving fault for your accident crucial. If the insurance company believes you contributed to the accident, this can make it difficult to recover damages.
Indiana's workers' compensation laws – If you suffered an on-the-job injury, you might have workers' compensation coverage. You can read more about those laws from the Workers' Compensation Board of Indiana.
The law is designed to help injured claimants recover damages. When strategizing your case, we will take into consideration the local, state, and federal laws that apply to you.
---
We Will Pursue Everything You Deserve for Your Injuries
Recoverable losses in your case may include:
Pain and suffering
The cost of replacing or repairing your vehicle
Physical scarring and mental trauma
Healthcare expenses, both now and in the future
Lost income and other job-related losses
Loss of future earning ability
$6.475 million. $5.525 million. $3.65 million. Those are just some of the outcomes we've achieved for injured claimants and their loved ones. We're committed to recovering everything you need to get your life back on track. After evaluating your case, we may find that you merit compensation for additional losses than those listed above.
---
The Benefits of Partnering with an Injury Lawyer from Our Firm
There are countless benefits of partnering with our injury firm, including:
We Will Gather Evidence to Support Your Case
We will find and use the following evidence to support your right to damages:
The police report
Your medical treatment records
Testimony from experts and eyewitnesses
Information from your healthcare team
Your injury-related billing statements and receipts
Photos and videos of the accident scene
We Will Consult with Experts About Your Situation
Testimony from experts helps the insurance company understand your right to damages. This testimony may also sway a jury to award appropriate compensation for your losses if your case goes to court.
We may consult with:
Economists, to learn about the cost of your damages
Healthcare experts, to gain insight into your injuries' severity
Mechanics, who can testify about the damage to your vehicle (if applicable)
Psychologists, who can testify about your mental health after getting hurt
You don't have to pay these consultants for their help. As part of our contingency fee agreement, we will finance each of your case's obligations, including its consulting costs.
We Will Aim to Prove Negligence
When someone is negligent, this means they acted carelessly, recklessly, or not at all. We need to prove that another party was negligent to recover what you need. Establishing negligence involves showing:
Another party owed you a duty of care. For example, all dog owners must keep their dogs from harming others.
Another party did not uphold their duty of care. Perhaps the owner of an aggressive dog did not keep the animal on a leash.
The other party's actions (or inactions) caused you to get hurt. Since the dog was unrestrained, it bit you.
You have suffered various losses as a result of getting hurt. Losses can include physical, emotional, and financial hardships.
---
Call Isaacs & Isaacs Personal Injury Lawyers Today
If you suffered harm in Westfield, our personal injury lawyers are ready to advocate for you. Recovering compensation could be just a phone call away. To learn about pursuing damages, call now.
To learn more about working with our Westfield lawyers, call 1-800-333-9999 for your no-cost personal injury case review.