Begin Your Case With a Proven Car Accident Law Firm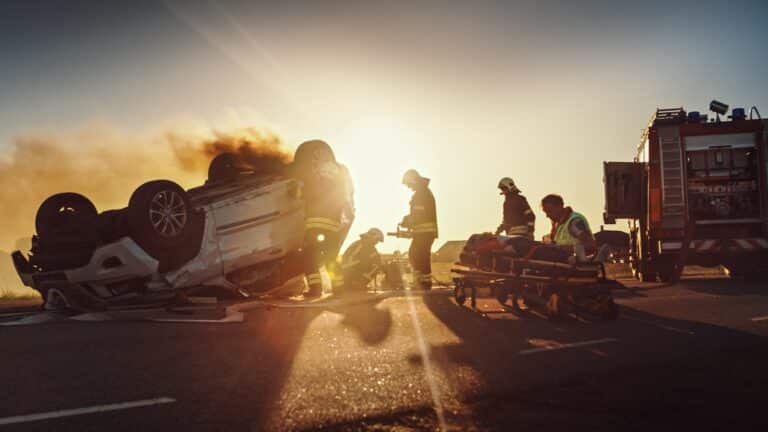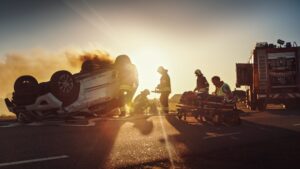 Were you or a loved one injured in a collision caused by another's negligence? Our West Lafayette car accident lawyer can help you seek compensation from the liable party. We will fight for a fair settlement or verdict for your injury or the wrongful death of your family member.
The legal team at Isaacs & Isaacs Personal Injury Lawyers has more than 400 years of combined legal experience. Our efforts have brought $2 billion in compensation to Indiana, Ohio, and Kentucky clients. We are prepared to represent you with our in-house litigation team, attorneys licensed to practice in six states, and Spanish-speaking lawyers and paralegals.
We charge no upfront fees for our legal services and only take payment if we secure monetary compensation on your behalf. Call us at 800-333-9999 at any time to speak to one of our dedicated West Lafayette car accident lawyers and set up a free consultation.
We Represent Injured Accident Victims Across Many Categories. Some Personal Injury Cases We Handle Include:
Accidents With Trucks or Commercial Vehicles
Injuries & Wrongful Death Involving Driver Negligence (cell phone use, DUI)
Accidents With Uninsured Motorists
Whiplash Injury Accidents
Airbag Deployment Accidents
Takata Air Bag Recalls
Motorcycle Accident Injuries
Ridesharing: Lyft & Uber Accidents
Bicycle Accident Injuries
Hit and Run Accidents
Pedestrians Hit By a Vehicle
Head-On Collisions
Rear-End Collisions
Spinal Cord Injuries
"It was a pleasure to have the Isaacs & Isaacs team to help me after being hit by a truck as I was walking to the market. They went above and beyond to help with all I went through!"
---
Getting the Legal Perspective on Car Accidents – Audio Interview
Car accident lawyer Darryl Isaacs — The Hammer — sat down to address legal and safety considerations when injured from a car crash in a recent radio episode of "Ask The Hammer," the podcast exploring the legal matters that matter most. There are many elements at play when knowing what to do after a car accident. Listen to the episode directly below.
---
We Will Pursue Compensation on Your Behalf
If someone else's negligent actions caused your crash, they should be responsible for your damages. Common causes of vehicle accidents include:
Traffic law violations – Every driver must follow the rules of the road. This includes obeying the speed limit, stopping at stoplights and signs, and knowing when to yield the right of way. If another driver made an error that injured you, we can pursue a claim against their liability insurance.
Distracted driving – Eating, grooming, tuning the radio, or any other activity that pulls your attention from the road and driving is a distraction. Cell phones are one of the biggest driving distractions, and Indiana prohibits the use of handheld communication devices while behind the wheel, according to IC § 9-21-8-59.
Aggressive driving – Sometimes called road rage, aggressive driving includes excessive speeding, weaving in and out of lanes of traffic, running another driver off the road, tailgating, or cutting another driver off. Aggressive driving is dangerous, and if it caused your accident, the responsible motorist should pay.
Drunk driving – Alcohol impairs a driver's ability to safely operate their vehicle, which is why drinking and driving is illegal in all 50 states.
Vehicle problems – Engine problems, vehicle recall issues, or shoddy repairs can all lead to accidents. If an issue with one of the cars involved in your crash contributed to your injuries, you may have a case against a vehicle manufacturer or the party responsible for the vehicle's maintenance.
Equipment problems – Blown tires, faulty brakes, and undeployed airbags can cause collisions or worsen accident injuries. If these or other equipment problems were a factor in your crash, you can seek compensation from the manufacturer responsible for the defective part.
Roadway issues – The owner of the road where your accident occurred, which may be a government or private entity, could be liable for your accident if negligent maintenance, broken traffic signals, faulty road design, or another roadway issue led to your collision.
Proving Your Case
Our attorneys will investigate your accident and pinpoint the cause of your crash. We will build a case proving negligence using available evidence, including:
Photographs of your crash site and injuries
Surveillance footage or dashcam video
Cell phone video
Medical bills and records
Eyewitness testimony
Expert medical opinions
Crash reconstruction expert services
Our Accident Law Firm Will Get Started on Your Case Immediately By:
Listening to your story
Answering your questions
Advising you what to do next
Investigating the accident scene and all other evidence related to your claim
Reviewing medical records, police reports, and all documents
Determining which parties are liable for your injury
Meeting with insurance adjusters
Helping you file your claim
Demanding a just settlement for all of your medical treatment and damages
---
Build Your Case With A Top Rated Accident Lawyer
If you need immediate assistance with a vehicle accident or personal injury, call our team now at 
800-333-9999
 to begin your free case review and schedule an initial consultation to get legal advice. Our law firm represents injured victims across many categories. Some popular cases our accident attorneys handle include:
Our Lawyers Want to Help You Achieve a Fair Settlement
We can help you seek awards for various damages related to your out-of-pocket expenses and your physical pain and emotional suffering. Personal injury compensation may include:
Doctor and hospital bills
Emergency transportation services
Surgeries
Physical and occupational therapy
Long-term care services
Medical equipment and medications
Lost wages and loss of your future earning potential (if applicable to your injuries)
Vehicle and personal property damages
Depression
Anxiety and stress
Loss of enjoyment of life
Scarring and disfigurement
Loss of mobility
Physical pain
Mental and emotional anguish
How Long do You Have to Pursue Compensation in Indiana?
If you wish to file a lawsuit, make sure you do it before the state's statutes of limitations on personal injury and wrongful death actions expire.
According to IC § 34-11-2-4, you generally have two years to file a personal injury lawsuit, and IC § 34-23-2-1 typically allows two years for wrongful death cases.
However, factors could affect these time limits, for example, if your case is against the city, state, or county.
---
Auto Accidents Are Not Uncommon in West Lafayette
The town of West Lafayette swells every year to include more than 40,000 students on the Purdue University campus. This uptick in the population means more cars on the road, which can increase the chance of being involved in a vehicle collision.
The Indiana Criminal Justice Institute reports that Tippecanoe County, home to West Lafayette, ranked 7th out of 92 counties in the state for most motor vehicle accidents in 2019, with 7,022 total incidents. This figure includes 14 fatal collisions and more than 1,000 injury crashes.
We Can Assist With Accidents Involving Out-of-State Motorists
Whether you are a student who resides out of state or an Indiana resident involved in an accident with an out-of-state driver, we can help. In general, the state where your accident occurred has jurisdiction. This means an Indiana court presides over any legal action you take for an accident that happened in West Lafayette.
We can help you navigate local laws and insurance regulations or negotiate with out-of-state insurance providers.
---
Reach Out to Isaacs & Isaacs Personal Injury Lawyers for Help With Your Case
Our West Lafayette car accident lawyers are here to help you seek justice. Our team will be with you through every step of your case, from filing your claims to representing you at trial if necessary. We will take care of paperwork, case deadlines, and evidence collection, and handle communications with the insurance company. This leaves you free to focus on what is most important–your health and healing.
We work on contingency, which means you do not owe us a fee unless we secure a settlement or verdict in your favor. To learn more about working with our West Lafayette lawyers, call 1-800-333-9999 for your no-cost car accident case review.