Begin Your Case With a Proven Personal Injury Law Firm
After getting hurt due to negligence, you may wonder whether you have legal options. With Isaacs & Isaacs Personal Injury Lawyers, you do. Our team advocates for injured claimants in Knox County.
We've recovered more than $2 billion in damages since we began serving our community. Now, we're ready to advocate for you. During your free case review, you can explore partnering with a Vincennes personal injury lawyer.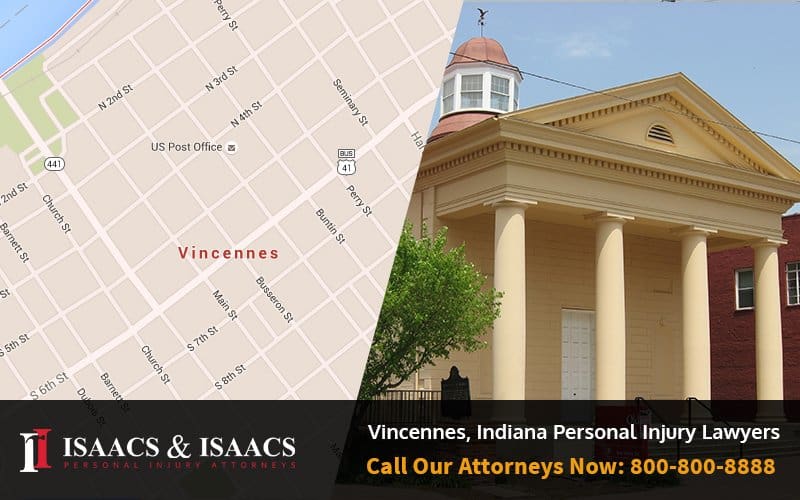 We charge no upfront fees for our legal services and only take payment if we secure monetary compensation on your behalf. Call us at 800-333-9999 at any time to speak to one of our dedicated Vincennes personal injury lawyers and set up a free consultation.
We Represent Injured Accident Victims Across Many Categories. Some Personal Injury Cases We Handle Include:
Accidents With Trucks or Commercial Vehicles
Injuries & Wrongful Death Involving Driver Negligence (cell phone use, DUI)
Accidents With Uninsured Motorists
Whiplash Injury Accidents
Airbag Deployment Accidents
Takata Air Bag Recalls
Motorcycle Accident Injuries
Ridesharing: Lyft & Uber Accidents
Bicycle Accident Injuries
Hit and Run Accidents
Pedestrians Hit By a Vehicle
Head-On Collisions
Rear-End Collisions
Spinal Cord Injuries
Sometimes an auto accident injury is not evident until much later. Even if you haven't suffered a catastrophic injury you still may need medical treatment. You should seek medical care immediately, even if you don't think you are badly hurt. Some severe injuries may not be immediately apparent. This is the best way to physically and legally protect yourself and your loved ones.
"Our daughters were involved in a serious car crash when a man ran a red light! Isaacs & Isaacs knew exactly what to say and exactly what to do for us! They are not only highly professional but also very sincere in wanting to help get our girls every dollar deserved! We will always be grateful to the team of The Hammer for being so wonderful during our time of need! Thank you from our family to your law firm."
---
Hiring an Indiana Personal Injury Attorney with Our Firm
In his podcast, "Ask the Hammer," Attorney Darryl Isaacs – the Hammer – answers questions about how he and his team serve clients to help get them the compensation they need. Play the episode below:
---
We Manage These Injury Cases in Vincennes, Indiana
We help Hoosiers injured in these situations:
Collisions involving trucks, cars, motorcycles, and buses
Rideshare accidents
Self-driving car accidents
Dog bites
Medical malpractice
Nursing home abuse
Slips and falls
Premises liability incidents
We also help claimants who have suffered traumatic brain injuries and catastrophic injuries. If you lost a loved one, we can help your grieving family through this challenging time.
Our Accident Law Firm Will Get Started on Your Case Immediately By:
Listening to your story
Answering your questions
Advising you what to do next
Investigating the accident scene and all other evidence related to your claim
Reviewing medical records, police reports, and all documents
Determining which parties are liable for your injury
Meeting with insurance adjusters
Helping you file your claim
Demanding a just settlement for all of your medical treatment and damages
---
Build Your Case With A Top Rated Accident Lawyer
If you need immediate assistance with a vehicle accident or personal injury, call our team now at 
800-333-9999
 to begin your free case review and schedule an initial consultation to get legal advice. Our law firm represents injured victims across many categories. Some popular cases our accident attorneys handle include:
We Will File Your Case Within the Applicable Civil Deadline
IC § 34-11-2-4 notes that you generally have two years to file your injury lawsuit. While we resolve many injury cases through insurance negotiations, following this deadline is crucial.
If a lawsuit becomes necessary, and you file outside the two-year period, the court will dismiss your case. This would jeopardize your ability to recover compensation for your losses.
We'll Do More Than File Your Case on Time
In addition to filing your lawsuit within the applicable statute of limitations, we will also:
Gather evidence to support your case. Using accident reports, witness testimony, and security camera footage, we will assert your right to damages.
Manage your case on contingency. We don't charge any upfront fees or costs to start your case. Our attorney's fees come from your settlement, and you only pay us if your case succeeds.
File your claim. Insurance companies don't always act in claimants' best interests. When filing your claim, we'll manage all communications, paperwork, and challenges to your case.
File your lawsuit. As noted, we resolve many cases through insurance claims. However, our trial-ready lawyers are ready to champion your rights. We're always prepared to present your case in the best possible light.
---
Compensable Losses Following an Accident in Vincennes, Indiana
We're ready to pursue compensation for the full scope of your losses, including:
Past, Present, and Future Healthcare Expenses
Being seriously injured may require:
Surgeries
Medications
Specialists' visits
Hospitalization
Physical therapy
Mental health services
Assistive devices
We can include each of these losses in your claim or lawsuit's value. We will pursue the full cost of what you need to reach maximum medical improvement (MMI).
Employment-Related Losses
You may have missed time from work during your recovery period. Compensation can account for your lost tips, income, hourly wages, and benefits. If you lost a loved one, we can pursue the cost of their lost income, as well.
Funeral Costs
We're deeply sorry if you lost a loved one. Right now, we want you to focus on celebrating your loved one's life – not managing a complex legal case. While you spend time with your family, we will pursue the cost of your loved one's:
Funeral
Burial
Cremation
Memorial service
Embalming
Various Non-Economic Damages
Non-economic damages do not come with invoices, receipts, or billing statements. Instead, they refer to your physical and emotional well-being after getting hurt. Compensable non-economic damages comprise:
Pain and suffering and inconvenience
Disability
Scarring
Disfigurement
Mental anguish
Loss of consortium
---
Can I Recover Punitive Damages?
During your research, you may have encountered a term called "punitive damages." Not every injured claimant qualifies for punitive damages, as courts only award them in cases of egregious negligence. Punitive damages punish the defendant for their conduct.
If you qualify for punitive damages, you can rest assured we will fight for every dime you are owed.
Our Personal Injury Firm Has Recovered More Than $2 Billion
Isaacs & Isaacs Personal Injury Lawyers isn't your average law firm. We've recovered over $2 billion for our clients in the years we've been serving our communities. Some of our previous outcomes include:
A $10 Million Verdict
Our client had the right-of-way when his car was hit by a semi-truck. He did not survive his injuries. Through a lawsuit, we recovered $10 million for his family's hardships.
A $6.45 Million Settlement
Our client came to us after their daughter suffered a traumatic brain injury in a school bus crash. Through negotiations, we resolved their case through an insurance settlement. Compensation accounted for their child's necessary medical expenses.
A $1 Million Settlement
Following her collision, our client needed the jaws of life to be rescued from her vehicle. She was hit by a driver who was speeding down a wet road. We negotiated with the liable insurance company and secured $1 million for her losses.
---
We Can Help No Matter How Serious Your Injuries Are
We've helped people who have suffered all sorts of life-threatening conditions, including:
Traumatic brain injuries
Spinal cord trauma
Broken bones
Nerve damage
Amputations
Cuts and lacerations
Internal bleeding
Organ damage
Sprains and strains
Torn ligaments
---
Our Clients Have Shared Positive Feedback With Our Law Firm
Check out some of the things previous clients have shared with us:
"Our daughters were involved in a serious car crash when a man ran a red light! Isaacs and Isaacs knew exactly what to say and exactly what to do for us! They are not only highly professional but also were very sincere in wanting to help our girls get every dollar deserved!" ––The Vogel Family
"When I realized that I needed a lawyer after my accident I immediately call[ed] Isaacs and Isaacs because I tried to handle it myself and their insurance wasn't going to cover my injuries. After I got a hold [of] Isaacs and Isaacs there was no problem."
"I was in an automobile accident at the first of the year. I had never had an accident and didn't know what to do. I contacted Isaacs & Isaacs, my attorney was Jeff Gates. He and his assistant Lorena went right to work and helped me through the process. I didn't have to worry about a thing. They gathered up all my bills and negotiated with the other driver's insurance company for me. They kept me informed as the process went along and got what I feel was a fair settlement!"
---
Begin Your Free Case Review Now
If you or a loved one suffered harm in Vincennes, our personal injury team is ready to advocate for you.
To learn more about working with our Vincennes lawyers, call 1-800-333-9999 for your no-cost personal injury case review.