Begin Your Case With a Proven Personal Injury Law Firm
Healthcare expenses. Pain and suffering. Lost income. These are just a few damages you can recover through an insurance claim or lawsuit. Yet, if you don't have a working knowledge of the legal system, you might wonder how this is possible. A Terre Haute personal injury lawyer from our firm can recover compensation for these and other damages.
You don't have to navigate the legal system alone. Isaacs & Isaacs Personal Injury Lawyers will do everything possible to resolve your case.
We charge no upfront fees for our legal services and only take payment if we secure monetary compensation on your behalf. Call us at 800-333-9999 at any time to speak to one of our dedicated Terre Haute personal injury lawyers and set up a free consultation.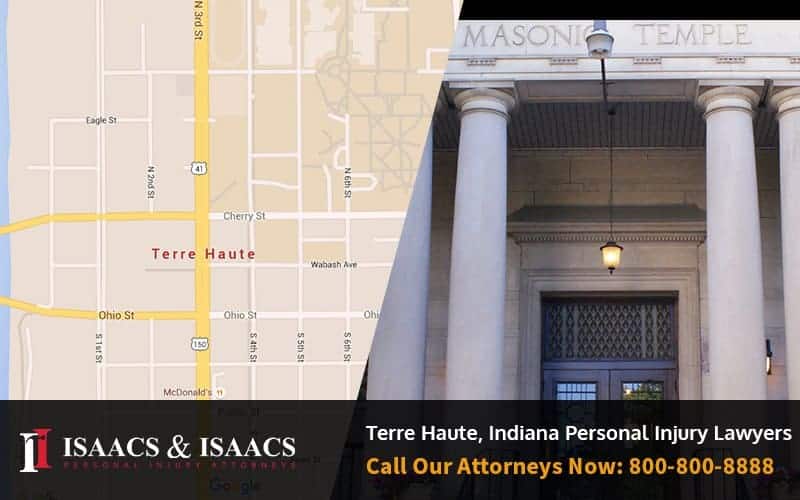 We Represent Injured Accident Victims Across Many Categories. Some Personal Injury Cases We Handle Include:
Accidents With Trucks or Commercial Vehicles
Injuries & Wrongful Death Involving Driver Negligence (cell phone use, DUI)
Accidents With Uninsured Motorists
Whiplash Injury Accidents
Airbag Deployment Accidents
Takata Air Bag Recalls
Motorcycle Accident Injuries
Ridesharing: Lyft & Uber Accidents
Bicycle Accident Injuries
Hit and Run Accidents
Pedestrians Hit By a Vehicle
Head-On Collisions
Rear-End Collisions
Spinal Cord Injuries
"It was a pleasure to have the Isaacs & Isaacs team to help me after being hit by a truck as I was walking to the market. They went above and beyond to help with all I went through!"
---
Hiring an Indiana Personal Injury Attorney with Our Firm
In his podcast, "Ask the Hammer," Attorney Darryl Isaacs – the Hammer – answers questions about how he and his team serve clients to help get them the compensation they need. Play the episode below:
---
Our Lawyers Manage These Practice Areas
We help Hoosiers recover compensation in these situations:
Car accidents
Truck accidents
Bus accidents
Motorcycle accidents
Slips and falls
Premises liability incidents
Traumatic brain injuries
Catastrophic injuries
Wrongful death
Nursing home abuse
Medical malpractice
Self-driving car and rideshare accidents
Under Indiana's statute of limitations (IC § 34-11-2-4), you generally have two years to file your lawsuit. We will file your case within this deadline. However, we must first learn about your situation.
Our Accident Law Firm Will Get Started on Your Case Immediately By:
Listening to your story
Answering your questions
Advising you what to do next
Investigating the accident scene and all other evidence related to your claim
Reviewing medical records, police reports, and all documents
Determining which parties are liable for your injury
Meeting with insurance adjusters
Helping you file your claim
Demanding a just settlement for all of your medical treatment and damages
---
Questions and Answers About Your Personal Injury Case in Vigo County
Here are some commonly asked questions we get from potential clients:
What's My Injury Case Worth?
Without reviewing your case, we can't accurately answer this question. However, our Terre Haute Personal Injury Lawyer will consider various aspects of your situation when calculating your losses, such as:
Your day-to-day function
Whether you can care for minor children
Your working ability
What it means to reach maximum medical improvement
Your economic damages
Whether you lost a loved one
The details of your accident
The liable insurance policy
Your projected care costs
We will fight for every dollar you need to regain financial stability.
What Are the Benefits of Partnering with Your Personal Injury Lawyer in Terre Haute?
There are many benefits of partnering with our team, including:
You'll have more time to focus on your recovery while we manage your case.
You won't have to navigate the complex legal system without help.
Our lawyers have access to resources that unrepresented people do not.
As noted, we work on contingency.
Our 400 years of combined legal experience give us unique insight into your case's potential challenges.
What Injuries Qualify for Compensation?
In the past, we've helped injured claimants suffering from these conditions:
Traumatic brain injuries
Spinal cord trauma
Organ damage
Limb loss
Internal bleeding
Broken bones
Lacerations
Sprains
Strains
Torn ligaments
We have also helped families that lost loved ones.
What If the Other Party Accuses Me of Causing the Accident?
The other party can say whatever they want regarding your role in the accident. Our team will use evidence to show that another party's negligence harmed you, and that you deserve compensation.
If the other party tries to blame you for what happened, we'll fight against these allegations and pursue what you need.
How Long Will It Take to Resolve My Case?
There's no telling how long it'll take to resolve your case until we learn about your situation. We will do everything possible to keep your case moving forward, such as:
Handling all communications with the involved parties
Gathering time-sensitive evidence
Communicating with the involved parties
Abiding by all necessary deadlines
Build Your Case With A Top Rated Accident Lawyer
If you need immediate assistance with a vehicle accident or personal injury, call our team now at 
800-333-9999
 to begin your free case review and schedule an initial consultation to get legal advice. Our law firm represents injured victims across many categories. Some popular cases our accident attorneys handle include:
---
Important Things to Know About Pursuing Damages After Getting Hurt
While weighing your legal options, here are some considerations:
You Can Recover Compensation for Your Financial and Non-financial Losses
You can recover nearly every hardship related to your accident and injuries, such as:
Your medical bills. Whether you need long-term, short-term, or palliative care, compensation could account for these costs. You can also recoup the cost of future expenses, such as upcoming surgeries or procedures.
Lost employment-related benefits. If you work a nine-to-five job, a settlement could pay for lost tips, bonuses, income, and other benefits. If you own your own business, we can explore recovering damages for lost contracts, performances, and freelance gigs.
Pain and suffering. Many people often ask: "How much can I recover for pain and suffering?" It all depends on your situation, such as your condition's severity and your anticipated recovery period.
Funeral expenses. Money should be the last thing on your mind when grieving a loved one. Yet, it's a reality for many personal injury claimants. With our help, you could receive reimbursement for your loved one's funeral, burial, and end-of-life healthcare.
Car repair costs. A collision might have damaged or totaled your car. We can determine the value of these repairs and pursue compensation accordingly. Compensation could also account for transportation expenses, such as rideshare costs.
This is just a short list of the damages you can recover. After evaluating your situation during your free case review, we can explain what other losses you can seek.
The Insurance Company May Not Treat You Fairly
Whenever you turn on the TV, it seems like another insurance company is trying to win your trust. That's because these companies make money by selling policies—not by paying injured claimants compensation.
After filing your claim, the insurance company may:
Deny your claim for no reason
Refuse to acknowledge your claim
Undervalue your losses
Pressure you into accepting less than you deserve
Fail to respond to your emails, phones calls, and text messages
At Isaacs & Isaacs Personal Injury Lawyers, we have team members who used to represent insurance companies. These professionals know how to deal with uncooperative claims adjusters. We strive to make the claims process as easy as possible.
It Costs You Nothing Out of Pocket to Partner with Our Team
Some injury law firms charge retainers, where clients continuously must pay out-of-pocket fees. Others charge hourly rates and bill you for their time. Not our team. Our Terre Haute personal injury lawyers work on a contingency-fee-basis.
You pay no upfront fees or costs to partner with us. A percentage of your settlement goes toward our attorney's fees. We're so confident in our abilities that, if your case doesn't succeed, you don't pay anything. We do this to minimize your financial risk during the claims process.
---
Begin Your Free Case Review With Our Injury Team Today
Whether you or a loved one suffered harm, we're ready to hear your story. Your free case review is your opportunity to discuss partnering with our team at no obligation. We want to hear everything about your situation, including how your accident happened and its effect on your life.
To learn more about working with our Terre Haute lawyers, call 1-800-333-9999 for your no-cost personal injury case review.