Begin Your Case With a Proven Personal Injury Law Firm
You did not expect to be injured, and now you might have to postpone vacations, miss time from work, and face stressful medical procedures. The last thing you want to deal with is a complicated legal case.
Isaacs & Isaacs Personal Injury Lawyers takes personal injury cases personally. We are on your side from the moment you give us a call. Our Seymour personal injury lawyers will investigate your case, calculate compensation, and pursue the total cost of what you need.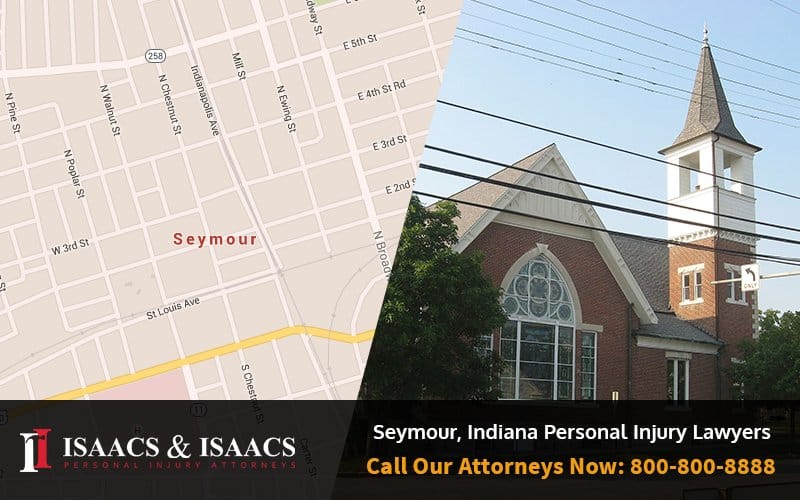 We charge no upfront fees for our legal services and only take payment if we secure monetary compensation on your behalf. Call us at 800-333-9999 at any time to speak to one of our dedicated Seymour personal injury lawyers and set up a free consultation.
We Represent Injured Accident Victims Across Many Categories. Some Personal Injury Cases We Handle Include:
Accidents With Trucks or Commercial Vehicles
Injuries & Wrongful Death Involving Driver Negligence (cell phone use, DUI)
Accidents With Uninsured Motorists
Whiplash Injury Accidents
Airbag Deployment Accidents
Takata Air Bag Recalls
Motorcycle Accident Injuries
Ridesharing: Lyft & Uber Accidents
Bicycle Accident Injuries
Hit and Run Accidents
Pedestrians Hit By a Vehicle
Head-On Collisions
Rear-End Collisions
Spinal Cord Injuries
"John came to our house and went over the legal part of it thoroughly and quickly, but he always made it more about us. I would recommend them to anybody because they're going to make sure that you're protected. It just always felt like we were dealing with family instead of a legal process."
---
Hiring an Indiana Personal Injury Attorney with Our Firm
In his podcast, "Ask the Hammer," Attorney Darryl Isaacs – the Hammer – answers questions about how he and his team serve clients to help get them the compensation they need. Play the episode below:
---
A Few Facts About Our Personal Injury Law Firm
Our law firm comprises attorneys who focus on various practice areas, from collisions to slips and falls. We have over 400 years of collective legal experience, and since 1993, we have recovered more than $2 billion in damages.
Other noteworthy facts about our firm include:
We work on a contingency-fee-basis. Are you concerned about affording legal aid? You can stop worrying. We work on contingency, so you do not pay attorney's fees or costs until you recover compensation for your losses.
We belong to various legal organizations. We are part of many legal organizations, some of which are very exclusive. For instance, we are part of the Multi-Million-Dollar Advocates Forum. Membership is only for lawyers who have recovered more than $1 million in damages.
We are on social media. We want everyone to understand their legal options after getting hurt. So, through our social media presence, we share information about the claims process.
We also offer free case reviews to injured Hoosiers. You can ask us questions about your case, explore your options, and consult with our team during this conversation.
Our Accident Law Firm Will Get Started on Your Case Immediately By:
Listening to your story
Answering your questions
Advising you what to do next
Investigating the accident scene and all other evidence related to your claim
Reviewing medical records, police reports, and all documents
Determining which parties are liable for your injury
Meeting with insurance adjusters
Helping you file your claim
Demanding a just settlement for all of your medical treatment and damages
---
What Our Personal Injury Lawyers Will Do for Your Case
You can expect our attorneys to:
File Your Lawsuit Within Indiana's Statute of Limitations
Every injury case comes with a filing deadline. Generally, you have two years to file your lawsuit, per IC § 34-11-2-4. Your filing deadline begins from:
The date you suffered harm; or,
The date you discovered your injuries; or,
The date you lost a loved one.
You could have less than two years to act if you are suing a government agency. This makes promptly considering your legal options crucial. If the statute of limitations expires on your personal injury case, you could lose the right to seek damages.
Calculate What You Are Owed
Right now, you might understand the cost of your medical bills and lost income. But what about your pain and suffering? What about future treatments you may require?
That is where our law firm comes in. We will consider the following when determining what you are owed:
The cost of your financial losses, such as your medical bills
The time you missed from work
Your mental health
Your quality of life and independence
The cause of your accident
Your diagnosis and prognosis
Your role in the accident
Pursue Compensation for Everything You Need
Compensable losses in your case may comprise:
Past and future healthcare expenses
Employment-related losses
Pain and suffering and inconvenience
Disability
Funeral expenses
Transportation costs
Property damage expenses
This is not an exhaustive list. Based on your situation, you may recover other losses.
Gather Evidence to Support Your Personal Injury Claim
To build the strongest possible case, we will gather:
The accident report
Photos and videos of the accident scene
Your medical records
Testimony from eyewitnesses
Security camera footage
Statements from third-party field experts, such as accident reconstruction specialists
If you have anything that could support your case (and we mean anything), share that information with your lawyer. The smallest shred of evidence could mean the difference between securing compensation and paying for your losses out of pocket.
File Your Insurance Claim and Personal Injury Lawsuit
Whether we start your case by filing an insurance claim or a personal injury lawsuit depends on your situation. To advance your insurance claim, we will:
Review the liable policy
Send your demand letter
Negotiate a settlement
Manage all communications with the claims adjuster
Protect you against allegations of fault
If your case goes to trial, we will:
Take depositions
Cross-examine witnesses
Present your case's evidence
Prove negligence
Follow courtroom protocol
Fight for your right to damages
We will render services that meet your case's needs. You can learn about the suite of services we offer during your free case review.
Build Your Case With A Top Rated Accident Lawyer
If you need immediate assistance with a vehicle accident or personal injury, call our team now at 
800-333-9999
 to begin your free case review and schedule an initial consultation to get legal advice. Our law firm represents injured victims across many categories. Some popular cases our accident attorneys handle include:
---
Our Attorneys Have Recovered Over $2 Billion in Damages
Here are some success stories we want to share:
Our client, an 80-year-old man, was doing repairs on his broken-down vehicle when he was hit by a truck. As a result, we secured $2.7 million for his losses.
Our client suffered severe injuries in a car accident, including a punctured lung and broken leg. Just like the case above, we recovered $2.7 million.
Our clients lost a loved one in a fatal motorcycle accident. As a result, we secured $1.5 million for their hardships.
We Offer Resources to Prospective Clients
If you are interested in learning more about your legal options, check out:
Our podcast
Our YouTube channel
Our blog
Our FAQ page
Of course, we encourage you to give us a call. That way, we can answer specific questions about your situation.
---
Discuss Your Case with a Personal Injury Attorney Serving Seymour Today
You do not have to live with uncertainty about your legal options any longer. Our team is ready to break ground on your case today. When you partner with a personal injury lawyer serving Seymour, you partner with a trusted friend and advocate.
To learn more about working with our Seymour lawyers, call 1-800-333-9999 for your no-cost personal injury case review.