Begin Your Case With a Proven Personal Injury Law Firm
You can stop worrying about your personal injury claim or lawsuit. Isaacs & Isaacs Personal Injury Lawyers are here to manage your case. We will do everything possible to recover compensation for your medical bills, lost income, and other related damages.
You can explore partnering with a Portage personal injury lawyer during your free case review. Here, you can learn your options at no obligation.
We charge no upfront fees for our legal services and only take payment if we secure monetary compensation on your behalf. Call us at 800-333-9999 at any time to speak to one of our dedicated Portage personal injury lawyers and set up a free consultation.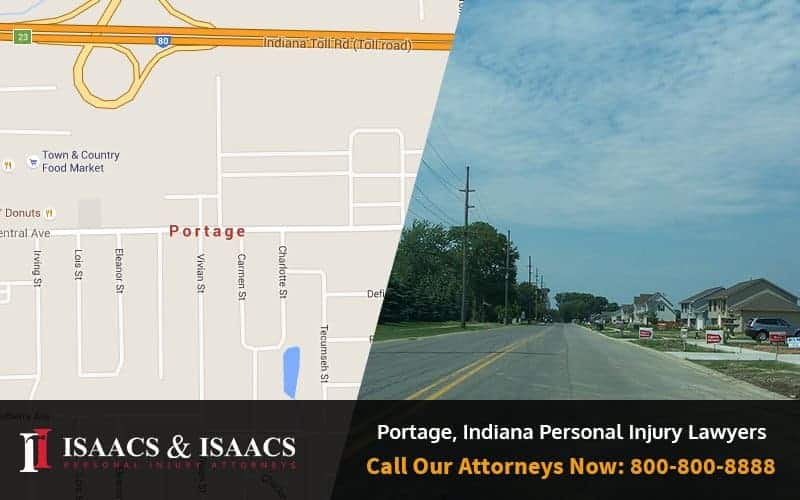 We Represent Injured Accident Victims Across Many Categories. Some Personal Injury Cases We Handle Include:
Accidents With Trucks or Commercial Vehicles
Injuries & Wrongful Death Involving Driver Negligence (cell phone use, DUI)
Accidents With Uninsured Motorists
Whiplash Injury Accidents
Airbag Deployment Accidents
Takata Air Bag Recalls
Motorcycle Accident Injuries
Ridesharing: Lyft & Uber Accidents
Bicycle Accident Injuries
Hit and Run Accidents
Pedestrians Hit By a Vehicle
Head-On Collisions
Rear-End Collisions
Spinal Cord Injuries
"John came to our house and went over the legal part of it thoroughly and quickly, but he always made it more about us. I would recommend them to anybody because they're going to make sure that you're protected. It just always felt like we were dealing with family instead of a legal process."
---
Hiring an Indiana Personal Injury Attorney with Our Firm
In his podcast, "Ask the Hammer," Attorney Darryl Isaacs – the Hammer – answers questions about how he and his team serve clients to help get them the compensation they need. Play the episode below:
---
We Don't Charge Any Upfront Fees or Costs to Begin Work on Your Case
It costs you nothing out of pocket to partner with Isaacs & Isaacs Personal Injury Lawyers. That's because we work on contingency. Our clients (and you!) don't pay anything to secure our help.
After listening to your story, we will get to work immediately pursuing what you deserve. Then, if we secure compensation for your losses, a portion of your settlement or court award will pay our attorney's fees.
There is no financial risk in partnering with us. We're committed to settling your case.
Our Accident Law Firm Will Get Started on Your Case Immediately By:
Listening to your story
Answering your questions
Advising you what to do next
Investigating the accident scene and all other evidence related to your claim
Reviewing medical records, police reports, and all documents
Determining which parties are liable for your injury
Meeting with insurance adjusters
Helping you file your claim
Demanding a just settlement for all of your medical treatment and damages
---
How Much Can I Recover for My Injury-Related Losses?
Every injured claimant encounters a different set of damages. How much you can recover for your losses depends on your unique situation.
When calculating what you need, we will consider your:
Quality of life
Mobility
Working ability
Missed time from work
Relationships
Changes to your mental health
Our personal injury lawyers have recovered more than $2 billion for injured claimants. Our 400 years of combined legal experience lends us unique insight into how we can resolve your situation.
Build Your Case With A Top Rated Accident Lawyer
If you need immediate assistance with a vehicle accident or personal injury, call our team now at 
800-333-9999
 to begin your free case review and schedule an initial consultation to get legal advice. Our law firm represents injured victims across many categories. Some popular cases our accident attorneys handle include:
Prompt Legal Action Benefits Your Interests
The more time that passes between now and your accident, the harder it will be to gather evidence. After all, the accident scene won't remain intact forever. Witnesses may move away or forget key details – and the at-fault party might even destroy key evidence.
Furthermore, the state limits how long you have to file your lawsuit. You generally have two years from the date of your accident or loved one's passing to file, per IC § 34-11-2-4. You could lose the right to seek compensation if you don't file your case within the two-year period.
This is where partnering with our law firm helps. Our team will manage everything your case requires, from evidence gathering to following all necessary deadlines.
---
Our Team Serving Porter County Helps Injured Claimants in These Situations
Our lawyers' practice areas include:
Car accidents
Truck collisions
Bus accidents
Motorcycle collisions
Slips and falls
Premises liability incidents
Dog bites
Traumatic brain injuries
Catastrophic injuries
Wrongful death
Nursing home abuse and neglect
Medical malpractice
---
We're Ready to Seek Every Dime You Need and Deserve
Compensation in your case may account for your economic and non-economic damages. Economic damages include losses with monetary values; they often come with receipts and billing statements.
Examples include:
Medical expenses
Lost income
The cost of replacing or repairing your vehicle
Childcare expenses
Transportation costs
Assistive aids, such as wheelchairs
Modifications to your family home and/or vehicle
Funeral expenses
Non-economic damages, on the other hand, do not have inherent dollar values. How much you can recover for these losses depends on your situation, such as your daily pain levels and mobility.
Examples include:
Pain and suffering
Loss of consortium
Mental anguish
Disability
Scarring and disfigurement
Loss of enjoyment of life
We may seek other losses than those listed here. It all depends on your situation.
---
We're Part of the Million-Dollar Advocates Forum
We belong to the Million-Dollar Advocates Forum, where we stand alongside lawyers who have recovered millions of dollars in damages. So, when you partner with our team, you can rest assured you're dealing with an experienced firm.
Some of our previous case results include:
Over $10 million for a wrongful death caused by a car accident
$6.5 million for a child injured in a school bus collision
$3.5 million for a truck accident claimant
$2.7 million for a serious car accident
We will do everything possible to resolve your case favorably. This involves investigating your case, negotiating a settlement, and asserting your right to damages.
---
Your Lawyer Will Manage All Communications with the Insurance Company
The liable insurance company will do everything possible to avoid liability. It may:
Accuse you of causing the accident
Contest the validity of your claim
Keep asking for irrelevant information
Refuse to answer your messages or phone calls
Pass your claim around from representative to representative
Pressure you into accepting less than you need
The insurance company might even say that you don't need a lawyer for an injury claim. You have every right to partner with our team – no matter what the liable insurer says. With us on your side, you can focus on getting better; the "Hammer" will get to work for you.
---
We Will Prove That You Deserve Compensation for Your Losses in Portage
We must prove the liable party's negligence. If successful, you could recoup compensation for a host of expenses – including those you haven't incurred yet.
To prove negligence, your personal injury lawyer serving Portage will establish:
Another party (such as a motorist) had a civil duty of care. This means they were legally obligated to avoid causing others harm.
The other party violated their duty of care by partaking in careless or reckless actions. For instance, when a motorist drives while intoxicated, they breach their duty of care.
The other party caused most of your accident and injuries.
As a result, you have various losses, including lost income, medical bills, and pain and suffering.
Understanding these legal concepts can get confusing. Yet, with us on your side, you'll know your case's details inside and out.
---
We're Ready to Start Championing Your Rights Today
Pursuing compensation for your injury-related losses begins with a simple phone call. When you connect with our team, you'll feel like you're chatting with an old friend. We're very easy to talk to – and we want to know everything about your situation.
To learn more about working with our Indianapolis lawyers, call 1-800-333-9999 for your no-cost personal injury case review.