Begin Your Case With a Proven Personal Injury Law Firm
You're driving to the grocery store when you get T-boned by a drunk driver. You're walking up the stairs to your friend's apartment when you slip on ice. You get a phone call that your loved one is in critical condition after being bitten by a dog.
All of these situations have one thing in common: negligence. If another party's negligence causes you harm, you have the right to pursue damages. A Plainfield personal injury lawyer from our team can help you seek compensation for what you need. Isaacs & Isaacs Personal Injury Lawyers are ready to work for you now.
We charge no upfront fees for our legal services and only take payment if we secure monetary compensation on your behalf. Call us at 800-333-9999 at any time to speak to one of our dedicated Plainfield personal injury lawyers and set up a free consultation.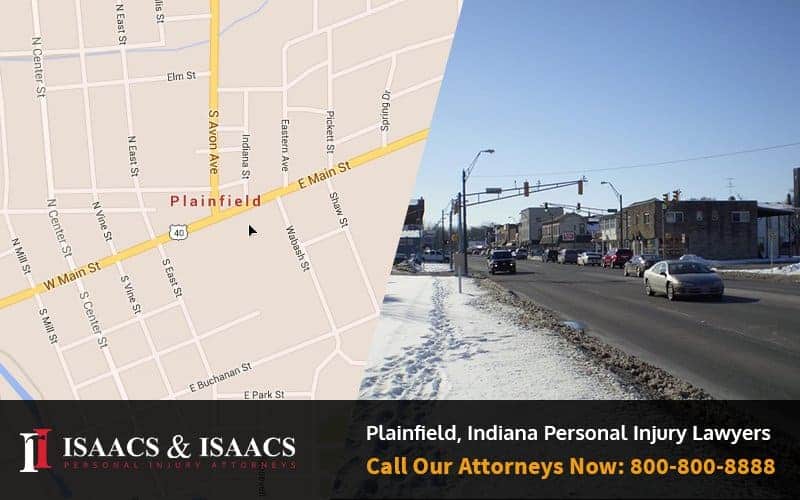 We Represent Injured Accident Victims Across Many Categories. Some Personal Injury Cases We Handle Include:
Accidents With Trucks or Commercial Vehicles
Injuries & Wrongful Death Involving Driver Negligence (cell phone use, DUI)
Accidents With Uninsured Motorists
Whiplash Injury Accidents
Airbag Deployment Accidents
Takata Air Bag Recalls
Motorcycle Accident Injuries
Ridesharing: Lyft & Uber Accidents
Bicycle Accident Injuries
Hit and Run Accidents
Pedestrians Hit By a Vehicle
Head-On Collisions
Rear-End Collisions
Spinal Cord Injuries
"It was a pleasure to have the Isaacs & Isaacs team to help me after being hit by a truck as I was walking to the market. They went above and beyond to help with all I went through!"
---
Hiring an Indiana Personal Injury Attorney with Our Firm
In his podcast, "Ask the Hammer," Attorney Darryl Isaacs – the Hammer – answers questions about how he and his team serve clients to help get them the compensation they need. Play the episode below:
---
How Can I Explore Working with a Lawyer in Plainfield?
Exploring your legal options begins with one phone call to our law firm. From there, a member of our team can assess your legal options and explain what course of action could benefit you.
Your first case review is free and comes with no obligation.
Our Accident Law Firm Will Get Started on Your Case Immediately By:
Listening to your story
Answering your questions
Advising you what to do next
Investigating the accident scene and all other evidence related to your claim
Reviewing medical records, police reports, and all documents
Determining which parties are liable for your injury
Meeting with insurance adjusters
Helping you file your claim
Demanding a just settlement for all of your medical treatment and damages
---
What Can I Recover Through an Injury Claim or Lawsuit?
Your recoverable damages largely depend on your situation. For instance, when determining what you can seek, we will consider your physical and mental health, quality of life, and missed time from work.
We've helped injured people recover compensation for:
Past and future medical bills
Lost income, tips, and promotions
Bonuses, freelance contracts, and performances
Loss of earning ability
Pain and suffering
The cost of replacing or repairing your vehicle
Childcare expenses
Temporary transportation costs (such as car rental or rideshare services)
For claimants who have lost loved ones, we've recovered:
Funeral and burial expenses
Loss of consortium, parental guidance, and household services
Final healthcare costs
Your loved one's pain and suffering
Past Case Results
We fight hard for our clients. Our case results show that. Below are a few settlements and awards we have obtained:
$10 million for a truck accident
$6.5 million for a school bus accident
$4 million for injuries from defective drugs
$2.7 million for a car accident
$1.5 million for a pedestrian accident
$1.475 million for a motorcycle accident
Build Your Case With A Top Rated Accident Lawyer
If you need immediate assistance with a vehicle accident or personal injury, call our team now at 
800-333-9999
 to begin your free case review and schedule an initial consultation to get legal advice. Our law firm represents injured victims across many categories. Some popular cases our accident attorneys handle include:
---
Your Injury Case in Plainfield Comes with a Filing Deadline
Whether you suffered harm in a collision or a fall, you have a limited time to file your lawsuit. IC § 34-11-2-4 notes that you generally have two years. Your filing period begins on the date you suffered harm or lost a loved one.
Every situation is different. Your case's details may give you more time to file. However, we recommend seeking legal aid as soon as possible. Not only do we want to abide by the statute of limitations, but we also want to gather time-sensitive evidence.
---
Four Things You Should Know About Recovering Compensation
We've compiled four commonly asked questions we get from injured claimants in Plainfield:
What Is My Case Worth?
How much you can seek for your losses ultimately depends on one thing: your losses. We will examine your medical bills, lost income, and other damages to see what you're owed. Then, we'll do everything possible to resolve your case through negotiations or a lawsuit.
Is Partnering with a Plainfield Personal Injury Lawyer Expensive?
It isn't with our team. Isaacs & Isaacs Personal Injury Lawyers work on a contingency fee basis. In this arrangement:
We finance your case's obligations. You may need a consultant to support your case. We can pay for their help. We can also cover other case-related expenses.
Our attorney's fees come from your settlement. You're not the only person who wants to win your case. So do we. It's partly because compensation for our help comes from the compensation we secure for your losses. This gives us an extra incentive to secure what you need.
You'll know everything about our terms of payment from the very beginning. You'll never receive a surprise bill in the mail or an unexpected invoice.
Who Will Pay for My Losses?
The liable party in your case depends on your situation. For instance, if you suffered harm in a collision, you would recover compensation from the at-fault party's insurance company. If you suffered harm at a friend's house, you could seek damages through their homeowner's insurance policy.
You don't have to identify the at-fault and liable parties on your own. That's our job. All you have to focus on is getting better and living your life. We will manage your legal matters in the meantime.
Do I Have to File a Lawsuit?
Since 1993, we've resolved many cases through insurance settlements. The circumstances of your case will determine whether you should file a lawsuit and go to court. However, all you need to focus on is your recovery. We will build your case and file your lawsuit on your behalf.
We will also help you prepare to tell your case to the judge and jury if we need to go to court.
---
Call "the Hammer" at Isaacs & Isaacs Personal Injury Lawyers
There's a reason why our founder, Attorney Darryl Issacs, is known locally as the Hammer. That's because he brings the hammer down on negligent parties. Attorney Isaacs and his team will do everything possible to resolve your injury case.
To learn more about working with our Plainfield lawyers, call 1-800-333-9999 for your no-cost personal injury case review.