Begin Your Case With a Proven Personal Injury Law Firm
If you suffered injuries as the result of another party's negligence, you can seek compensation for your losses. Lafayette personal injury lawyers with our firm can help you navigate the legal process.
We can investigate a variety of accidents to identify the at-fault party and build a case for fair compensation. You may recover your medical bills, lost wages, and more. We can discuss your options during a free consultation.
We charge no upfront fees for our legal services and only take payment if we secure monetary compensation on your behalf. Call us at 800-333-9999 at any time to speak to one of our dedicated Lafayette personal injury lawyers and set up a free consultation.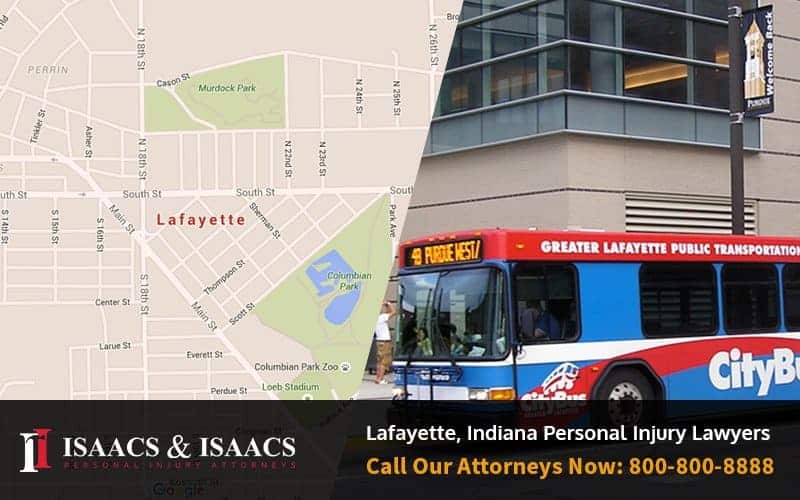 We Represent Injured Accident Victims Across Many Categories. Some Personal Injury Cases We Handle Include:
Accidents With Trucks or Commercial Vehicles
Injuries & Wrongful Death Involving Driver Negligence (cell phone use, DUI)
Accidents With Uninsured Motorists
Whiplash Injury Accidents
Airbag Deployment Accidents
Takata Air Bag Recalls
Motorcycle Accident Injuries
Ridesharing: Lyft & Uber Accidents
Bicycle Accident Injuries
Hit and Run Accidents
Pedestrians Hit By a Vehicle
Head-On Collisions
Rear-End Collisions
Spinal Cord Injuries
"They're great to me. Used them twice and positive results both times. I wouldn't hesitate to contact them again if needed."
---
Hiring an Indiana Personal Injury Attorney with Our Firm
In his podcast, "Ask the Hammer," Attorney Darryl Isaacs – the Hammer – answers questions about how he and his team serve clients to help get them the compensation they need. Play the episode below:
---
Possible Compensation for a Lafayette Personal Injury Case
The amount of money you are awarded in a personal injury case can vary depending on a number of different factors. Mainly, the extent of your injuries and how they affect your life will determine your awards. Severe injuries that require extensive treatment or keep you out of work may cause extensive losses that warrant compensation.
In general, awards are divided into economic and non-economic damages.
Economic Damages
Economic damages are typically the costs that can be easily determined and proved, such as:
Lost wages
Lost earning capacity
Medical expenses
Property damage
Out-of-pocket expenses
Non-economic Damages
Non-economic damages include losses that do not come with bills or receipts but still warrant compensation. For example, you can seek awards for:
Pain and suffering
Mental anguish
Disfigurement
Loss of consortium
We can use a couple of different methods to assign a dollar value to these losses.
Protect Your Rights to Compensation
Seeing a doctor is the best thing you can do after suffering accident-related injuries. They can assess your injuries and help us link them to another party's negligence. Medical documentation can also give us an idea of what fair compensation would look like in your case.
Plus, refusing medical treatment could lead to an insurer undervaluing or denying your claim. The more evidence we have, the better we can negotiate a fair settlement or court-awarded offer. They could argue that you contributed to your injuries.
Protect your rights to compensation by following through with your prescribed treatment plan. You deserve the best shot at reaching your maximum medical recovery. Compensation can help you access the medical care you need.
Types of Personal Injury Cases We Handle in Lafayette
People can suffer injuries in a variety of accidents, and when negligence plays a part, they can seek compensation. We handle different accident cases for victims in the Lafayette area, including:
We can discuss your case and explain how our personal injury lawyers can help.
Our Accident Law Firm Will Get Started on Your Case Immediately By:
Listening to your story
Answering your questions
Advising you what to do next
Investigating the accident scene and all other evidence related to your claim
Reviewing medical records, police reports, and all documents
Determining which parties are liable for your injury
Meeting with insurance adjusters
Helping you file your claim
Demanding a just settlement for all of your medical treatment and damages
---
Why Choose Isaacs & Isaacs Personal Injury Lawyers
We understand you have options when it comes to legal representation. When you work with us, you can expect the following:
Personalized Legal Care
We don't treat every case the same because every accident is unique. We understand that your injuries have unique consequences, and we can tailor a legal approach that suits your situation. We believe this is the type of personalized legal care each client deserves.
No Upfront Fees
We do not charge any upfront fees to start working on your case. Plus, we don't collect our payment unless we win your case. This can take some of the pressure off of pursuing compensation from a liable party. You also know we will work hard to secure fair awards.
Free Consultations
If you or your loved one was seriously injured in an accident in Lafayette, Indiana, we can discuss your legal options. We offer all prospective clients a free, no-obligation consultation so they can ask questions and learn how we can help.
Build Your Case With A Top Rated Accident Lawyer
If you need immediate assistance with a vehicle accident or personal injury, call our team now at 
800-333-9999
 to begin your free case review and schedule an initial consultation to get legal advice. Our law firm represents injured victims across many categories. Some popular cases our accident attorneys handle include:
---
Lafayette Imposes a Time Limit for Filing Lawsuits
Under Indiana Code § 34-11-2-4, anyone filing a personal injury lawsuit must do so within two years. Filing beyond the deadline can risk your case. Our personal injury lawyers can determine how long you have to take legal action and streamline the process for you.
Time is of the essence when preparing for a personal injury lawsuit. We have to investigate your case and negotiate with insurers. Neither of these processes stalls the deadline, though. The sooner you begin your case, the better you can protect your rights to compensation.
---
Call Isaacs & Isaacs Personal Injury Lawyers Today
If you suffered injuries in any kind of accident in the greater Lafayette area, we can help. Call or take advantage of a free consultation online with Isaacs & Isaacs Personal Injury Lawyers. We do not charge clients any upfront fees or costs.
Isaacs & Isaacs Personal Injury Lawyers represent victims throughout Indiana. Our firm also handles personal injury cases in Kentucky and Ohio. We are willing to come to your house or hospital room if you can't visit our office.
To learn more about working with our Lafayette lawyers, call 1-800-333-9999 for your no-cost personal injury case review.