Begin Your Case With a Proven Personal Injury Law Firm
Even if you've partnered with a lawyer before, selecting the right one for your personal injury case can be daunting. You might have heard horror stories from your friends about unscrupulous attorneys, or you might worry about being taken advantage of. You can let go of those fears with Isaacs & Isaacs Personal Injury Lawyers. Our team was founded in 1993 by a father-son duo dedicated to justice. You can rest easy knowing that our La Porte personal injury lawyer will do everything necessary to achieve a fair outcome.
We charge no upfront fees for our legal services and only take payment if we secure monetary compensation on your behalf. Call us at 800-333-9999 at any time to speak to one of our dedicated La Porte personal injury lawyers and set up a free consultation.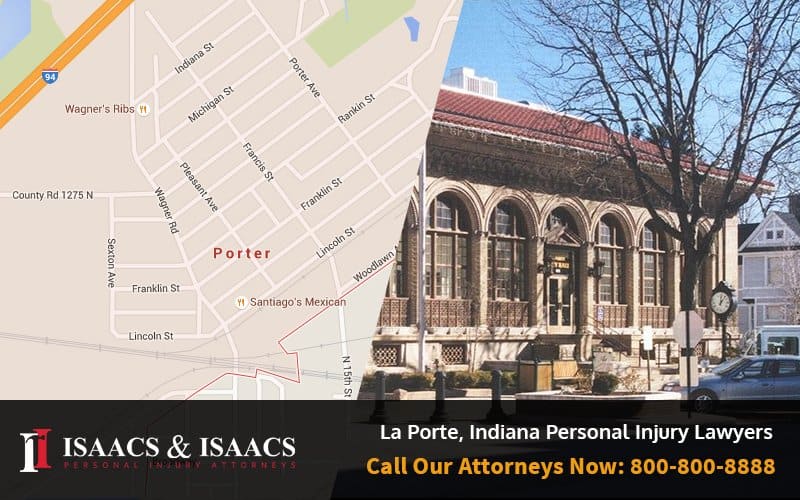 We Represent Injured Accident Victims Across Many Categories. Some Personal Injury Cases We Handle Include:
Accidents With Trucks or Commercial Vehicles
Injuries & Wrongful Death Involving Driver Negligence (cell phone use, DUI)
Accidents With Uninsured Motorists
Whiplash Injury Accidents
Airbag Deployment Accidents
Takata Air Bag Recalls
Motorcycle Accident Injuries
Ridesharing: Lyft & Uber Accidents
Bicycle Accident Injuries
Hit and Run Accidents
Pedestrians Hit By a Vehicle
Head-On Collisions
Rear-End Collisions
Spinal Cord Injuries
"They're great to me. Used them twice and positive results both times. I wouldn't hesitate to contact them again if needed."
---
Hiring an Indiana Personal Injury Attorney with Our Firm
In his podcast, "Ask the Hammer," Attorney Darryl Isaacs – the Hammer – answers questions about how he and his team serve clients to help get them the compensation they need. Play the episode below:
---
We Offer Free Case Reviews to Injured Claimants in La Porte County
Your first case review might seem intimidating. In reality, it's a conversation between you and a member of our team. Here, we'll assess some aspects of your situation, such as when you were hurt and who was involved.
From there, we'll explain your legal options. With your permission, we can get started on your case immediately.
We Also Work on a Contingency-fee Basis
Our team is confident in our ability to recover compensation for your losses. So we offer our services on a contingency-fee-basis. You don't pay any upfront costs, fees, or hourly rates.
We only ask for costs and attorney's fees once we successfully resolve your case. Otherwise, you owe us nothing.
Our Accident Law Firm Will Get Started on Your Case Immediately By:
Listening to your story
Answering your questions
Advising you what to do next
Investigating the accident scene and all other evidence related to your claim
Reviewing medical records, police reports, and all documents
Determining which parties are liable for your injury
Meeting with insurance adjusters
Helping you file your claim
Demanding a just settlement for all of your medical treatment and damages
---
Our Lawyers Are Ready to Seek Compensation for Each of Your Losses
Recoverable damages in your case may include:
Medical bills
Pain and suffering
Transportation expenses
Childcare costs
Lost income and other job-related benefits
Mental anguish
The cost of your vehicle's repairs
Funeral and burial costs
Loss of consortium, parental guidance, and household services
This is a general outline of what you can recover. You may seek additional damages to those listed here. Your personal injury lawyer serving La Porte will evaluate each of your losses and pursue them accordingly.
Build Your Case With A Top Rated Accident Lawyer
If you need immediate assistance with a vehicle accident or personal injury, call our team now at 
800-333-9999
 to begin your free case review and schedule an initial consultation to get legal advice. Our law firm represents injured victims across many categories. Some popular cases our accident attorneys handle include:
---
Each Case Comes with a Statutory Deadline
IC § 34-11-2-4 is Indiana's personal injury statute of limitations. Under this law:
You generally have two years to file your civil lawsuit.
Your filing deadline depends on when your accident happened or your loved one passed away.
If you miss the filing deadline, the courts will likely deny your case.
Your lawyer serving La Porte can evaluate your personal injury case and explain all applicable filing deadlines. They will also file all paperwork within this period, so you don't lose your right to seek compensation.
Let Our Team Manage All Communications With the Insurance Company
After filing your insurance claim, you may find that the insurance company has only one concern: saving money. It may offer less than you need to pay for your losses. It might even deny your claim altogether—even if you submitted everything necessary.
By allowing our team to manage all insurance communications, you:
Reduce the Risk of Jeopardizing Your Claim
The claims adjuster will look for any reason to discredit your case. They will ask you "loaded" questions, contest certain forms of evidence, and even peruse your social media pages. Without legal help, you could find yourself getting more and more frustrated each day.
With our lawyer serving La Porte on your side, you don't even have to file a claim. We will do everything your insurance claim requires, from sending your demand letter to negotiating a settlement.
Give Yourself Time to Recover
It can take weeks – even months – to resolve an insurance claim. During this challenging time, you deserve to focus on your recovery. Instead of juggling phone calls from representatives and negotiating for what you need, let our team handle it.
Not only could this alleviate your concerns, but it could also bolster your recovery.
---
We're Not Your Average Indiana Personal Injury Law Firm
Many law firms offer cookie-cutter services that aren't tailored to each claimant's situation. That's not the case with us.
With us on your side, you can expect:
Prompt communication. We will answer your phone calls and emails as soon as we can. Some of our lawyers even give clients their cell phone numbers, making it even easier to reach them.
Support from an experienced firm. Our lawyers have a combined 400 years of legal experience. With experience comes confidence, dedication, and commitment. We never encounter a challenge we can't handle.
Honesty. We don't play games or sugarcoat the truth. We are transparent with each of our clients, so they know what to expect from the legal process.
We Provide Resources to Injured Hoosiers in La Porte
While exploring your legal options, we encourage you to check out some of our resources:
Your lawyer will share other resources during our partnership. Yet, your lawyer is the biggest resource of all.
---
We're Ready to Take Your Call Now
Attorney Darryl Isaacs has a nickname: the Hammer. Why? Because he brings the hammer down on negligent parties. When you partner with us, you can rest easy knowing that we're doing everything possible to recover compensation.
To learn more about working with our La Porte lawyers, call 1-800-333-9999 for your no-cost personal injury case review.