Begin Your Case With a Proven Personal Injury Law Firm
If you've been injured in an accident in southeastern Indiana due to someone else's negligence, our firm can help. You may be entitled to receive financial compensation, and a Jeffersonville personal injury lawyer can prepare your damage claim.
Darryl "The Hammer" Isaacs vigorously leads our legal team at Isaacs & Isaacs Personal Injury Lawyers through cases like yours. We provide a free consultation for your convenience, which allows us to learn about your needs and determine how we can best serve them.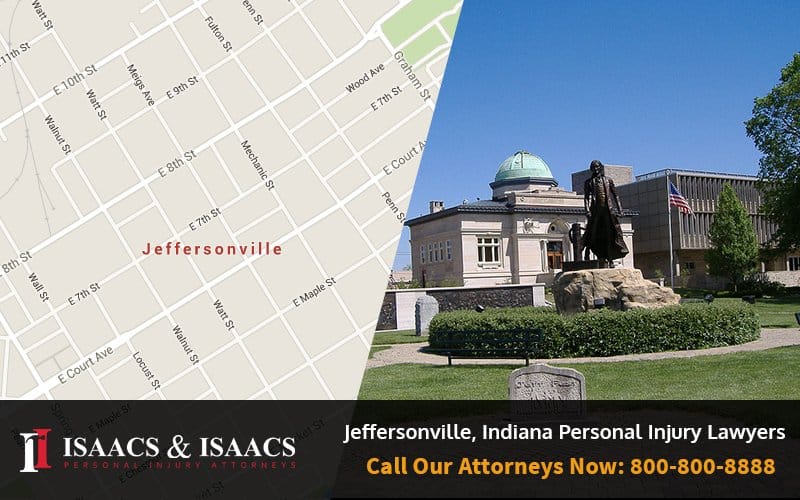 We charge no upfront fees for our legal services and only take payment if we secure monetary compensation on your behalf. Call us at 800-333-9999 at any time to speak to one of our dedicated Jeffersonville personal injury lawyers and set up a free consultation.
We Represent Injured Accident Victims Across Many Categories. Some Personal Injury Cases We Handle Include:
Accidents With Trucks or Commercial Vehicles
Injuries & Wrongful Death Involving Driver Negligence (cell phone use, DUI)
Accidents With Uninsured Motorists
Whiplash Injury Accidents
Airbag Deployment Accidents
Takata Air Bag Recalls
Motorcycle Accident Injuries
Ridesharing: Lyft & Uber Accidents
Bicycle Accident Injuries
Hit and Run Accidents
Pedestrians Hit By a Vehicle
Head-On Collisions
Rear-End Collisions
Spinal Cord Injuries
"Our daughters were involved in a serious car crash when a man ran a red light! Isaacs & Isaacs knew exactly what to say and exactly what to do for us! They are not only highly professional but also very sincere in wanting to help get our girls every dollar deserved! We will always be grateful to the team of The Hammer for being so wonderful during our time of need! Thank you from our family to your law firm."
---
Hiring an Indiana Personal Injury Attorney with Our Firm
In his podcast, "Ask the Hammer," Attorney Darryl Isaacs – the Hammer – answers questions about how he and his team serve clients to help get them the compensation they need. Play the episode below:
---
How Much Does a Personal Injury Lawyer in Jeffersonville, Indiana Cost?
There is no obligation when you receive a consultation with us. We also take that a step further by providing our services on a no-recovery, no-fee basis.
There are no out-of-pocket expenses when you work with our law firm. Instead, our attorneys take payment from the compensation secured for clients. With this in mind, you can rest assured that our personal injury lawyers will fight for every dollar you need and deserve.
Our Accident Law Firm Will Get Started on Your Case Immediately By:
Listening to your story
Answering your questions
Advising you what to do next
Investigating the accident scene and all other evidence related to your claim
Reviewing medical records, police reports, and all documents
Determining which parties are liable for your injury
Meeting with insurance adjusters
Helping you file your claim
Demanding a just settlement for all of your medical treatment and damages
---
We Have Recovered More Than $2 Billion for Clients
We have gone to bat for thousands of clients since our inception 25 years ago, recovering in excess of $2 billion in financial recovery. This compensation has helped bring suffering families justice, closure, and peace of mind.
Some of our past successes include:
$6.75 million for a small child injured in a school bus accident
$4 million for a defective drug victim who suffered severe and permanent heart damage
$1.5 million for a pedestrian hit by a vehicle, which left him with neck and shoulder injuries
Build Your Case With A Top Rated Accident Lawyer
If you need immediate assistance with a vehicle accident or personal injury, call our team now at 
800-333-9999
 to begin your free case review and schedule an initial consultation to get legal advice. Our law firm represents injured victims across many categories. Some popular cases our accident attorneys handle include:
---
Your Jeffersonville Personal Injury Case Is Our Top Priority
When you hire us for your case, you will receive personal attention and 24/7 availability from our team. We understand that you need this time to heal, but you also deserve to know how your case is progressing. Some of our primary services include:
Communicating on Your Behalf
We can speak to insurance companies, police, medical providers, and other entities and individuals involved in your personal injury case.
Investigating Your Accident
Conducting a thorough investigation is paramount to building a case that demands maximum compensation. Our personal injury attorneys serving Jeffersonville can put their 400 years of combined experience to work to find the cause of your accident, the liable parties, and evidence of both. We will obtain police reports, medical evidence, and witness statements to support your claims.
Negotiating a Settlement
Your injury attorney will represent your interests at the negotiating table by bringing your demands, presenting your claim, and applying the law. Fair, full, and just compensation is our constant goal.
We don't accept every settlement just because it was offered—we demand and fight for what you deserve.
Preparing and Filing a Personal Injury Lawsuit
They don't call our founder "The Hammer" for nothing. Our legal experts know that negotiations don't always end well. We work decisively to build a strong case from the beginning, preparing your case for trial every step of the way.
---
Personal Injury Cases We Handle
Our lawyers serve the Jeffersonville community in a wide spectrum of cases. Personal injury refers to any case where you have suffered harm due to another's negligence, recklessness, or willful misconduct. As you can imagine, this covers many different categories, such as premise liability, product liability, abuse, and motor vehicle accidents.
Motor Vehicle Accidents
Many personal injury cases involve collisions. We take on all forms of motor vehicle accidents, including:
Bus accidents
Motorcycle accidents
Bicycle accidents
Pedestrian accidents
Premises Liability
When a person is injured due to defective or hazardous conditions on someone else's property, it is a premises liability issue.
We handle various premises liability cases, such as those involving:
Slip and falls
Inadequate security
Faulty structures or equipment
Drownings in swimming pools
Dog bites
Product Liability
Injuries caused by dangerous or misleading products lead to product liability cases. These can involve:
Consumer products
Industrial products
Prescription drugs
Medical devices and equipment
Abuse
The mistreatment of others that leads to physical or emotional injuries, whether by negligence or intention, can be dealt with under personal injury law. Some of these cases involve:
Elder abuse
Nursing home or long-term care abuse
Sexual abuse
Sexual harassment
Wrongful Death Cases
If you have lost a loved one because of someone's carelessness, you can seek wrongful death damages in Jeffersonville. Though no amount of money can bring your loved one back, your family deserves justice and closure. An accident injury lawyer from our firm can guide you through a wrongful death claim with understanding and compassion.
---
Don't Miss the Deadline to Recover Compensation in Court
The general statute of limitations for personal injury cases in Indiana is two years, per IC § 34-11-2-4. If you miss the deadline, the court will likely toss out your lawsuit, closing your opportunity to seek compensation.
Compensatory Damages in Indiana
In Indiana, you are able to recover economic and non-economic damages for personal injury cases. Calculating your case's worth means adding up all of your accident-related losses, such as:
Medical expenses
Property damage
Lost income
Reduced earning capacity
Adaptive modifications for your home and car
You could also claim pain and suffering damages for damages that are not so easily quantified, such as:
Mental anguish
Grief
Reduced enjoyment of activities
Lost quality of life
Psychological disorders
The chronic and ongoing pain
Physical impairments
Disfigurement/scarring
Traumatic brain injuries
Other catastrophic injuries
We Have the Resources to Calculate How Much Your Pain and Suffering Is Worth
It may be harder to calculate these without an attorney, as there is no monetary value already associated with these damages. Our firm has the resources and connections to bring in experts who can assist in assessing the value of your pain and suffering based on their knowledge and experience.
We also have access to court records and damage calculation methods that insurance companies use, which can further assist in evaluating your non-economic damages.
---
A Free Consultation Is One Call Away
Isaacs & Isaacs Personal Injury Lawyers is your go-to for tried and tested legal counsel in Indiana. A personal injury lawyer on our team can fight for you if someone else's actions in Jeffersonville have injured you. Call for your no-obligation consultation today.
To learn more about working with our Jeffersonville lawyers, call 1-800-333-9999 for your no-cost personal injury case review.