Begin Your Case With a Proven Personal Injury Law Firm
When you are injured by another party or their lack of care, you should not be burdened with how you will take care of yourself and your family financially. Instead, you can hold them accountable for their negligent actions by initiating a personal injury claim.
A Jasper personal injury lawyer at Isaacs & Isaacs Personal Injury Lawyers can help you pursue the compensation you need and deserve. We can break down the personal injury claims process that applies to you and explain your rights through a free consultation.
We charge no upfront fees for our legal services and only take payment if we secure monetary compensation on your behalf. Call us at 800-333-9999 at any time to speak to one of our dedicated Jasper personal injury lawyers and set up a free consultation.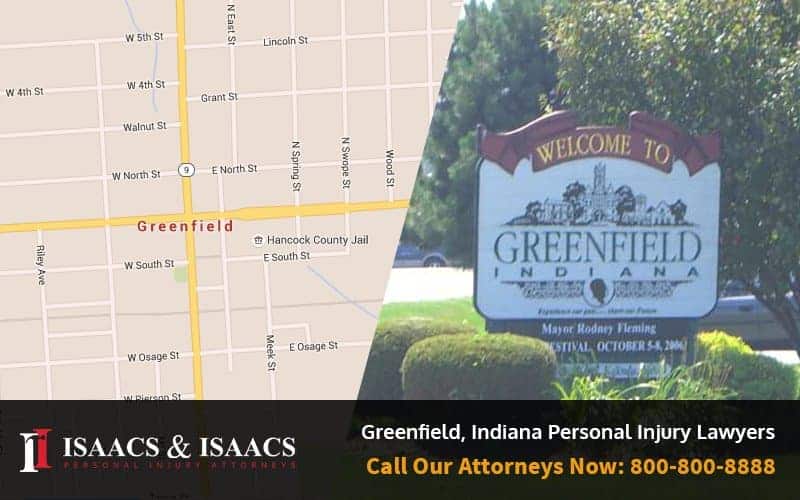 We Represent Injured Accident Victims Across Many Categories. Some Personal Injury Cases We Handle Include:
Accidents With Trucks or Commercial Vehicles
Injuries & Wrongful Death Involving Driver Negligence (cell phone use, DUI)
Accidents With Uninsured Motorists
Whiplash Injury Accidents
Airbag Deployment Accidents
Takata Air Bag Recalls
Motorcycle Accident Injuries
Ridesharing: Lyft & Uber Accidents
Bicycle Accident Injuries
Hit and Run Accidents
Pedestrians Hit By a Vehicle
Head-On Collisions
Rear-End Collisions
Spinal Cord Injuries
"They're great to me. Used them twice and positive results both times. I wouldn't hesitate to contact them again if needed."
---
Hiring an Indiana Personal Injury Attorney with Our Firm
In his podcast, "Ask the Hammer," Attorney Darryl Isaacs – the Hammer – answers questions about how he and his team serve clients to help get them the compensation they need. Play the episode below:
---
Types of Compensable Damages Available in Personal Injury Cases
Compensation in a personal injury case varies widely because personal injury encompasses various types of cases, each with its own set of laws that govern them. Further, personal injury cases differ because each victim has different injuries that demand different amounts of compensation. In general, Indiana's personal injury victims are entitled to both economic and non-economic damages. Therefore, you can recover funds for your expenses and your pain and suffering.
Some examples of tangible losses that may affect your compensation include:
Lost wages
Decreased ability to earn
Emergency room bills
Surgeries
Routine doctor's visits
Lab tests and diagnostic scans
Medical devices and supplies
Prescription medication
Physical rehab
Property damage
Additional monetary losses
Intangible losses that you may recover compensation for include:
Psychological disorders
Traumatic brain injuries
Chronic pain
Emotional distress
Reduced quality of life
Paralysis
Disfigurement and scarring
Impaired body parts
Other non-monetary losses
Our Accident Law Firm Will Get Started on Your Case Immediately By:
Listening to your story
Answering your questions
Advising you what to do next
Investigating the accident scene and all other evidence related to your claim
Reviewing medical records, police reports, and all documents
Determining which parties are liable for your injury
Meeting with insurance adjusters
Helping you file your claim
Demanding a just settlement for all of your medical treatment and damages
---
How Our Personal Injury Law Firm Can Benefit You
Our law firm handles a variety of personal injury cases. We have over 25 years of experience dealing with and winning cases for clients who have put their trust in us. And as we worked for them, we will work for you. A personal injury attorney can help you navigate the often-overwhelming insurance claims process.
As your legal representation, we know the applicable laws that pertain to the various personal injury cases. We are aware of the tactics of insurance companies that try to undervalue your claim or avoid paying altogether. Our firm has resources at our disposal to thoroughly investigate the circumstances of your injury, get the most respected experts, and accurately calculate your case's value.
It may be hard to do these things on your own, especially if you do not know where to start. Some of our duties include:
Managing communication with insurance companies, liable parties, and third parties on your behalf
Conducting an investigation of your accident
Collecting evidence
Determining who is at-fault
Gathering important documents
Filling out paperwork for you
Identifying and interviewing witnesses
Negotiating fair and just settlement terms
Filing a legal action in court, if necessary
Representing you in court
Is Filing a Personal Injury Claim Worth It?
While it may be overwhelming to even think about having to file a personal injury claim or, worse, a lawsuit, it is your legal right to receive compensation for injuries caused by someone's carelessness. So when your bills start to pile up and pressure mounts about how you will take care of yourself and your family, you will be glad that you have recourse for relief.
The money you seek for your accident will help you recover and rebuild your life. In addition, it will provide for you if you cannot work, bringing you peace of mind. The time and energy it takes to fight for fair compensation may not seem worth it on your own, but with a personal injury attorney fighting for you, it is worth it.
How Much does a Personal Injury Attorney Cost?
One of the significant advantages of working with a personal injury lawyer from our law firm is that we do not charge any upfront fees or costs. We want to eliminate the financial burden you feel when you seek justice through legal counsel.
We receive payment from the monetary compensation we help you win. If you do not collect any money, we do not either. This is our contingency-fee pricing structure, intended to help level the playing field for the people of Indiana who need help but cannot afford it.
What Types of Cases Does Personal Injury Include?
Another factor that impacts your compensation is the type of claim you are filing. Some types of personal injury cases restrict the amount of compensation you can receive, such as medical malpractice claims. Per the Indiana Compensation Act (INCAP), recoverable compensation for both economic and non-economic damages in medical malpractice suits is capped at $1.25 million.
Build Your Case With A Top Rated Accident Lawyer
If you need immediate assistance with a vehicle accident or personal injury, call our team now at 
800-333-9999
 to begin your free case review and schedule an initial consultation to get legal advice. Our law firm represents injured victims across many categories. Some popular cases our accident attorneys handle include:
---
We Handle Catastrophic Injuries Cases
Carrying on after a catastrophic injury is unimaginable. The personal injury lawyers at our law firm could fight for you if the negligent acts of someone else caused the accident. We take on clients who have had injuries leading to amputation, quadriplegia, paraplegia, paralysis, traumatic brain injuries, or other permanent conditions.
These injuries not only impact your ability to work or function normally from day to day, but they can also lead to emotional and mental conditions such as depression, anxiety, and inability to enjoy life. However, a catastrophic accident injury lawyer can help you recover compensation for these non-economic damages.
---
Jasper Dangerous Drug Attorneys
Unlike most other personal injury cases where an injury occurs unexpectedly due to an accident, defective drug injuries arise because a person took medication or received care that was intended to help them. Your trust in medical and pharmaceutical care should not lead to your harm.
When these large corporations prioritize profit over people in Dubois County, a dangerous drug lawyer at our firm will hold the negligent pharmaceutical company responsible for breaching their duty.
Some of the top defective drug cases we take include:
Da Vinci surgical robot lawsuits
Transvaginal mesh lawsuits
Talcum powder lawsuits
---
Call Our Personal Injury Lawyer Serving Jasper to Get Started Today
Led by Darryl "The Hammer " Isaacs, Isaacs & Isaacs Personal Injury Lawyers serves the Jasper, Indiana area with aggressive representation. A Jasper personal injury lawyer is here for you. Call us for a no-obligation case review if you have been in an accident caused by another.
To learn more about working with our Jasper lawyers, call 1-800-333-9999 for your no-cost personal injury case review.