Begin Your Case With a Proven Motorcycle Accident Law Firm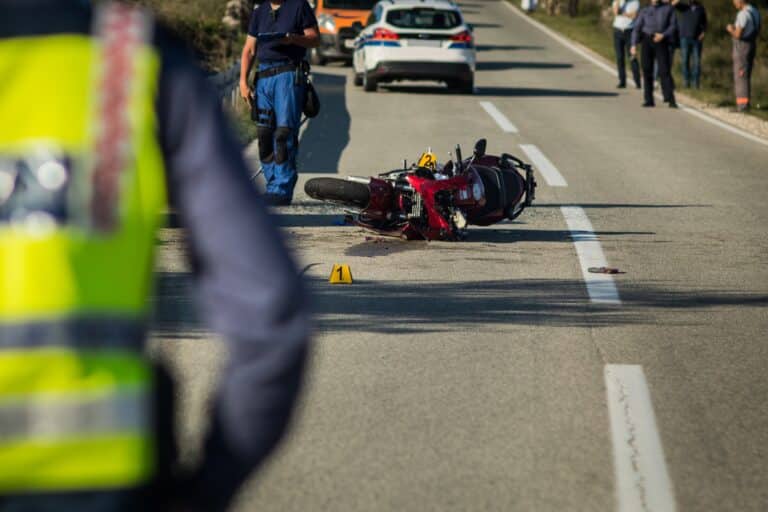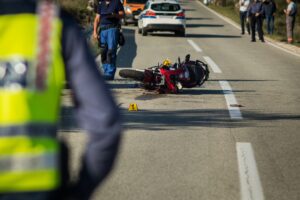 Motorcycles account for a small percentage of vehicles on the road but motorcycle crashes are more likely to lead to fatalities than car accidents. Even if a crash does not result in death, it can leave the victim with severe injuries.
Some of these injuries lead to life-long disabilities. If you or a family member sustains injuries from a motorcycle accident caused by someone's negligence, there are legal measures you can take. Consider hiring a Hobart motorcycle accident lawyer who can provide legal assistance if you need help.
We charge no upfront fees for our legal services and only take payment if we secure monetary compensation on your behalf. Call us at 800-333-9999 at any time to speak to one of our dedicated Hobart motorcycle accident lawyers and set up a free consultation.
We Represent Injured Accident Victims Across Many Categories. Some Personal Injury Cases We Handle Include:
Accidents With Trucks or Commercial Vehicles
Injuries & Wrongful Death Involving Driver Negligence (cell phone use, DUI)
Accidents With Uninsured Motorists
Whiplash Injury Accidents
Airbag Deployment Accidents
Takata Air Bag Recalls
Motorcycle Accident Injuries
Ridesharing: Lyft & Uber Accidents
Bicycle Accident Injuries
Hit and Run Accidents
Pedestrians Hit By a Vehicle
Head-On Collisions
Rear-End Collisions
Spinal Cord Injuries
"They're great to me. Used them twice and positive results both times. I wouldn't hesitate to contact them again if needed."
---
Getting the Legal Perspective on Motorcycle Accidents – Audio Interview
In this podcast episode of Ask The Hammer, Darryl Isaacs and three other attorneys from Isaacs & Isaacs Personal Injury Lawyers (all bikers) review how motorcycle accident lawsuits work in this podcast episode. Listen below.
---
What You Should Do After a Hobart Motorcycle Crash
Immediately after the crash, move away from the flow of traffic to avoid any more accidents. Check to see if you or anyone else has suffered any injuries and call the police and paramedics. After the accident, make sure you don't admit fault to the other party involved. Apologizing for the accident may be misinterpreted as accepting responsibility for the crash. By saying you are sorry, you may undermine your motorcycle accident settlement.
While waiting for police and paramedics, gather as much information as possible, such as photos, witness statements, or noting any traffic cameras. Law enforcement will arrive and analyze the crash scene to try and identify how the motorcycle accident occurred. They will include their findings in a police accident report.
Paramedics can provide immediate medical help and then take you to the hospital. Visit a healthcare facility for a checkup even if you think you did not suffer any injuries. Some injuries, such as internal damage, may not be visible immediately after your crash. A doctor can establish the extent of your injuries. A doctor can determine if you need further treatment in the future. All the information on treatment will be included in your medical report.
Our Accident Law Firm Will Get Started on Your Case Immediately By:
Listening to your story
Answering your questions
Advising you what to do next
Investigating the accident scene and all other evidence related to your claim
Reviewing medical records, police reports, and all documents
Determining which parties are liable for your injury
Meeting with insurance adjusters
Helping you file your claim
Demanding a just settlement for all of your medical treatment and damages
---
Filing for Compensation After a Motorcycle Accident
You have a legal right to seek damages from the party that caused the crash and to file a claim with the insurance company. If that fails, you can file a lawsuit in a civil court. This process may be lengthy and complicated.
The information you took after a motorcycle crash can help. If you hire a Hobart motorcycle accident lawyer, that evidence can help your legal team build a case. When filing a claim, the evidence you need may include:
The police accident report from the crash scene
Photos and video footage of the accident site
Eyewitness testimonies
Evidence to show lost income and treatment expenditures
Documentation showing the extent of your injuries and the chance of recovery
Your lawyer can gather the police accident report, your medical records, and eyewitness statements. They can also obtain video footage from surrounding buildings and traffic cameras through legal means. A lawyer can hire experts such as doctors and accident reconstructionists to provide their professional opinion on your case. Doing all this will help strengthen your claim.
Handling Insurance Providers After an Accident
Insurance companies want to safeguard their financial interests. To do this, they may deny your claim or offer you the minimum amount in compensation. Be cautious when dealing with the insurance adjuster. He may seem friendly, but he may be trying to get you to talk more about the crash. In doing so, you may admit fault and jeopardize your compensation. Remember, the adjuster's objective is to limit the insurer's liability.
You may want to enlist the services of a lawyer in filing a personal injury claim after a motorcycle accident. With your permission, they can handle the claims process for you. Insurance providers may try to take advantage of you or fail to fully inform you of your legal rights if you deal with them alone.
A Hobart motorcycle accident lawyer will inform you of your rights and can safeguard your interests. You may lack the expertise to negotiate with the insurer by yourself and may risk your claim by doing so. A motorcycle accident lawyer has more experience in handling these situations and negotiating with insurance companies.
Build Your Case With A Top Rated Accident Lawyer
If you need immediate assistance with a vehicle accident or personal injury, call our team now at 
800-333-9999
 to begin your free case review and schedule an initial consultation to get legal advice. Our law firm represents injured victims across many categories. Some popular cases our accident attorneys handle include:
---
Factors That May Impact the Compensation Amount
Indiana law utilizes the modified comparative fault policy in personal injury cases. You may be determined to be at fault for a percentage of the motorcycle accident. If this is the case, your financial compensation gets reduced by the percentage of fault you bear. However, according to Indiana code 34-51-2-5, contributing to the crash does not bar you from recovering damages unless your percentage of fault is assessed as more than 50%.
The extent of your injuries also impacts the amount of your claim. For example, sustaining superficial lacerations versus having a long-lasting impairment from your accident makes a difference. The time and treatment you will need to regain your health also affect the amount.
You must take steps to reduce the harm that results from a crash. For example, if a doctor asks you to avoid any strenuous activity, follow those instructions. If you go against this advice and it hurts your recovery, you jeopardize your chances of getting the maximum compensation. An attorney can help you navigate the various pitfalls that may hinder your ability to recover damages.
---
A Hobart Motorcycle Accident Lawyer Can Help
Getting a lawyer to represent you after a motorcycle accident can make a big difference. A  Hobart motorcycle accident lawyer can collect evidence and negotiate with the insurer for the compensation you deserve. Talk to Isaacs & Isaacs Personal Injury Lawyers today for a free case evaluation.
To learn more about working with our Hobart lawyers, call 1-800-333-9999 for your no-cost motorcycle accident case review.