Begin Your Case With a Proven Personal Injury Law Firm
Whether you were injured in a truck accident on I-90 or bitten by a dog in Carlson Oxbow Park, you could be facing serious challenges – and you could hold the responsible party accountable. Our Hammond personal injury lawyers will help you build a strong case for justice and compensation.
You can learn more about your legal options through a free case review. We're prepared to take your call 24/7.
We charge no upfront fees for our legal services and only take payment if we secure monetary compensation on your behalf. Call us at 800-333-9999 at any time to speak to one of our dedicated Hammond personal injury lawyers and set up a free consultation.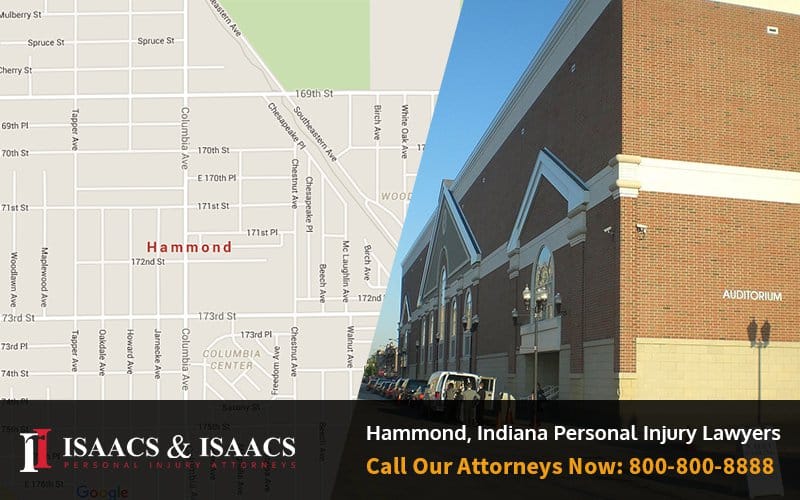 We Represent Injured Accident Victims Across Many Categories. Some Personal Injury Cases We Handle Include:
Accidents With Trucks or Commercial Vehicles
Injuries & Wrongful Death Involving Driver Negligence (cell phone use, DUI)
Accidents With Uninsured Motorists
Whiplash Injury Accidents
Airbag Deployment Accidents
Takata Air Bag Recalls
Motorcycle Accident Injuries
Ridesharing: Lyft & Uber Accidents
Bicycle Accident Injuries
Hit and Run Accidents
Pedestrians Hit By a Vehicle
Head-On Collisions
Rear-End Collisions
Spinal Cord Injuries
"John came to our house and went over the legal part of it thoroughly and quickly, but he always made it more about us. I would recommend them to anybody because they're going to make sure that you're protected. It just always felt like we were dealing with family instead of a legal process."
---
Hiring an Indiana Personal Injury Attorney with Our Firm
In his podcast, "Ask the Hammer," Attorney Darryl Isaacs – the Hammer – answers questions about how he and his team serve clients to help get them the compensation they need. Play the episode below:
---
You Could Be Entitled to Make a Financial Recovery in Hammond
Significant injuries can affect your health, career, everyday activities, and relationships. Our personal injury attorneys will start your case by learning about all the ways the injury impacted you.
We can then tell you about the forms of compensation you could seek, such as:
Intangible Losses
There are often many hidden impacts resulting from an injury. Psychological, emotional, and other life challenges are compensable, though.
We can seek compensation for your:
Pain and suffering
Loss of enjoyment of life
Disfigurement and scarring
Mental anguish
Past and Anticipated Medical Bills
Your medical bills could be adding up quickly. On top of your current bills, you may be expecting to need additional care. Our team will calculate your past, present, and future medical costs, such as:
Diagnostic tests
Surgeries
Hospitalizations
Ambulance services
Medications
Medical devices
Physical therapy and rehab
Chiropractic care
Lost Wages
If you were out of work because of the injury, you could be facing thousands of dollars in lost wages. This loss can be compensable in a personal injury case.
Additionally, if you need to change jobs or reduce your hours over the long term because of your injury, you could recover the difference between your past wages and your new earnings.
Our Accident Law Firm Will Get Started on Your Case Immediately By:
Listening to your story
Answering your questions
Advising you what to do next
Investigating the accident scene and all other evidence related to your claim
Reviewing medical records, police reports, and all documents
Determining which parties are liable for your injury
Meeting with insurance adjusters
Helping you file your claim
Demanding a just settlement for all of your medical treatment and damages
---
We Get You the Answers You Need to Move Forward With Your Injury Case
You don't have to make guesses about what to do in your case. Our team is prepared to offer you the answers you need for your questions, such as:
What Kind of Payout Can I Expect?
Every case is different, and every potential payout is different. Your compensation could vary based on the seriousness of your injuries, who is liable for the crash, and to what extent the injury affected your life overall.
For instance, if you were hit by a truck driver and suffered a catastrophic injury, such as a TBI, you may need to change jobs or stop working altogether. This kind of injury could lead to major and even lifelong expenses, and you could be compensated accordingly.
We can also help you get the settlement you may deserve after injuries that affect your health and your life in other significant ways. You don't need to have a catastrophic injury to seek compensation from a negligent party.
How Long Do I Have to File a Lawsuit?
Generally, you have two years to file a lawsuit for a personal injury or wrongful death case in Indiana (per IC § 34-11-2-4).
We encourage accident victims to act promptly to meet this deadline. If you miss this deadline, you could be unable to seek compensation in the future.
Build Your Case With A Top Rated Accident Lawyer
If you need immediate assistance with a vehicle accident or personal injury, call our team now at 
800-333-9999
 to begin your free case review and schedule an initial consultation to get legal advice. Our law firm represents injured victims across many categories. Some popular cases our accident attorneys handle include:
---
Our Lawyers Will Help You Map Out a Legal Strategy in Hammond
When you're recovering from your injuries, you may not know what next steps are available in your case. Our attorneys will explain all of your options and build a strategy. We will help you determine:
If you should start by seeking a settlement or filing a lawsuit
Who is responsible for your injury accident
How much your case could be worth
How to counter unfair claims meant to diminish your payout
When to accept a settlement offer
How the statute of limitations could affect your case
Our goal is to seek the best possible results for you, pursuing the full and fair compensation you deserve. If we believe that we can do so through an out-of-court settlement, we may negotiate on your behalf with the liable party's representatives.
On the other hand, we can take your case to trial and handle litigation for you if we cannot reach a fair settlement.
---
Why Choose Isaacs & Isaacs Personal Injury Lawyers?
Our team is committed to serving victims of injury. Here's how we can serve you:
Work based on contingency fees. Paying for a lawyer doesn't have to mean paying from your savings. You can get started with no upfront fees. We only get paid if we win your case.
Take your call anytime, day or night. We know that you may need flexibility when you make your first call. We're prepared to speak with you 24/7.
The experience of a law firm founded by "The Hammer."Darryl Isaacs, also known as "The Hammer," is a member of the Multi-Million Dollar Advocates Forum.
We also have a track record of winning million- and multi-million dollar settlements for truck accident victims, car accident victims, bus accident victims, and more.
Take a Look at These Resources to Get Started on Your Case Today
You can call our team to learn more about getting started on your case, and you can also browse these resources to learn more about injury cases:
Ask The Hammer Podcast. Learn more about the process of a personal injury case in a podcast with our founder, Darryl Isaacs.
The Legal Beat Blog. From details about "Move Over" laws to more information on compensable damages, we talk more about the facts you need to understand your case.
---
Call Isaacs & Isaacs Personal Injury Lawyers for Help With Your Hammond Case
Our personal injury lawyers are ready to fight for you. Call our team to learn what next steps we can take for your case.
To learn more about working with our Hammond lawyers, call 1-800-333-9999 for your no-cost personal injury case review.