Begin Your Case With a Proven Personal Injury Law Firm
With I-40 passing through the city and an array of shopping centers and things to do, Greenfield, Indiana, is full of hustle and bustle. These attributes of the city may leave room for accidents to occur. If you or a loved one was hurt in an accident in Greenfield, you could pursue a financial recovery.
A Greenfield personal injury lawyer at our firm can help you hold the liable party responsible for your injuries. Since 1993, Isaacs & Isaacs Personal Injury Lawyers has been helping injury victims across Kentucky, Ohio, and Indiana get compensation. During that time, we have settled and won over $2 billion for our clients. Now, it's time for us to get to work for you and your family.
We charge no upfront fees for our legal services and only take payment if we secure monetary compensation on your behalf. Call us at 800-333-9999 at any time to speak to one of our dedicated Greenfield personal injury lawyers and set up a free consultation.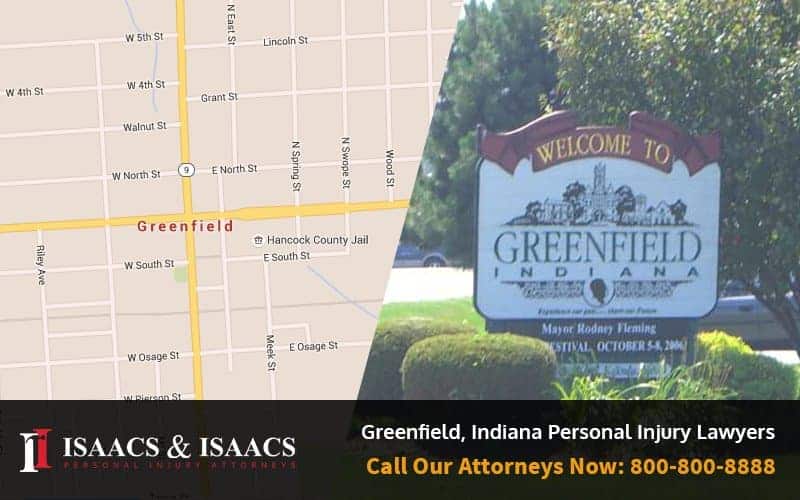 We Represent Injured Accident Victims Across Many Categories. Some Personal Injury Cases We Handle Include:
Accidents With Trucks or Commercial Vehicles
Injuries & Wrongful Death Involving Driver Negligence (cell phone use, DUI)
Accidents With Uninsured Motorists
Whiplash Injury Accidents
Airbag Deployment Accidents
Takata Air Bag Recalls
Motorcycle Accident Injuries
Ridesharing: Lyft & Uber Accidents
Bicycle Accident Injuries
Hit and Run Accidents
Pedestrians Hit By a Vehicle
Head-On Collisions
Rear-End Collisions
Spinal Cord Injuries
"Our daughters were involved in a serious car crash when a man ran a red light! Isaacs & Isaacs knew exactly what to say and exactly what to do for us! They are not only highly professional but also very sincere in wanting to help get our girls every dollar deserved! We will always be grateful to the team of The Hammer for being so wonderful during our time of need! Thank you from our family to your law firm."
---
Hiring an Indiana Personal Injury Attorney with Our Firm
In his podcast, "Ask the Hammer," Attorney Darryl Isaacs – the Hammer – answers questions about how he and his team serve clients to help get them the compensation they need. Play the episode below:
---
Our Personal Injury Attorneys Are Paid via a Contingency Fee
Before you read more about how we can help you and what to expect from the legal process, you should know that our injury firm works on a contingency fee basis. This payment plan entails:
A free case evaluation when you first reach out to us
No retainers or hourly rates
No out-of-pocket or upfront fees
You won't pay any costs or attorney's fees unless we recover for you. If your lawyer doesn't secure an award for you, there is no charge. You have nothing to lose with our firm financing your case from start to finish.
Our Accident Law Firm Will Get Started on Your Case Immediately By:
Listening to your story
Answering your questions
Advising you what to do next
Investigating the accident scene and all other evidence related to your claim
Reviewing medical records, police reports, and all documents
Determining which parties are liable for your injury
Meeting with insurance adjusters
Helping you file your claim
Demanding a just settlement for all of your medical treatment and damages
---
What Our Lawyers Can Do for You After You Were Injured in Greenfield, Indiana
A lot of pressure comes with negotiating a personal injury claim or lawsuit. Let our team take some of that pressure off so that you can focus on recovering from your injuries.
We will:
Collect your medical records and consult your doctors
Interview witnesses
Study relevant laws and ordinances
Order a copy of the crash or incident report
Negotiate settlements
Name the liable party
Gather photographs and available video footage
Communicate with all respective parties
Take your case before a jury if we cannot obtain a settlement
You can rely on your lawyer to maintain communication with you throughout the claims and/or legal process. They will regularly update you on its status, but if you ever have questions, never hesitate to get in touch with them. We are here for you.
Build Your Case With A Top Rated Accident Lawyer
If you need immediate assistance with a vehicle accident or personal injury, call our team now at 
800-333-9999
 to begin your free case review and schedule an initial consultation to get legal advice. Our law firm represents injured victims across many categories. Some popular cases our accident attorneys handle include:
---
Recoverable Losses in a Greenfield Personal Injury Case
Getting hurt in an accident can lead to high medical bills and a long road to recovery. Your doctor may even order you to stay home from work. All these things can set you back financially, physically, and emotionally, but you don't have to foot these bills on your own.
You may hold the other party accountable for your damages, some of which could be:
Past and future medical expenses: If you required hospitalization, emergency transportation, medication, diagnostic assessments, mobility aids, physical therapy, or ongoing appointments
Lost wages: If you couldn't work full-time or were forced to work part-time
Future loss of earning capacity: If you can't return to your previous job or work altogether
Pain and suffering: If your injuries inconvenienced you or caused frequent discomfort or pain
Property damages cost: If you were in a traffic accident and need to get your vehicle replaced or repaired
Disfigurement and scarring: If your injuries altered the way you look or move
Mental anguish: If the accident caused trauma and you suffer sleeplessness, anxiety, phobias, or post-traumatic stress disorder (PTSD)
Disability: If your impairments meet the criteria for benefits from the Social Security Administration (SSA)
Your lawyer can review each of these losses and calculate them accordingly. It's possible that you're entitled to damages that aren't included in this list.
If Your Loved One Succumbed to Their Accident-Related Injuries
Tragically, some people sustain fatal injuries in accidents. If you suffered the loss of a family member, please accept our condolences. Although nothing can change what happened, compensation may help you cope and adjust to this next stage of life.
In a wrongful death case, typical recoverable damages include:
Lost wages or inheritance
Final medical bills
Loss of consortium
Funeral and/or burial expenses
---
You Don't Have Forever To Pursue Damages From the Liable Party in Greenfield, IN
If you want to take legal action after getting injured in an accident, there is not a lot of time to spare. Indiana places time limits on filing personal injury and wrongful death lawsuits. Per IC § 34-11-2-4, you generally have two years to file a personal injury case.
If you let too much time go by, you may risk missing the deadline. As a result, the court may forbid you from pursuing the liable party for compensation. Waiting too long also allows more time for evidence to disappear and to lose contact with witnesses. Their memories of the incident may fade, which could hurt the validity of your case.
Getting started on your case right away helps ensure that you comply with all state-mandated timelines, as well as collect the evidence you need to build an effective case. Our personal injury lawyers can help manage all these tasks.
---
Connect With Isaacs & Isaacs Personal Injury Lawyers Today
Our attorneys have over 400 years of combined legal experience. We are dedicated to securing the results our clients need to get back to where they need to be.
To learn more about working with our Greenfield lawyers, call 1-800-333-9999 for your no-cost personal injury case review.