Begin Your Case With a Proven Catastrophic Injury Law Firm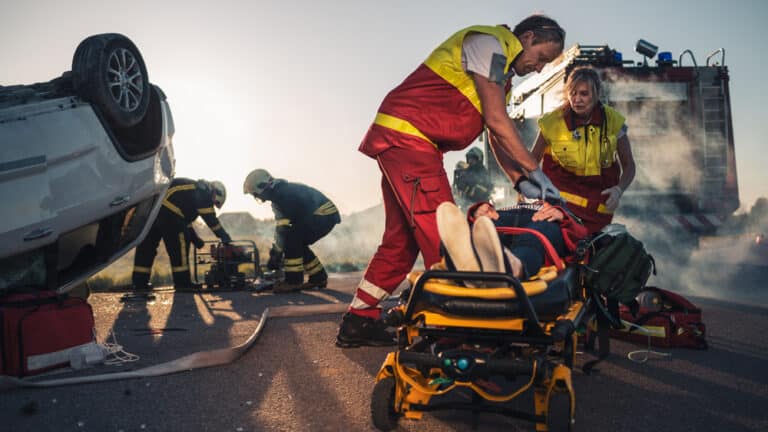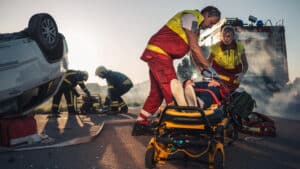 Catastrophic injuries permanently reduce a person's physical or mental capacity. These injuries often affect the spine, brain, or skull and have severe short-term and long-term consequences, both physical and financial. When you or a loved one has sustained these injuries at the hands of someone else's negligence, a Fishers catastrophic injury lawyer from Isaacs & Isaacs Personal Injury Lawyers can help you fight for the compensation you deserve.
Our attorneys have more than 400 years of combined legal experience and regularly handle the complexity of these cases. We understand the gravity of these injuries, and we are ready to help you seek restitution.
We charge no upfront fees for our legal services and only take payment if we secure monetary compensation on your behalf. Call us at 800-333-9999 at any time to speak to one of our dedicated Fishers catastrophic injury lawyers and set up a free consultation.
We Represent Injured Accident Victims Across Many Categories. Some Personal Injury Cases We Handle Include:
Accidents With Trucks or Commercial Vehicles
Injuries & Wrongful Death Involving Driver Negligence (cell phone use, DUI)
Accidents With Uninsured Motorists
Whiplash Injury Accidents
Airbag Deployment Accidents
Takata Air Bag Recalls
Motorcycle Accident Injuries
Ridesharing: Lyft & Uber Accidents
Bicycle Accident Injuries
Hit and Run Accidents
Pedestrians Hit By a Vehicle
Head-On Collisions
Rear-End Collisions
Spinal Cord Injuries
"They're great to me. Used them twice and positive results both times. I wouldn't hesitate to contact them again if needed."
---
Getting the Legal Perspective on Car Accidents – Audio Interview
Car accident lawyer Darryl Isaacs — The Hammer — sat down to address legal and safety considerations when injured from a car crash in a recent radio episode of "Ask The Hammer," the podcast exploring the legal matters that matter most. There are many elements at play when knowing what to do after a car accident. Listen to the episode directly below.
---
Recoverable Damages from a Fishers Catastrophic Injury Case
No dollar amount can reverse the damage you've sustained due to your injuries. But getting financial compensation can better prepare you for the road ahead. You may be entitled to economic and non-economic damages.
Our attorneys serving Fishers, Indiana, can help you seek compensation for damages, such as:
Medical bills
Rehabilitative costs
Lost wages and reduced earning capacity
Car or home modifications
Nursing home care
Hospitalization
Pain and suffering
Disfigurement
PTSD, depression, and anxiety
Due to the severity of your injuries and long-term consequences, you may qualify for a higher payout than other accident cases. Our attorneys have recovered over $2 billion in settlements for injury victims and their families, and we can help you seek top dollar for your injury claim or lawsuit.
Our Accident Law Firm Will Get Started on Your Case Immediately By:
Listening to your story
Answering your questions
Advising you what to do next
Investigating the accident scene and all other evidence related to your claim
Reviewing medical records, police reports, and all documents
Determining which parties are liable for your injury
Meeting with insurance adjusters
Helping you file your claim
Demanding a just settlement for all of your medical treatment and damages
---
When to Hire a Fishers Catastrophic Injury Lawyer
No one wants to be in a situation where they have to hire a lawyer. But when you find yourself in that situation, you want an attorney who is experienced in the field and can get justice in your case. An attorney can be especially beneficial in complex injury cases and matters that parties can't settle out of court.
Hiring a catastrophic injury attorney can benefit you in many situations, such as when:
You Want to Avoid Exceeding Deadlines
Indiana allows you up to two years after an accident to file a personal injury lawsuit, per IC § 34-11-2-4. After this time, the courts will not consider your case. It can seem like you have plenty of time. However, these cases often take months to conclude, and the longer you wait, the faster the deadline approaches.
Our attorneys are mindful of deadlines and can ensure timely filing of all paperwork, ensuring that your case is moving at a steady pace.
Your Liability Is Under Dispute
When the insurance company denies liability or the at-fault party attempts to place you at least partially at fault for the accident, our attorneys can defend you. We can investigate your claim and fight against these allegations with the aim of recovering compensation for you.
You Are Unsure How Much Your Case Is Worth
Catastrophic injuries often have long-term financial consequences, and it can be challenging to calculate your case's value. Our attorneys can draw upon the resources of economists and medical and financial experts to help us calculate the long-term impacts of your injuries and what would be fair compensation for you.
The Other Party Is Acting in Bad Faith
Even if the other party and their insurer accept liability, they may still act in bad faith, making it harder for you to claim compensation. They may:
Require unnecessary and lengthy paperwork to slow the process
Raise false allegations
Refuse to pay your claim or offer a low settlement
Mislead you about your rights
Fail to investigate your claim or fail to investigate it within a reasonable period
Our attorneys can defend you from bad actors and hold them and their insurers accountable for their actions. We'll work hard on your behalf to get justice in your claim.
Build Your Case With A Top Rated Accident Lawyer
If you need immediate assistance with a vehicle accident or personal injury, call our team now at 
800-333-9999
 to begin your free case review and schedule an initial consultation to get legal advice. Our law firm represents injured victims across many categories. Some popular cases our accident attorneys handle include:
Lawyer Fees in Your Fishers Catastrophic Injury Case
Our attorneys don't get paid by the hour. We get paid for our ability to be successful in your case. We won't charge any upfront fees or costs. Instead, we get paid a contingency fee from the settlement we secure on your behalf. Rather than wasting your time and racking up lawyer fees, you'll be assured that our team is working hard to secure maximum compensation for you.
---
Dos and Don'ts After a Catastrophic Injury Event in Fishers, IN
The days and weeks following your accident are sensitive times. You are trying to recover physically and financially. However, you should also be mindful of the actions you do or don't take so that you don't inadvertently forfeit your right to compensation. We recommend taking the following actions.
Do
File a police report: If a report wasn't filed at the scene, file one right away with the Fishers Police Department.
Gather evidence from the scene: Collect any pictures, video footage, eyewitness information, or any other evidence you have from the scene to support your case.
Document the other party's contact information: Make sure you have their essential data, such as their full name, current address, telephone number(s), and driver's license number. You should also get the name of their insurance company.
Continue medical care: Follow up with your medical appointments, rehabilitative care, and other healthcare needs. This will help us establish proof of the extent of your injuries.
Don't
Apologize or admit fault: Your actions and words may be used against you in your case.
Give an official statement: Insurance companies can use your words to contradict you, reduce your settlement amount or deny your claim altogether.
Accept a settlement right away: Consult with our attorneys before accepting a settlement. Often, quick settlements are far less than what you deserve.
---
Contact Our Fishers Catastrophic Injury Attorney Today
In Indiana, car accidents and slip and fall accidents are among the top causes of preventable deaths. Our attorneys handle all types of personal injury cases, including vehicle accidents, work accidents, slip and fall accidents, and more.
Financial compensation is a small price to pay for the permanent, debilitating injuries you've sustained due to someone else's negligence. Our attorneys can help you recover what's owed to you so that you can focus on healing. Contact our legal team at Isaacs & Isaacs Personal Injury Lawyers today for a free case evaluation. We can review your legal options with you and answer your questions.
To learn more about working with our Fishers lawyers, call 1-800-333-9999 for your no-cost catastrophic injury case review.