Begin Your Case With a Proven Personal Injury Law Firm
No matter how pleasant and laid back the town is where you live or work, a sudden injury or accident could change your life. If you or somebody you love has suffered a personal injury, you want the help of an Anderson personal injury lawyer to recover the just compensation you deserve.
We charge no upfront fees for our legal services and only take payment if we secure monetary compensation on your behalf. Call us at 800-333-9999 at any time to speak to one of our dedicated Anderson personal injury lawyers and set up a free consultation.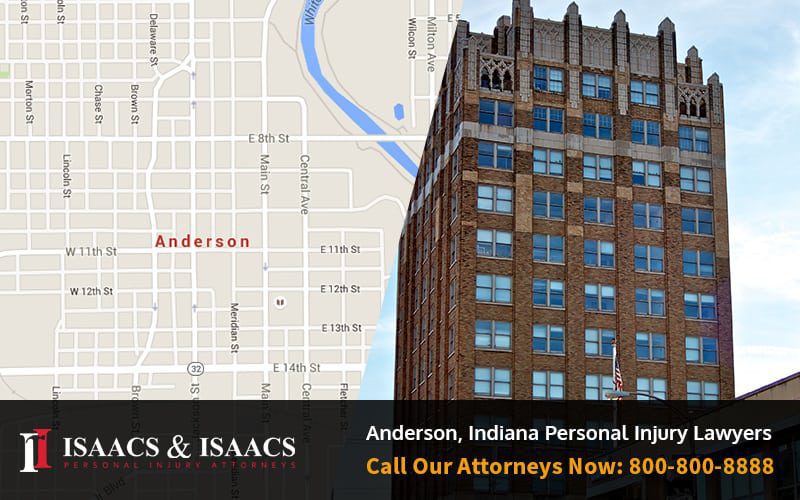 ---
We Represent Injured Accident Victims Across Many Categories. Some Personal Injury Cases We Handle Include:
Accidents With Trucks or Commercial Vehicles
Injuries & Wrongful Death Involving Driver Negligence (cell phone use, DUI)
Accidents With Uninsured Motorists
Whiplash Injury Accidents
Airbag Deployment Accidents
Takata Air Bag Recalls
Motorcycle Accident Injuries
Ridesharing: Lyft & Uber Accidents
Bicycle Accident Injuries
Hit and Run Accidents
Pedestrians Hit By a Vehicle
Head-On Collisions
Rear-End Collisions
Spinal Cord Injuries
"John came to our house and went over the legal part of it thoroughly and quickly, but he always made it more about us. I would recommend them to anybody because they're going to make sure that you're protected. It just always felt like we were dealing with family instead of a legal process."
---
Hiring an Indiana Personal Injury Attorney with Our Firm
In his podcast, "Ask the Hammer," Attorney Darryl Isaacs – the Hammer – answers questions about how he and his team serve clients to help get them the compensation they need. Play the episode below:
---
Build Your Case with an Anderson Personal Injury Attorney
Let me introduce myself to you personally. I'm Darryl Isaacs. You may have seen my TV ads. I started Isaacs & Isaacs Personal Injury Lawyers with my late father, Sheldon Isaacs. We shared a commitment to help folks get the just compensation they need when they have been injured.
The average person is no match for these big companies, and they never want to give you fair compensation when you have been injured through no fault of your own. My father and I found attorneys and other legal professionals to join our firm who share our passion for justice.
Our Accident Law Firm Will Get Started on Your Case Immediately By:
Listening to your story
Answering your questions
Advising you what to do next
Investigating the accident scene and all other evidence related to your claim
Reviewing medical records, police reports, and all documents
Determining which parties are liable for your injury
Meeting with insurance adjusters
Helping you file your claim
Demanding a just settlement for all of your medical treatment and damages
---
Isaacs & Isaacs Personal Injury Lawyers Will Fight for You
In the decades that I have practiced personal injury law, I have seen many tragedies. I have helped clients who have suffered disabling injuries or have lost a family member because somebody didn't care enough to do the right thing.
What helps me continue is knowing that we help people to receive the compensation they need to put their lives back together after an accident has devastated them financially.
It's rewarding work and every single legal professional on our staff is committed to putting our clients' needs first. We share a commitment to do everything in our power to give our clients the very best legal representation possible for their personal injury claims.
No Two Cases Are Alike
Each situation is different. For some, the insurance company will offer a fair settlement as soon as it knows you have a skilled personal injury attorney in your corner to defend your rights. At other times, we must file a personal injury lawsuit to gain access to important records and evidence to build a strong case.
Whatever your legal situation, when you consult with one of our attorneys, we will give you an idea of what is going to happen as soon as we know the facts of your legal situation.
We have achieved a favorable outcome for over 99 percent of the folks who have come to us for help.
Build Your Case With A Top Rated Accident Lawyer
If you need immediate assistance with a vehicle accident or personal injury, call our team now at 
800-333-9999
 to begin your free case review and schedule an initial consultation to get legal advice. Our law firm represents injured victims across many categories. Some popular cases our accident attorneys handle include:
---
Our Personal Injury Lawyers Handle Many Different Types of Cases
If you:
or have a different injury case, our attorneys and other legal professionals will fight to get you every penny of the just compensation you deserve.
Though no amount of money will give you back your health or revive a loved one, you will need to receive just compensation to go forward and rebuild your life. We manage negotiations with the insurance company or prove that negligence caused your injury so that you can focus on healing and moving forward.
---
A Proven Anderson Personal Injury Law Firm
Isaacs & Isaacs Personal Injury Lawyers will represent you on a contingency-fee-basis: if we do not get you your money, we don't get paid. If you are not sure whether you have a valid case or claim, give us a call anytime or fill out our online form.
One of our compassionate personal injury attorneys will:
Listen to the facts of your case
Answer your questions
Help you understand the best course of action in your legal situation
We are on call around the clock to be available in legal emergencies.
---
We've Recovered Billions for Injured Claimants and Their Loved Ones
When you partner with us, we'll do everything possible to recover compensation for your damages. Compensable losses in your case may comprise:
Medical bills, including medications and emergency transportation
Lost income, tips, bonuses, and benefits
Pain and suffering
Loss of future earning capacity
Property damage expenses
Funeral costs
Mental anguish
We can seek other losses than those listed here.
We Can Determine What Constitutes a Fair Settlement Offer
Right now, you may be wondering, "What can I pursue for my injury-related losses?" The short answer is that we will pursue every penny you need. The long answer is that, when determining your case's value, we'll analyze many aspects of your situation.
We will consider:
The types of injuries you suffered
Whether you can continue working
Whether you need in-home assistance
Your diagnosis, prognosis, and response to treatment
We will also consider the cost of your medical bills when calculating what you're owed.
Our Results Speak for Themselves
Check out the outcomes we've secured for injured claimants:
Our clients were devastated after losing a loved one when a semi-truck hit their loved one head-on. After turning to us for help, we secured more than $10 million for their losses.
Our client's daughter suffered severe injuries after being in a school bus accident. She required intensive medical care for weeks. We recovered more than $6.4 million.
Our client took a drug that she believed was safe. After learning that the defective drug caused heart damage, she partnered with our team. We recovered $4 million from the product's manufacturer.
Isaacs & Isaacs Personal Injury Lawyers is a proud member of the Million Dollar Advocates Forum. We stand alongside lawyers who have recovered millions of dollars for injured claimants. Less than one percent of the nation's attorneys call themselves members.
---
We're a Top-Rated Law firm with Positive Testimonials
Not only do we have positive results, but our clients have great things to say about us. Take a look:
"I have had the best experience with Isaacs & Isaacs. Cherry and Karen have been very helpful and accommodating with me. If there's anything that I don't understand, they don't mind explaining the issue and assuring me that everything will be fine." – Diane W.
"Isaacs & Isaacs has been wonderful. When I call they take the time to talk to me, or if I leave a message they get back to me very fast. I would recommend them to anyone needing a lawyer." – Greg K.
"I highly recommend if you are ever injured call Issacs and Issacs. It is honestly the best decision I ever made. They are very patient and very caring." – Melissa G.
We are also proud members of the Better Business Bureau (BBB). Right now, we have an "A+" rating.
---
Call Isaacs & Isaacs Personal Injury Lawyers to Begin Your Free Case Review
Our injury lawyers who handle cases in Anderson are ready to start pursuing compensation when you are. We can discuss your case's potential value, expectations, and more.
To learn more about working with our Anderson lawyers, call 1-800-333-9999 for your no-cost personal injury case review.