Trick or Treat Safety Tips for Halloween
Last updated Tuesday, July 4th, 2023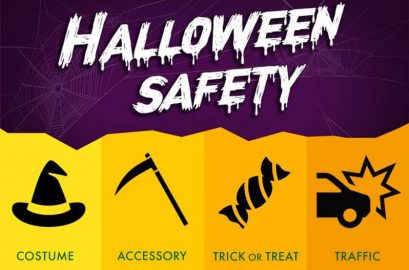 During the season of Halloween, our priorities for spooky fun are best enjoyed with a strong foundation of safety for kids and kids at heart. We bring you our top safety tips for Halloween to keep in mind and implement regarding costumes, candy, pedestrians and traffic issues. Stay safe out there!
When Is Halloween?
This year, Halloween is celebrated on Thursday, October 31, 2019.
Halloween Costume Safety
---
Costumes Should Be Flame Retardant Treated
Halloween is a time of candles, bonfires and jack-o-lanterns, often left unsupervised for long periods of time. Fire hazards can pose a very real risk for clothing, wigs and accessories. Be conscious of the source for your Halloween costume purchase. Double check that your costume choice meets acceptable standards for flame-retardant requirements.
The American National Standards Institute (ANSI) notes that the Standard Test Method For Flammability Of Apparel Textiles is designed so that reputable suppliers adhere to "the methods for performing flammability tests on clothing fabrics, and the knowledge acquired from such tests can be life-saving, as it prevents highly-combustible clothing from being sold to consumers."1 Make sure your costumes meet these standards, typically noted with flame retardant labeling.
Halloween Contact Lenses
Get them only from an eye care professional! The US Food and Drug Administration (FDA) notes that decorative contact lenses made to alter your eye color or shape include the risks of "a cut or scratch on the top layer of your eyeball (Corneal Abrasion), allergic reactions like itchy, watery red eyes, decreased vision, infection and blindness."2 Don't purchase fashion contact lenses from a third party vendor. Go directly to a licensed eye care professional and put safety first.
Weapon Accessories: Toy Guns, Swords and Knives
Swords, knives, and any other weapon designed to go along with kids' costumes should first and foremost be very obviously fake. Make sure they are flexible, soft and short. It's not worth the risk of a fake Halloween accessory weapon being mistaken for a real one. Consider an inflatable, many of which are very fun for kids and do not pose the same risks as cardboard or plastic replicas. Police state troopers have noted:
"Even fake knives, swords, and guns and other costume accessories can accidentally hurt people. If these objects are part of a child's costume, make sure they are made from cardboard or other flexible materials."
Additional Costume Safety Tips
Masks should allow airflow for ease of breathing and strong visibility for safety when walking. Safest choice: Opt for Halloween makeup over masks to increase your visibility and to remain alert in your surroundings.
Makeup and hair dyes can create irritation for the skin and eyes. Test these products in a small area before applying. And remove all makeup and dyes at the end of the night.
Add glow in the dark reflective tape to costumes, accessories and bags
Avoid Tripping Hazards – Keeps costumes off the ground and short enough so they don't become a risk for kids tripping and falling.
Trick or Treating and Candy Safety
Parents are always encouraged to travel with their children when trick or treating. Here are some additional tips to keep in mind for young treat or treaters:
Travel In Groups – Don't send kids out on their own to meet up. See that they successfully join a group of kids you know and trust
Carry a Cell Phone – Make sure you and your kids can easily reach each other
Examine All Candy – The FDA recommends avoiding unwrapped treats and to wait on snacking until inspection.4 Make this a regular practice, especially where food allergies are concerned. Have kids show off their loot to you and look through it thoroughly before consuming. For younger kids, pay attention to choking hazards.
Don't Enter a Stranger's Home – Kids are vulnerable to entering haunted houses and alluring locations. Teach them common sense to only enter with an adult they know who can supervise.
Avoid Halloween Lawsuits On Your Property
Looking to go big with your decorations and transform your property into a Halloween haunt? Keep in mind the importance of premises liability laws. Premises liability refers to the duty that a homeowner, landowner or tenant occupying that property owes to other people to keep the location safe, so that nobody gets hurt while on the property.
Premises liability laws vary from state to state, but in general, if you are inviting trick or treaters onto your property, protect yourself by taking these steps:
Fix Damaged Areas of the property before inviting trick-or-treaters
Help Prevent Slip and Falls – Keep your property well lit, remove tripping hazards and if you're using fog, make sure it's not making your walkway wet and slippery.
Avoid Unattended Open Flames – Flames left to themselves can become a hazard to those coming onto your property.
Keep Electrical Wiring Out of Reach – Children are curious. Don't put an electrical wire in an easy to grab spot. Hide and tuck it away.
Use Warning Signs – If there is a risk of injury, you have a duty to warn visitors. Put up a caution sign to alert trick or treaters of wet floors, gaps in your sidewalk, use of strobe lights and similar.
If you've been injured on another person's property and they did not take measures to safeguard the location or warn you of the dangers present, contact a qualified premises liability attorney.
Car and Pedestrian Safety
Cars, trucks, bicycles and other pedestrians can and do cause accidents each Halloween season. Safe Kids Worldwide notes that kids are twice as likely to be hit and killed by cars on Halloween than on any other day of the year. Take pedestrian safety seriously by putting these measures into place:
Never Assume Cars Can See You – Visibility is a major safety issue. Roads and costumes are dark. Never assume you've been seen by a motorist. Err on the side of caution.
Drunk Drivers Are On The Roads – The US Department of Transportation takes note that Halloween accidents involving drinking and driving occur each year.6 Be sure to report suspicious drivers and stay alert when walking.
Travel With Glow Sticks and Flashlights – Go beyond reflective tape and have something to light up the trick or treating path.
Always Use Sidewalks and Crosswalks – If crosswalks are not available, be diligent and look both ways before crossing.
Pause at Driveways and Alleys – This is especially true when you see rear lights or headlights lit on a vehicle.
The entire team at Isaacs and Isaacs wishes kids and adults alike a wonderful and safe Halloween season!
---
Isaacs and Isaacs, Main Office
1601 Business Center Ct
Louisville, KY 40299
---
References:
1. [The Dangers of Halloween Costume Flammability]↩
2. [Decorative Contact Lenses for Halloween and More]↩
4. [Halloween Food Safety Tips for Parents]↩