4th of July Fireworks: Legal and Safety Guide
Last updated Wednesday, August 30th, 2023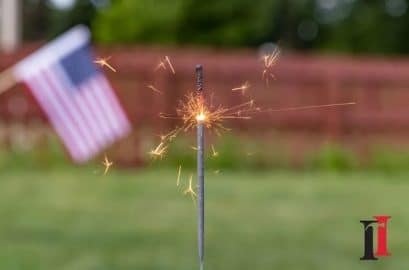 U.S. laws regarding the use of fireworks are governed by local regulations and are unique to each state. To avoid personal injury and destruction of property caused by fire, states may completely prohibit the sale or using fireworks. Some states, like Kentucky, have created a "safe and sane" category that includes novelty or trick fireworks like sparklers and glowworms. While these can be used without a permit, others like Roman candles and bottle rockets require a permit to be obtained for public display.
---
Independence Day and the 4th of July weekend nearly always include fireworks. While we love the celebrations, the team at Isaacs and Isaacs reminds our neighbors throughout Kentucky, Indiana, and Ohio that there are steps you can take to avoid firework injuries, protect your pets, abide by local laws, and when needed, reach out to our team for help when things don't always go as planned.
Avoid Injuries: Fireworks Safety Tips
Nationwide Children's Hospital notes that the most common injuries are to the eyes, hands, head, and neck areas and are most frequently caused by bottle rockets, firecrackers, and even sparklers. Burns continue to be the number one reported injury from fire.
There are many important common-sense steps that can be taken to avoid injuries.
The Kentucky State Fire Marshal promotes fireworks safety with the following information:
Dogs and Fireworks
For the vast number of dog lovers out there, we understand that many dogs are scared of fireworks. The American Kennel Club (AKC) offers the following 9 tips to help keep your canine calm during 4th of July fireworks:
Do not take your dogs to fireworks shows
Make sure your dog has proper ID
Create a quiet, safe haven for your dog away from windows
Play white noise for your dog
Comfort your dog with a soft voice and by petting often
Walk your dog before the event start
Desensitize your dog by playing fireworks sounds softly before they begin
Talk to your veterinarian about specific needs
Consider hiring a dog trainer to work with on these issues
Illegal Fireworks – Laws in KY, IN, and OH
Is it legal to set off fireworks? The answer will depend on the laws of each state and are designated more specifically by each county and/or city. Here's a quick review of the policies in place for Kentucky, Indiana, and Ohio where the offices of Isaacs and Isaacs exist.
Kentucky Laws
In the Commonwealth of Kentucky, the use of most consumer fireworks is allowed, though some types do require a permit. Legal fireworks in Kentucky that do not require a permit are those that fall in the "novelty" or "trick" category, sometimes referred to as the "safe and sane" category. These can include:
Sparklers
Glowworms
Party poppers and snapping fireworks
Smoke bombs
Fireworks that require a permit in Kentucky include:
Roman candles
Bottle rockets
Skyrockets
Certain firecrackers
"In accordance with KRS 227.710, a permit must be obtained for the public display of fireworks, which includes the use of pyrotechnic devices or pyrotechnic materials before a proximate audience, whether indoors or outdoors." – Kentucky State Fire Marshal
Additional Fireworks Info – US Consumer Product Safety Commission
---
Indiana Laws
Local jurisdictions regulate fireworks throughout Indiana. Three main categories of fireworks are identified in Indiana:
Consumer fireworks – can include Arial Devices like "sky rockets, missile type rockets, helicopter or aerial spinners, roman candles, mines, and shells" and Ground Audible Devices like firecrackers, salutes, and chasers, and devices creating a combination of Ariel and Ground Audible Devices.
Section 8 fireworks – can include "Dipped sticks or wire sparklers… Cylindrical fountains, Cone fountains, Illuminating torches, Wheels, Ground spinners, Flitter sparklers, Snakes or glow worms, Smoke devices and Trick noisemakers."
Special fireworks – refers to "fireworks designed primarily to produce visible or audible effects by combustion, deflagration, or detonation, including firecrackers containing more than one hundred thirty (130) milligrams of explosive composition, aerial shells containing more than forty (40) grams of pyrotechnic composition, and other exhibition display items that exceed the limits for classification as consumer fireworks."1
Note that the use of consumer fireworks in Indiana requires a permit from the U.S. Bureau of Alcohol, Tobacco, Firearms and Explosives. Those not abiding by Indiana state regulations may be penalized with a fine up to $5,000.
Indiana State Codes for Use of Fireworks
---
Ohio Laws
The State of Ohio does allow the purchase of consumer-grade fireworks, but in most cases prohibits their use, unless they are taken out of state. Legal fireworks in Ohio are only those that fall into the novelty and trick categories described above.
It's important to note that failure to abide by Ohio regulations for the use of fireworks can result in first-degree misdemeanor charges with the possibility of six months of jail time.2 However, there is current legislation pending to loosen these restrictions. Consumer use has already passed an Ohio House vote and is now in the Senate for final approval.
Ohio State Fire Marshal Resources
---
Fire Injury Lawsuits
When something goes wrong with the fireworks and you or a loved one gets injured, it's possible that negligence may be involved. Negligence with fireworks injuries may play a role on the part of manufacturers, vendors selling illegal fireworks or selling illegally to minors, poorly regulated fireworks shows, or other irresponsible use where a failure of reasonable care and duty occurred.
When injuries become serious or life-altering, that's when a personal injury lawyer becomes crucial to demand justice and fair compensation to pay for medical bills for surgeries and hospitalization, lost wages from missed work, pain, and suffering, and more.
If you or a loved one has been injured by fireworks, our hearts go out to you. Please call on us 24/7 at 1-800-333-9999 for a free review of your important injury claim.
A Safe & Happy 4th of July from Isaacs & Isaacs
On behalf of the entire team at Isaacs and Isaacs, we wish all a very happy Independence Day and a safe and fulfilling 4th of July weekend.
Isaacs and Isaacs, Main Office
1601 Business Center Ct
Louisville, KY 40299
---
1. [Regulation of Fireworks by Fire Marshal]↩
2. [Ohio GOV – Fireworks 2020]↩