National Child Passenger Safety Week – Child Seat Safety Laws & Tips
Last updated Thursday, June 29th, 2023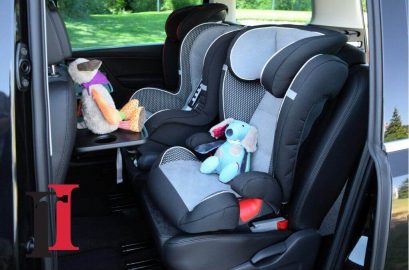 In an ongoing effort to promote family safety in the car, the team at Isaacs and Isaacs is participating in our annual outreach for National Child Passenger Safety Week.
Your children grow rapidly and may already be beyond recommended and legally mandated safety guidelines. It is critical that the safety seat or booster you choose is matched not just to your child's age, but their size.
Here are the laws in place for child seat safety in the states of Kentucky, Indiana, and Ohio:
KENTUCKY
If a child is less than 40 inches tall, they must be in a child and/or infant seat.
Any child younger than eight years old, and between 40 and 57 inches tall must be secured in a booster safety seat.
Seat belts are required for all children over eight years old or over 57 inches tall.
OHIO
If a child is less than 4 years old or under 40 pounds, they must be in a child and/or infant seat.
Children less than 8 years old, unless they are at least 4 feet, 9 inches tall must use a booster seat.
Children ages 8-15 must use a child safety seat or safety belt.
INDIANA
Any child under 8 years old must use a child safety seat or booster seat.
A rear-facing child seat must be used for any child under the age of one and less than 20 lbs. It is recommended to keep a child in a rear-facing seat up until 35 pounds. Note: For children over one and above 20 lbs. a forward-facing child safety seat using an internal harness system may be used.
A child 30 lbs. and above is eligible to use a booster seat. However, it is recommended that children use a forward-facing seat until 40 lbs. and over
Children under the age of eight are required to use a booster seat or other approved child restraint system.
Important Child Seat Safety Tips
Meet the standards: Make sure every child safety seat or booster seat you use meets motor vehicle safety standards.
Secure your seat: Whether using the seat belt or the latch system to secure the child seat, when secured, the seat will should not move more than one inch in any direction.
Keep the straps snug: In order for the seat to do its job, the child must be restrained with the straps snug enough to keep them in place.
Center clip at chest: This center clip, sometimes called a retainer clip, needs to be at the chest level, right at the level of the child's armpits.
Recalls: Always check for manufacturer safety recalls – you'll need the name of the manufacturer and model number.
For more important information to protect your children in the vehicle, visit The National Child Passenger Safety Board website or contact our team using the form below or by calling 24/7 at 800-333-9999.