Justice Prevails: Isaacs Team Wins Car Accident Verdict
Last updated Monday, September 4th, 2023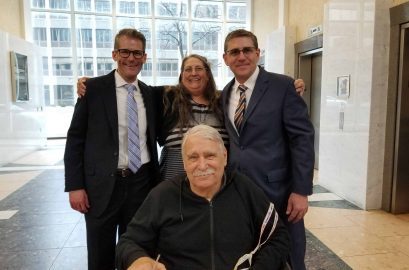 Jury Delivers Strong Car Crash Verdict
Many of the car accident cases we handle involve aggressive negotiation to reach a favorable settlement for our injured clients. When those discussions break down and insurance companies refuse to admit fault or to pay for reasonable medical costs, lost wages, and pain and suffering, we have no choice but to move forward with a trial where justice will ultimately be decided by a judge and/or a jury.
That's exactly what happened in our recent case involving 70-year-old Tony. After a high-speed collision in which he was rear-ended by another vehicle, Tony began suffering from significant and chronic back pain. Once our car accident law firm was able to determine that the accident was caused by negligence on the part of the other driver, trial lawyers Dave Scott and Nick Haynes went to work on the case.
Quick Glance At the Facts of the Rear-End Car Accident Case
70-year old Tony is rear-ended by another driver and sustains back injuries and pain
Isaacs & Isaacs car accident lawyers are called in to review and investigate the claim
Isaacs & Isaacs determines negligence is the cause of the accident and files a lawsuit against the negligent driver and insurance company
The at-fault driver's insurance company attempts to blame Tony's chronic back pain on pre-existing arthritis and not on injuries from the car accident
The at-fault driver's insurance company makes a final settlement offer of $35,000 to cover all medical bills and pain and suffering
Isaacs & Isaacs refuses a low and unreasonable settlement and takes the defendant to trial to fight for justice and fair compensation for Tony
The Jury returns a verdict of $137,070.56 — four times higher than the insurance company's final offer — to pay for medical bills and pain and suffering
Isaacs and Isaacs salutes the strong and dedicated work of our trial team on winning this very favorable settlement and obtaining justice and fair compensation for Tony and his wife Ruby.
---
Free Case Review For Your Important Case
If you have been involved in a car accident, know that it's all too common for insurance companies to quickly offer a very low settlement so they can get out of their legal responsibility to pay fair compensation after a negligent driver has caused a crash. At Isaacs and Isaacs, we won't stand for that kind of treatment for our injured clients. We're here to provide a free review of your important injury case. Give us a call at 800-333-9999 or contact us online to get started today.
Isaacs and Isaacs – Primary Office
1601 Business Center Ct
Louisville, KY 40299