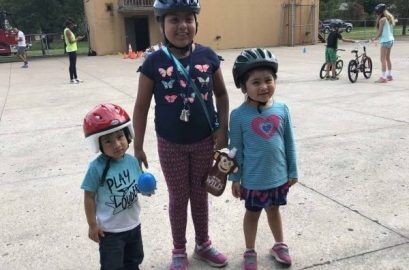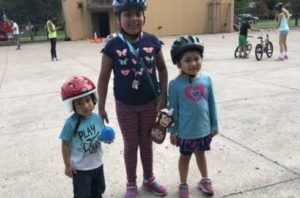 Another Helmet Giveaway Hit!
The second of two free bicycle helmet giveaways was met with enthusiastic response by locals who attended the July 16 event held at the Okolona Fire Department in Louisville, KY. Attorney Darryl Isaacs — The Hammer — teamed up once again with Jefferson County Fire Services, TV station WDRB and the Isaacs & Isaacs volunteer team to put on the event to promote bicycle helmet safety and accident prevention.
A big THANK YOU to all that came together to make our two important safety events so successful!
For a free legal consultation, call 800-333-9999
A Special Thanks from Kids to Isaacs & Isaacs
Approximately 45 children from the MasterCLASS Summer Enrichment Camp put on by The Family Life Center, inc. joined in saluting Darryl Isaacs and the team at Isaacs and Isaacs in this video "thank you" message below.
Our event in Okolona was even larger than the first. More than 300 free bike helmets were put into the hands of kids at this second event! And yep, even WDRB's mascot "Snow Fox" joined once again in the fun!
Click here to see our recap of Bike Helmet Giveaway #1 at the Buechel Fire Department in Louisville, KY.
Get Notified About Upcoming Free Events!
Visit our Free Events Page for details about upcoming events from Isaacs and Isaacs!
We look forward to seeing you at a another event!
[button hammer="yes" class="btn-dark btn-lg text-uppercase" href="https://wewin.com/events/#registration_form"]Pre-Register for Free Events! [/button]
---
Organizers
Isaacs and Isaacs – Louisville Office
1601 Business Center Court
Louisville, KY 40299
Call or text 800-333-9999 or complete a Free Case Evaluation form