Big Rig Trucking Accident Statistics
Last updated Wednesday, June 28th, 2023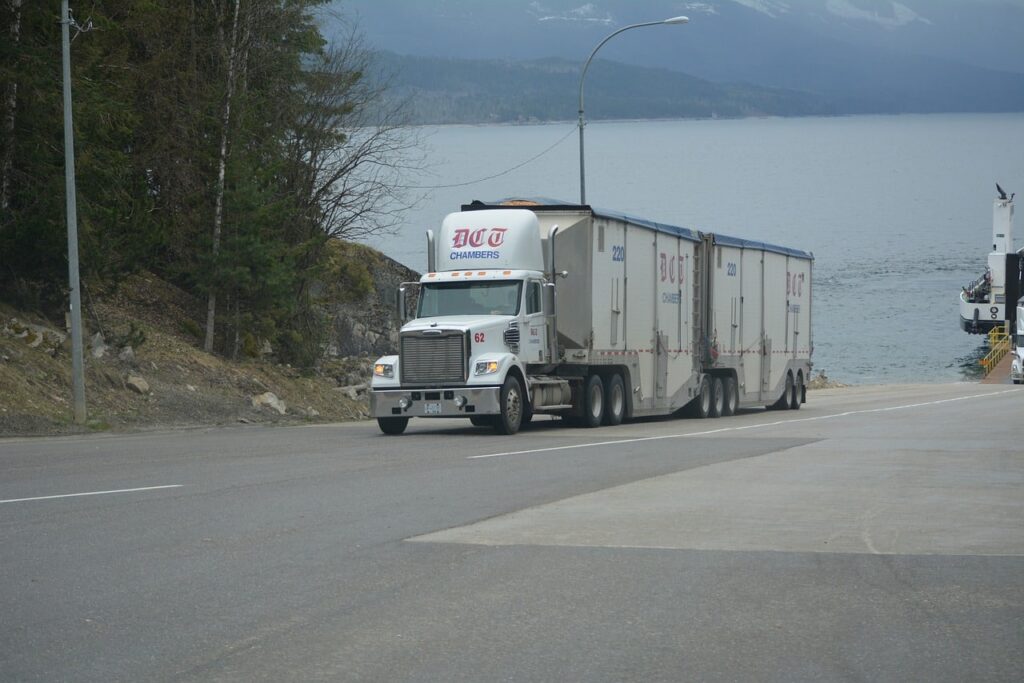 Trucking Accident Statistics
Did you know that road crashes are expected to become the fifth leading cause of death in the United States by 2030? That's a pretty sobering statistic. Among the deaths in 2017, 4,657 large trucks were involved in fatal crashes. 68 percent were occupants of cars or other passenger vehicles and 4 percent were pedestrians, bicyclists, or motorcyclists.1 Learn the most important commercial vehicle and trucking accident statistics below.
Jump To Contents – Click Any Below
Visit Our Car Accident Statistics Page
---
The Epidemic of Truck Accidents: Will You Be a Statistic?
When we say big trucks, we mean 18-wheelers, cement trucks, coal trucks, buses and the like. However, according to the Federal Motor Carrier Safety Administration, in 2017, 4,761 people were killed in crashes involving large trucks, of which 3,289 involved tractor-trailers or combination trucks, meaning 69% of accidents resulting in fatalities involved tractor-trailers. With estimates of 2,752,043 tractor-trailers on the road out of a total of 268 million licensed drivers2, the odds point to tractor-trailers as some of the most dangerous vehicles on the road.
Truck Accident Statistics Show a High Incidence of Fatalities in 2018
The Federal Motor Carrier Safety Administration publishes accident statistics that include a separate category for large trucks. Preliminary statistics for 2018 show an increase in fatalities from truck accidents of 3% from one year earlier. 36,750 people were killed in traffic crashes in 2018 (while pedestrian and bicycle fatalities increased by 4% and 10%, respectively).
Two-vehicle accidents accounted for 63 percent of all truck accidents. Large trucks were more likely to be involved in fatal multiple-vehicle crashes in 2018 as opposed to fatal single-vehicle crashes than were passenger vehicles (82% of fatal crashes involving large trucks are multiple-vehicle crashes, compared with 62% for fatal crashes involving passenger vehicles)3.
While most crashes have more than one contributing factor, vehicle failure, overcompensating while steering evasively, tailgating, tired and fatigued drivers that fall asleep at the wheel and physical impairment were major contributing factors.
In fact, at least one driver-related factor was cited for 32% of the large truck drivers involved in fatal crashes in 2017. This is in comparison to 54% of passenger vehicle drivers in fatal crashes.
Speeding was the most frequently reported factor in driver-related fatalities
Distraction or inattention was the second most commonly given cause for large truck drivers.
'Impairment' including fatigue, alcohol and Illness, was the second most common reason for passenger vehicle drivers.
Truck driver fatigue accident statistics show over-tiredness alone was the cause of 60 deaths in 2017.4
Vehicle, driver and environmental factors may have contributed to the accidents also, although they did not always contribute to the crash.
Vehicular Weight and Long Stopping Distance Are Causes of Truck Accidents
There are numerous causes of truck accidents and knowing what they are can help explain the incidence of road crashes. One is the weight and stopping distance of a big truck. The weight of your average motor vehicle is about 2.5 tons, while a tractor-trailer can weigh 40 tons.
It takes much longer to stop a tractor-trailer than a motor vehicle. For example, if a vehicle and a tractor-trailer are both driving at 40 mph and start braking at the same moment, the tractor-trailer will travel 45 feet further before coming to a complete stop.
While a passenger car needs about 306 feet to stop after braking, a tractor-trailer needs 525 feet. That's about the length of 1.5 football fields. Speed is also an important factor when applying the brakes. The faster a vehicle is traveling, the longer it takes to stop. Because of the size and weight of a big truck, fatalities and truck accident injuries are common.
Findings from Large Truck Crash Causation Study By FMCSA
Twenty-seven percent of trucks were found to have brake problems
Nineteen percent of drivers were unfamiliar with the route
10 percent of truck drivers felt under pressure
Seven percent were overly tired
Three percent experienced tire problems
Five percent were driving in an aggressive manner
One percent were ill
0.4 percent were under the influence of illegal substances
0.3 percent had been consuming alcohol
The following chart shows the top reasons by percentage for truck crashes. Problems associated with drugs and alcohol were statistically insignificant.
Semi-truck Accident Statistics: Settlements in the Billions
When people are injured or die as the result of an accident that is the fault of a large truck, it can result in large settlements. Semi-truck accidents cost $20 billion per year in accident settlements with about half of that amount awarded to injured victims who suffered a diminished or lost quality of life.
The FMCSA requires all carriers to be insured. Trucks that haul freight must carry between $750 thousand and $5 million in insurance coverage. The amount of coverage a trucker must carry depends on what is being hauled. However, this insurance coverage is not coverage per person, but per incident.
The weight of trucks and the material that is hauled determines the coverage. For instance, carriers that weigh under 10,001 pounds and haul non-hazardous freight have to be insured for $300,000.
Tanker Truck Accident Statistics
A tanker truck sometimes called a tank truck or gas/ fuel truck is a type of large truck that usually carries liquid loads or gases. These loads are often considered hazardous materials.
5,733 crashes in 2017 involved tankers
372 crashes resulting in a fatality (8.0% of all large truck crashes overall)
Hazardous materials (HM) cargo was present on 3% of large trucks involved in fatal accidents and 2% of those in nonfatal crashes
HM was released from the cargo compartment of 16% of placarded trucks in all crashes.
Flammable liquids (fuel oil, gasoline etc.) accounted for 63% of the HM released from cargo compartments in fatal crashes and 45 percent of the HM releases in nonfatal crashes.5
Fire Truck Accident Statistics
The NHTSA and United States Fire Administration (USFA) estimates that fire truck crashes are the second main cause of firefighter fatalities while actively on the job.
75% of fatal crashes involving fire trucks include a fatality occurring in the other vehicle.
Between 2000 to 2009, there were approx. 31,600 crashes involving fire trucks, 49 of which resulted in the death of at least one occupant of the fire truck.
66% of all fire truck crashes are rollover accidents
70% of accidents happen while the fire truck is in emergency use6
Garbage Truck Accident Statistics
Refuse collection is considered to be one of the top 5 most dangerous jobs with a fatality rate of 33 per 100,000. – greater even than police officers7.
In 2017 alone there were:
2,430 crashes involving garbage trucks
1,427 of all crashes involving garbage trucks resulted in an injury
107 of all crashes involving garbage trucks resulted in fatality8
Forklift Truck Accident Statistics
Forklifts or lift trucks as they are known are involved in a surprising number of incidents. OSHA statistics indicate that each year there are roughly:
85 forklift fatalities
34,900 serious injuries
42% of the fatal forklift accidents are resulting from the operator being crushed by the tipping vehicle9.
How Truck Accident Injuries and Compensation Are Calculated
When it comes to compensation for truck accident injuries and deaths caused by large trucks, the amount compensated is multiplied by the thousands of crashes each year. However, the average cost is higher than $3 million for a crash that results in fatalities. Awards for an injury from a truck accident can be lower but depend on the injury and costs associated with it.
Those who have been injured as a result of an at-fault truck driver or trucking company can face enormous medical bills, an extended recovery period that is unpredictable in length and may even face a drastic life change. In addition, lost time from work or the inability to go back to work can compound expenses and result in a life different from what the person experienced before the accident.
Truck Accident Injury Rehabilitation Can Be Long and Arduous
What Is Included in the Calculated Semi-truck Accident Damages?
Truck accident attorneys at Isaacs & Isaacs include all medical expenses, including parking and gasoline for trips to and from your medical treatment, prescription and other medical costs, lost time from work, and future expenses associated with your accident. That way, you can continue with your life without worrying about your expenses.
In addition, being involved in a crash can have emotional and psychological consequences that can stay with a person with an injury from a truck accident person for a long time, causing nightmares or sleepless nights, depression and anxiety. Some accidents can be so traumatic for the individual that he or she develops symptoms of PTSD similar to those who have served in war zones. Insurance companies try to pay out as little as possible, but our skilled attorneys, taking into account your nonphysical truck accident injuries, fight for your rights to get the maximum amount.
Punitive damages are awarded when the offending party's act was particularly egregious such as an intentional act caused by road rage. In these cases, awarded damages can be considerably higher.
Serious Truck Accident Injuries Can Leave Permanent Damage
Injuries suffered in an accident with a large truck can be difficult to predict, since the intensity of the crash varies. The types of truck accident injuries received as a result of an accident with a truck can vary from spinal and neck injuries, broken bones and head injuries to soft tissue damage and organ damage.
Burns may occur as a result of an accident due to a crash-related fire or explosion. Chemical burns often occur when a tanker truck is carrying corrosive materials. Burns require a long period of treatment and recovery, and when serious burns occur, death can be the result, particularly due to infection.
Truck accident injuries not only take a physical toll but often result in extensive hospital stays and periods of rehabilitation. The cost for this type of care is high and can lead to insurmountable medical debt. Since time away from work is extended, the financial loss is compounded.
Compensation beyond that covered by insurance needs to satisfy the debt. Isaacs & Isaacs does that with a just settlement that will allow you to move on after the crash, or if wrongful death in involved, provide a family with the security they need.
After a truck accident, permanent life changes may occur.
Truck Accident Statistics: Where and When Crashes Happen Most
Collisions with large trucks follow trends on certain types of roads. 31 percent of all 18-wheeler truck accidents that occurred in 2017 happened on freeways and interstates. Those locales ranked second in number of fatalities involving a semi-truck.
Though the fast speeds of the highways might suggest a greater risk of accident, truck crashes tend to occur most on other type of major roads. 63 percent of all accidents occurred on other common major roads, giving those locales the top ranking for fatalities involving a semi-truck. Accidents on minor roads accounted for the remaining 6 percent.
When Is the Safety Time On the Roads?
The time of day you are driving can also make you safer on the road. According to the Insurance Institute for Highway Safety, most truck crashes occurred between noon and 3:00 p.m. in 2017. With a total of 18.5 percent of all truck crashes throughout the day and night happening between these hours, it resulted in the deaths of 782 individuals.
The safest time to drive was between midnight and 3:00 a.m. However, during this time period, 7.6 percent of the large truck accidents occurred and still resulted in the deaths of 321 individuals.
You might think that weekends see the largest number of fatalities from accidents with large trucks, but this is not true. Tuesdays, Thursdays and Fridays saw a higher number of accidents with large trucks in 2017. In fact, over half of accident deaths due to collisions with large trucks occurred on these three days of the week resulting in a total of 2,173 fatalities.
The safest day of the week during 2017 was Sunday, which saw 6.8 percent of the fatalities from large truck accidents. In 2017, 287 individuals lost their lives on a Sunday.10
---
When to Contact a Truck Accident Law Firm
Truck accident attorneys at Isaacs & Isaacs are experienced in investigating the causes of an accident to determine fault and securing damages for injured victims. We investigate the accident using police reports, video cam and witness accounts to do this as well as accident reconstruction reports, including black box reports. Having vast experience in truck accident cases and understanding the trauma and uncertainness for the future of those who have an injury from a truck accident helps us provide what you need. We can guide you through what to do after a truck accident.
If you have been injured in an accident with a large truck that was not your fault, be assured that our attorneys will work hard to prepare a strong offense so that your suffering will not go unheeded. Call us at 800-333-9999 for a free consultation and to have your questions answered. You can contact us in Kentucky, Ohio and Indiana where our offices are open 24 hours a day to serve you.
Isaacs and Isaacs, Primary Office
1601 Business Center Ct
Louisville, KY 40299
JUMP BACK TO TOP OF PAGE
---
Footnotes
Additional Resources
Global Transport Statistics
International Motor Carrier Audit Commission
The National Trucker Survey Results
JUMP BACK TO TOP OF PAGE