Begin Your Case With a Proven Bicycle Accident Law Firm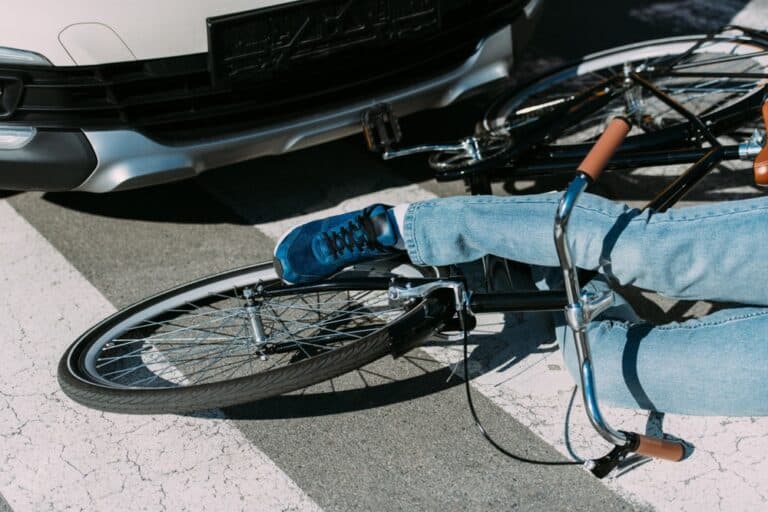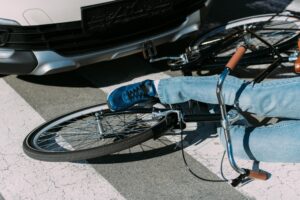 Bicycle accidents can cause serious accidents that result in severe injuries, property damage, and even death. But you don't have to pay for someone else's carelessness when it causes your bicycle accident.
You can work with a bicycle accident lawyer serving Michigan City to recover much-needed compensation. This could cover medical expenses and shield your family from financial hardship.
We charge no upfront fees for our legal services and only take payment if we secure monetary compensation on your behalf. Call us at 800-333-9999 at any time to speak to one of our dedicated Michigan City bicycle accident lawyers and set up a free consultation.
We Represent Injured Accident Victims Across Many Categories. Some Personal Injury Cases We Handle Include:
Accidents With Trucks or Commercial Vehicles
Injuries & Wrongful Death Involving Driver Negligence (cell phone use, DUI)
Accidents With Uninsured Motorists
Whiplash Injury Accidents
Airbag Deployment Accidents
Takata Air Bag Recalls
Motorcycle Accident Injuries
Ridesharing: Lyft & Uber Accidents
Bicycle Accident Injuries
Hit and Run Accidents
Pedestrians Hit By a Vehicle
Head-On Collisions
Rear-End Collisions
Spinal Cord Injuries
Sometimes a bicycle accident injury is not evident until much later. Even if you haven't suffered a catastrophic injury you still may need medical treatment. You should seek medical care immediately, even if you don't think you are badly hurt. Some severe injuries may not be immediately apparent. This is the best way to physically and legally protect yourself and your loved ones.
"They're great to me. Used them twice and positive results both times. I wouldn't hesitate to contact them again if needed."
---
Getting the Legal Perspective on Car Accidents – Audio Interview
Car accident lawyer Darryl Isaacs — The Hammer — sat down to address legal and safety considerations when injured from a car crash in a recent radio episode of "Ask The Hammer," the podcast exploring the legal matters that matter most. There are many elements at play when knowing what to do after a car accident. Listen to the episode directly below.
---
Causes of Bicycle Accidents Around Michigan City
Many bike accident causes we've seen our victims experience include:
Distracted driving
Aggressive driving
Not sharing the road with a bike
Not looking out for other road users
Turning where it's not allowed
Failure to obey traffic signs
Not providing appropriate passing distance
Hitting or avoiding a road hazard, like a pothole or debris
Malfunction
Our Accident Law Firm Will Get Started on Your Case Immediately By:
Listening to your story
Answering your questions
Advising you what to do next
Investigating the accident scene and all other evidence related to your claim
Reviewing medical records, police reports, and all documents
Determining which parties are liable for your injury
Meeting with insurance adjusters
Helping you file your claim
Demanding a just settlement for all of your medical treatment and damages
---
Recover Compensation for Your Michigan City Bicycle Accident
It's hard to provide an average compensation amount for bicycle accident cases because no two bike accidents are the same. This means what you might recover can vary significantly from what another personal injury victim recovers. Many factors impact how much your specific case might be worth, including:
Your age at the time of the accident
The kind of injuries you sustained and their severity
How the accident occurred (such as a car vs. a blown tire that throws you from your bike)
The number of at-fault parties
The number of potential sources of compensation (i.e. insurance policies, settlement offers, etc.)
A bicycle accident attorney from Isaacs & Isaacs Personal Injury Lawyers can review the facts of your case and consult with industry experts to provide you with an estimated case value. This figure can help you decide whether to accept an offer or take other steps to recover a better settlement.
Types of Damages You Can Recover After a Bicycle Accident
Some damages don't have a clear financial value, while others do. You don't have to settle for just a reimbursement of your medical costs or the cost to repair or replace your bike. You can recover both economic and non-economic damages, such as:
Current and future medical costs
Lost income and benefits
Decreased earning potential
Wrongful death benefits if you lost a loved one to a bike accident
Pain and suffering
Scarring and disfigurement
Loss of enjoyment of life
Inability to enjoy hobbies, like biking
Build Your Case With A Top Rated Accident Lawyer
If you need immediate assistance with a vehicle accident or personal injury, call our team now at 
800-333-9999
 to begin your free case review and schedule an initial consultation to get legal advice. Our law firm represents injured victims across many categories. Some popular cases our accident attorneys handle include:
Our Bicycle Accident Lawyers Serving Michigan City Can Help You
You can negotiate on your own with insurance companies, but the process can be challenging and stressful. Insurance companies will do what they can to get you to take the lowest possible offer by wearing you down. This can put unnecessary stress on you and your family when your focus should be on recovery and healing.
Let the bike accident lawyers at Isaacs & Isaacs Personal Injury Lawyers use our 400-plus years of combined legal experience to go head-to-head with insurance companies. We will:
Gather evidence and build a case that proves the other party's negligence
Handle communications and claims with insurance companies and other representatives, so you don't have to
Calculate your damages to give you a more accurate monetary value of your case
Negotiate the best possible compensation on your behalf
File a lawsuit before the statute of limitations runs out
We've successfully recovered many settlements. That's because we do what it takes to help you win the money you and your family deserve.
---
How Our Bicycle Accident Lawyers' Representation Costs
There's no need to worry about paying your bicycle accident lawyer from Isaacs & Isaacs Personal Injury Lawyers until after we've won your case. We work on contingency fees, which means we only get paid when you do.
We won't charge you any upfront fees to get our help. That includes your first meeting with our team, which is a free, no-obligation case review to explore your legal options after your Michigan City bicycle accident.
Who Pays for Your Michigan City Bicycle Accident?
Where your compensation comes from can depend on who the at-fault parties are and the relevant insurance policies they have. Some of the most common at-fault parties from which we pursue compensation for a bike accident include:
A driver
Another motorist, like a motorcyclist
A parts manufacturing company
A mechanic who fails to provide adequate maintenance to a vehicle or bicycle
A government agency in charge of maintaining trails or roadways
A company or organization in charge of maintaining public areas and parking lots
Depending on who the at-fault parties are, the following options could prove relevant for seeking damages:
Another motorist's auto insurance
Your own auto insurance, including any uninsured/underinsured motorist policies
Other liability insurance policies
Your bicycle accident attorney will go over all the possible ways they can help you seek compensation, so you get a fair award.
---
Indiana Bicycle Accident Lawsuits Are Subject To Deadlines
You may have limited time to seek compensation for your bicycle accident through the legal system. Per IC § 34-11-2-4, you have two years from the date of your accident to file a personal injury lawsuit.
You should consult an attorney as soon as possible after your bike accident to get the claims process started. Most insurance companies and at-fault parties would rather settle out of court. The sooner you take this step, the more time we'll have to file a lawsuit if out-of-court negotiations fail to provide you with the best possible compensation.
---
Trust Our Team Members With Your Michigan City Bike Accident
The attorneys at Isaacs & Isaacs Personal Injury Lawyers are ready to take on your bicycle accident case and help recover compensation for you and your family. We know how stressful, confusing, and painful a bicycle accident can be. This is why we work to support you during this whole process and provide regular updates as we progress on your case.
While bicycle accidents aren't as common as car and truck accidents, they can lead to minor and severe injuries, depending on how serious the accident is and how it occurred. You can recover compensation that pays for current and future losses. Get started seeking justice today. Contact our office for your free case review. Our team can lend a hand after a car accident or bike injury.
To learn more about working with our Michigan City lawyers, call 1-800-333-9999 for your no-cost bicycle accident case review.