Begin Your Case With a Proven Personal Injury Law Firm
When you entrust your case to us, you don't have to worry about its outcome. We resolve 99 percent of the claims and lawsuits we handle. With Isaacs & Isaacs Personal Injury Lawyers on your side, you can focus on getting better. Whether you were hurt in a collision, by a dog bite, or in another situation, we're ready to help. A Columbus IN personal injury lawyer at our firm will do everything possible to secure compensation for your injury-related expenses. We've recovered billions in the 25-plus years we've served our communities. Today, you can start a free case review with no obligation.
We charge no upfront fees for our legal services and only take payment if we secure monetary compensation on your behalf. Call us at 800-333-9999 at any time to speak to one of our dedicated Columbus personal injury lawyers and set up a free consultation.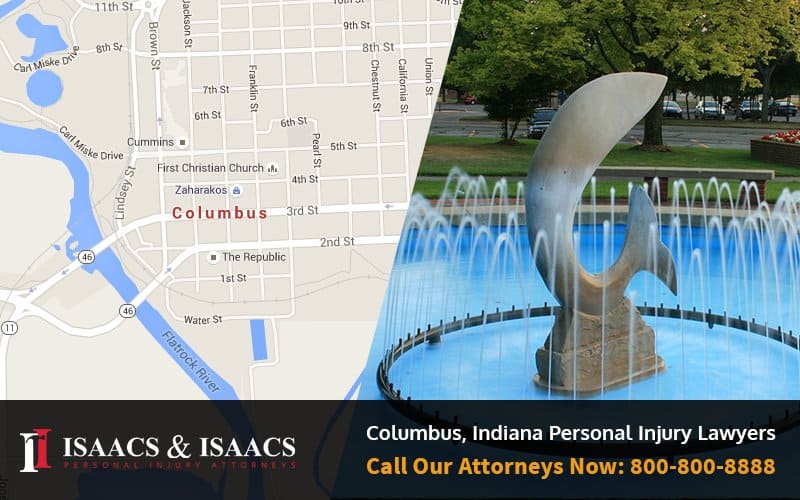 We Represent Injured Accident Victims Across Many Categories. Some Personal Injury Cases We Handle Include:
Accidents With Trucks or Commercial Vehicles
Injuries & Wrongful Death Involving Driver Negligence (cell phone use, DUI)
Accidents With Uninsured Motorists
Whiplash Injury Accidents
Airbag Deployment Accidents
Takata Air Bag Recalls
Motorcycle Accident Injuries
Ridesharing: Lyft & Uber Accidents
Bicycle Accident Injuries
Hit and Run Accidents
Pedestrians Hit By a Vehicle
Head-On Collisions
Rear-End Collisions
Spinal Cord Injuries
"Our daughters were involved in a serious car crash when a man ran a red light! Isaacs & Isaacs knew exactly what to say and exactly what to do for us! They are not only highly professional but also very sincere in wanting to help get our girls every dollar deserved! We will always be grateful to the team of The Hammer for being so wonderful during our time of need! Thank you from our family to your law firm."
---
Hiring an Indiana Personal Injury Attorney with Our Firm
In his podcast, "Ask the Hammer," Attorney Darryl Isaacs – the Hammer – answers questions about how he and his team serve clients to help get them the compensation they need. Play the episode below:
---
Our Accident Law Firm Will Get Started on Your Case Immediately By:
Listening to your story
Answering your questions
Advising you what to do next
Investigating the accident scene and all other evidence related to your claim
Reviewing medical records, police reports, and all documents
Determining which parties are liable for your injury
Meeting with insurance adjusters
Helping you file your claim
Demanding a just settlement for all of your medical treatment and damages
You generally have two years to file your injury lawsuit, per Indiana Code Title 34 Civil Law and Procedure § 34-11-2-4. We will file your case within the state's mandated deadline.
---
We're Prepared to Answer Your Questions About a Columbus Injury Case
At Isaacs & Isaacs Personal Injury Lawyers, we know that you likely have many questions about your car accident, slip and fall, or another personal injury case. Our team is prepared to offer you the answers you need to move forward.
Consider these answers to common questions and concerns from our clients:
What Is the Average Payout for Personal Injury?
The potential compensation you could receive for a personal injury case settlement or award will vary based on your circumstances. We can tell you that certain factors often influence the amount you could receive, such as:
The seriousness of your injuries
How the accident or injuries affected your life – professionally, personally, and emotionally
Who is liable for your injuries
The cost of your medical care and other damages
For example, if your injuries were so serious that you had to take a new job or reduce your working hours, you could be able to seek higher levels of compensation. Some catastrophic injuries, such as spinal cord injury or head injury, can require long-term medical attention and can change many aspects of your life – and these major changes can be compensable.
Our team also knows how to seek fair compensation for more moderate injuries. We recommend getting a case review to determine what damages you could seek. Then, once our attorneys investigate your case, we can tell you how much compensation you could pursue.
What Are Contingency Fees?
Contingency fees refer to a percentage-based rate charged by a lawyer after your case is successfully resolved. If you don't win your case, you don't owe any contingency fees.
Our lawyers work based on contingency. This fee structure allows you to begin your case immediately without worrying about how to pay for legal help. We require no upfront lawyer's fees or retainers to get started.
Can I Sue the Person Who Hurt Me in Columbus?
To answer this question, our personal injury lawyers will investigate the facts of your case. Often, we can seek an out-of-court settlement for most injury victims, and we will not need to set foot in a courtroom. In other cases, we will take your case to trial if this could lead to the recovery you need.
Our job is to help you determine which legal strategy works best based on your unique situation. There is no "one size fits all" legal path in a personal injury case.
Can I Do Anything to Prepare My Case?
You can do several things to lay a solid foundation for your case.
Hang onto any documents that could be relevant to your case, such as receipts for out-of-pocket expenses related to your injuries.
Get the medical care you need and follow your doctor's orders.
Know that you or your lawyer can negotiate a settlement – and you don't need to take the first offer you receive.
Decline to make a recorded statement if an insurance adjuster requests your comment about the incident.
Should I Hire a Lawyer?
There is no law that says you need a lawyer. However, hiring a lawyer can ease your legal burdens and help you ensure that you're seeking the fairest possible settlement. Our attorneys will also help you navigate all the important decisions you'll face during a personal injury case.
You may not feel up to the demands of the legal process, or you may want to be sure you go after all the compensation available to you. In either situation, hiring a lawyer can benefit your case.
Build Your Case With A Top Rated Accident Lawyer
If you need immediate assistance with a vehicle accident or personal injury, call our team now at 
800-333-9999
 to begin your free case review and schedule an initial consultation to get legal advice. Our law firm represents injured victims across many categories. Some popular cases our accident attorneys handle include:
---
Our Personal Injury Lawyers Will Seek These Losses After Your Accident
At Isaacs & Isaacs Personal Injury Lawyers, we realize that no amount of money will fix what happened to you or your loved one. However, we will fight for the compensation you need.
Financial recovery can account for:
Healthcare expenses, including surgeries and medications
Lost wages, tips, bonuses, and benefits
Pain and suffering
Loss of enjoyment of life
Property damage expenses (such as the cost of replacing your vehicle)
Disability
Scarring and disfigurement
Loss of consortium, parental guidance, and household services
Funeral expenses, including cremation or embalming
---
We've Recovered Billions for Injured Claimants
Issacs & Isaacs Personal Injury Lawyers is a proud member of the Multi-Million-Dollar Advocates Forum. That means we've recovered multi-million-dollar settlements and verdicts for our clients. Some of our successful outcomes include:
Our client's daughter was injured in a serious school bus accident. We recovered a $6.475 million settlement.
We recovered $1.429 million for our client after a negligent driver T-boned her vehicle.
Our client was rear-ended by a large commercial truck. We recovered a $2.252 million settlement.
These are just some of the settlements we've secured for our clients. We encourage you to check out our previous case results online.
---
Our Previous Clients Have Shared This Feedback About us
When we say we advocate for injured claimants, you don't have to take our word for it. Some of our previous clients have shared:
"It was a pleasure to have the Isaacs & Isaacs team help me after being hit by a truck as I was walking to the market. They went above and beyond to help with all I went through!" – JoeAnn S.
"I would recommend them to anybody because they're going to make sure that you're protected. It just always felt like we were dealing with a family instead of a legal process." – Tammy S.
We also have an "A+" rating on the Better Business Bureau's website.
Our Personal Injury Lawyers in Indiana Will Prove Negligence
Each injury case requires us to prove negligence, meaning that because of another party's reckless actions, you suffered losses. Proving negligence requires us to investigate your situation, calculate your losses, and consult field experts.
We also must establish these four elements:
Another party (like a motorist, dog's owner, etc.) had a duty of care. This means they had an obligation to keep others safe.
The other party violated their duty of care.
The other party caused your accident and resulted in injuries.
You incurred emotional, physical, and financial losses.
---
Our Legal Team Will Handle Everything Your Case Requires
In addition to proving negligence, we will also:
Interview Witnesses
The more witnesses we have to corroborate your claim, the stronger your case. Based on your situation, we may use testimony from:
Accident reconstruction specialists
Animal trainers
Eyewitnesses
Law enforcement officials
Economists
Healthcare professionals
Your testimony is also important. We encourage you to write down everything you recall about getting hurt. Even the smallest detail can validate certain aspects of your case.
Calculate Your Damages
Calculating your damages lets us know what constitutes a fair settlement offer. We will use your injury-related billing statements, invoices, and receipts to accomplish this task.
File Your Insurance Claim
Indiana operates on a fault-based system. So, if you suffered harm in an accident, you can usually file a claim with the other party's insurer to seek damages. Filing a successful insurance claim involves:
Reviewing the liable policy
Backing your claim with evidence
Handling communications with claims adjusters and witnesses
Writing and sending your demand letter, which outlines your damages
Negotiating a settlement
Filing your lawsuit within the statute of limitations
Protecting you from bad faith insurance practices
Bring Your Case to Trial If Need Be
Our law firm knows that most cases are resolved through insurance settlements. However, our trial-ready lawyers are ready to litigate your case. This process involves:
Taking depositions from witnesses
Objecting to unfair questions or proceedings
Communicating with the other party's legal team
Arguing your right to compensation
---
We Offer Resources to Injured Claimants in Indiana
During this challenging time, we want to support you in any way we can. Here are some resources that give you an idea of what it's like to work with us:
Our blog. If you have any questions about your case, we encourage you to check out our blog. We provide answers to some of your most pressing questions, including: "What costs are covered by workers' compensation?"
Our Car Accident Checklist. The things you do immediately after a collision can affect your case's outcome. Here, you can get a copy of our Car Accident Checklist so that you can ensure you're taking the appropriate steps.
Our YouTube channel. If you want to get a "feel" of what it's like to partner with us, we encourage you to check out our YouTube channel. Here, we answer some questions and concerns claimants have about recovering compensation.
---
Begin a Free Case Review with Our Indiana Personal Injury Team
Our team is available around-the-clock to listen to your story. If you or a loved one suffered harm due to a negligent party, Isaacs & Isaacs Personal Injury Lawyers is ready to fight for you.
To learn more about working with our Columbus lawyers, call 1-800-333-9999 for your no-cost personal injury case review.