Begin Your Case With a Proven Personal Injury Law Firm
A serious injury could leave you facing major medical bills while you're unable to work. If someone else was responsible for your injury, you don't have to bear these costs on your own.
Our Mishawaka personal injury lawyers could help you on the road to financial recovery. At Isaacs & Isaacs Personal Injury Lawyers, we are committed to helping accident victims navigate the legal process and seek the best possible results.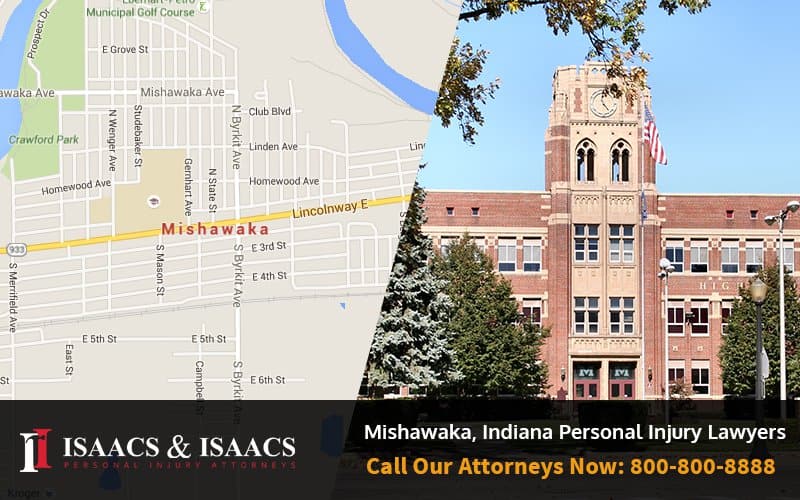 We charge no upfront fees for our legal services and only take payment if we secure monetary compensation on your behalf. Call us at 800-333-9999 at any time to speak to one of our dedicated Mishawaka personal injury lawyers and set up a free consultation
We Represent Injured Accident Victims Across Many Categories. Some Personal Injury Cases We Handle Include:
Accidents With Trucks or Commercial Vehicles
Injuries & Wrongful Death Involving Driver Negligence (cell phone use, DUI)
Accidents With Uninsured Motorists
Whiplash Injury Accidents
Airbag Deployment Accidents
Takata Air Bag Recalls
Motorcycle Accident Injuries
Ridesharing: Lyft & Uber Accidents
Bicycle Accident Injuries
Hit and Run Accidents
Pedestrians Hit By a Vehicle
Head-On Collisions
Rear-End Collisions
Spinal Cord Injuries
"They're great to me. Used them twice and positive results both times. I wouldn't hesitate to contact them again if needed."
---
Hiring an Indiana Personal Injury Attorney with Our Firm
In his podcast, "Ask the Hammer," Attorney Darryl Isaacs – the Hammer – answers questions about how he and his team serve clients to help get them the compensation they need. Play the episode below:
---
Your Legal Options in an Indiana Personal Injury Case
You could have multiple legal options when someone else is liable for your injury. A lawyer from our team can craft a legal strategy that best fits your situation.
Our attorneys may:
Work with the liable party's insurance company to secure a settlement
Take your case to trial through a civil lawsuit
Many people want to know if they will need to go to court. Often, we can secure the compensation you need through negotiations and avoid the trial process. Still, we have an in-house litigation team and are prepared to file a lawsuit if the liable party doesn't fairly settle.
Our attorneys can explain all of your legal options after investigating your case.
Our Accident Law Firm Will Get Started on Your Case Immediately By:
Listening to your story
Answering your questions
Advising you what to do next
Investigating the accident scene and all other evidence related to your claim
Reviewing medical records, police reports, and all documents
Determining which parties are liable for your injury
Meeting with insurance adjusters
Helping you file your claim
Demanding a just settlement for all of your medical treatment and damages
---
Types of Compensation Available Through a Settlement or Lawsuit
Bringing an injury case could produce the financial recovery you need to address your losses. After an injury, you could deal with several costs and other damages, including:
Past, present, and future medical bills: Whether you need emergency care after an accident or will require long-term physical therapy for many months to come, you could recover these costs. Other recoverable medical costs include medications, surgeries, hospitalization, diagnostic testing, and more.
Impacts on your career: You could have lost paychecks or need to take reduced hours at work because of your injuries. We can help you recover these losses.
Intangible losses: The injury may cause you stress in more invisible areas of your life. You could seek compensation for pain and suffering, mental anguish, reduced enjoyment of life, and more.
Wrongful death damages: If you lost a loved one to a wrongful death, our attorneys could help you seek compensation for funeral and burial costs, medical costs, and other losses.
How Much Compensation Could I Receive?
The overall amount you could receive through a settlement or lawsuit depends on the facts of your case. Our attorneys will investigate your injury accident and explain a goal settlement amount you could seek.
Often, your settlement or award will be influenced by factors like your total medical costs, how serious your injuries are, and the overall strength of your case. There is no one-size-fits-all settlement estimate, but we will help you seek the best possible results based on your unique situation.
Build Your Case With A Top Rated Accident Lawyer
If you need immediate assistance with a vehicle accident or personal injury, call our team now at 
800-333-9999
 to begin your free case review and schedule an initial consultation to get legal advice. Our law firm represents injured victims across many categories. Some popular cases our accident attorneys handle include:
---
What Makes Isaacs & Isaacs Personal Injury Lawyers Different
Our attorneys have over 400 years of combined experience and are ready to put that experience to work for you. At Isaacs & Isaacs Personal Injury Lawyers, you can expect the following:
Legal help with no upfront fees: We work based on contingency fees. This means that if you don't win, you don't owe any legal fees. You don't have to pay from your savings to get started with a case, either.
Our team gets results: Our attorneys have recovered more than $1 billion for clients across Indiana, Kentucky, and Ohio.
We offer legal help in Spanish: We have paralegals and attorneys who can help you through your entire legal process in Spanish.
Learn More About Working With Our Lawyers During a Free Case Review
Hiring a lawyer is a big step in your injury case. We are available around the clock to answer your questions. When you call for your free consultation, you can ask us questions about:
How to get started working with a lawyer from our team
How we plan to communicate with you throughout your case
What your lawyer will do to handle your case
How our contingency fees work
We're happy to explain everything you need to know about the injury case process and working with our team.
---
Act Promptly to Take Action for Your Mishawaka Injury Case
An attorney from our team can help keep your case on track. However, the sooner you contact us, the more time we have to do so.
You will likely have a limited time to file a lawsuit after an injury in Indiana. Per IC §34-11-2-4, you generally have two years to do so. If you miss this deadline, you could be barred from seeking compensation, even if you have a strong case.
---
Other Ways to Prepare Your Indiana Injury Case
The steps you take in the days and weeks after your injury accident can be crucial. Our attorneys recommend that you also:
Get Needed Medical Care
You may have visited an emergency room after the incident, which is a good start for your health and case. However, continue getting the care your doctor orders. This may mean getting rest, taking certain medications, or attending follow-up appointments.
Doing so will help you begin your recovery. It can also document that:
Your injuries are related to the injury accident
Your injuries are of a certain significance or seriousness
Your injuries prevented you from working
Hang Onto Important Evidence
Whether you were in a car crash or a slip and fall, you could benefit from hanging onto documents related to your case, such as:
Incident or police reports: You can get a copy of your crash report from the Records Division of the Mishawaka Police Department, according to the City of Mishawaka. Accident reports are also available online.
Receipts related to the injury: Whether you spent money on transportation, medical assistive devices, or other out-of-pocket costs, recoverable costs are available.
---
Our Attorneys Can Help You With These Types of Injury Cases in Mishawaka, IN
We're familiar with many forms of injury cases in Indiana, including:
Car accidents
Motorcycle accidents
Commercial vehicle accidents
Slip and fall accidents
Nursing home abuse cases
Premises liability cases
Rideshare accidents
Autonomous vehicle accidents
Bicycle accidents
Medical malpractice
On-the-job accidents
Dog bite cases
Wrongful death cases
Catastrophic injury accidents
Traumatic brain injury cases
---
Get a Free Case Review Today From Isaacs & Isaacs Personal Injury Lawyers
If you need help fighting for justice and compensation, we're ready to go to work. Call Isaacs & Isaacs Personal Injury Lawyers today to learn more about how we can get started on your case. The call is free and comes with no obligation.
To learn more about working with our Mishawaka lawyers, call 1-800-333-9999 for your no-cost personal injury case review.